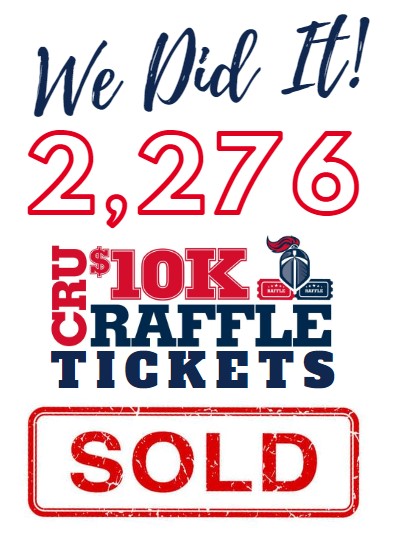 ENJOY YOUR DAY OFF SCHOOL
Friday, March 17, 2023
CRU BID and BASH THANK YOU!
Thank you to everyone who supported the 2023 CRU Bid & Bash! We are humbled to share that this year's efforts grossed over $160,000! Whether you purchased a raffle ticket, attended the FEC-sponsored CRU Bash event, bid on a silent auction item, donated, or partnered as a 2023 school sponsor, your generous support is greatly appreciated.

A special congratulations to all of our CRU Bid raffle winners:
Geri Aftanski, Gift Card Basket Raffle Winner
Alicia Krummen, Bourbon Basket Raffle Winner
Gina Ryan, Best of Bid & Bash Raffle Winner
Brian Kute, $10K Raffle Winner
Be sure to mark your calendars for the FEC-sponsored 2024 CRU Bash on Saturday, March 16, 2024.
---
SCHOLARSHIP APPLICATIONS FOR THE 2023-2024 SCHOOL YEAR
The online application deadline for 2023-2024 SHDHS scholarships has been extended.
Students can visit https://apps.shdhs.org/admissions/scholarship-application-form to begin the online application process. The deadline for scholarship application submissions has been extended to Friday, March 31, 2023.
Please click here to view a chart of scholarships, eligibility criteria, and submission requirements.
Please note that most of our endowed scholarship recipients are selected by the benefactors of each scholarship annually. The recipient of each endowed scholarship will be notified as soon as the respective scholarship's benefactor's decision is made. All endowed scholarship applications are "blinded" (i.e., applicant names are removed) before they are submitted for review.
For scholarship application questions, please contact the SHDHS Advancement Office at [email protected]. 
---
Important upcoming date mark your calendar!
March 23 Early Dismissal-11:55 am
Campus Closed 12:00–4:00 pm
Recently, as you may recall, St. Henry District High School was asked by the local police department to go on a hard lockdown due to an event that was happening nearby. This was done as a precaution; fortunately, there were no immediate safety concerns. This event reminded us of how important it is for our staff to be prepared in the unfortunate event that an immediate threat was to occur on campus. 
Local law enforcement has agreed to provide our staff with specific training as well as provide tools and resources to help us be prepared in the case of an emergency situation. Therefore, we will schedule an early release day on Thursday, March 23, to train our staff. Lunch will not be served on this day. No students will be permitted to be on campus from 12:00 pm-4:00 pm, and all after-school activities will not start until 4:00 pm that day.
Thank you for your cooperation and understanding as we continue to help provide a safe learning environment for all our students and staff.
---
Financial Aid for the 2023-24 School Year
The FACTS Financial Aid application opened on January 4, 2023. Applicants can use 2021 Tax returns and 2022 W-2s. Applications are accepted throughout the school year, but the first awards deadline is April 1, 2023, and award notifications will be made on April 30, 2023. Applications must be completed and verified by April 1 to be considered for the first round of awards. Please click here to apply. For questions, contact Connie Cornett at [email protected]. 
---
Current Families RE-ENROLL for the 2023-2024 School Year
Current students planning to attend SHDHS for the 2023-2024 school year will automatically be re-enrolled on January 4, 2023. Registration fees will be invoiced through your FACTS account and need to be paid manually through FACTS. The registration fee for the 2023-2024 school year is $200. If paid by March 15, students will receive a $25 discount on the registration fee. Those who pay by March 1 will be entered into a drawing to have one GENERAL FEE paid for the 2023-2024 school year.  
If you have a current SHDHS student and will be adding a freshman in the 2023-2024 school year, please contact Connie Cornett at [email protected] to receive your multi-child discount.
Registration fee schedule - Paid by March 15, 2023
·         1st child $175
·         2nd child $150
·         3rd child $100
·         Family Cap at $425
After March 15th registration fee is:
·         1st child $200
·         2nd child $175
·         3rd child $150
·         Family Cap at $525
There are no forms to fill out. If you do not plan on returning for the 2023-2024 school year, please get in touch with Toni Lehan at 859-525-0255, ext 2826, or [email protected].
For questions regarding invoicing and how to make payment, don't hesitate to get in touch with Connie Cornett at 859-525-0255, ext 2801, or [email protected].
---
Math placement test information for 2023-2024 freshmen
This MATH Placement test is for any incoming freshman who is interested in taking Algebra II Honors as a freshman. Students registering for Algebra I or Algebra I Honors as freshmen do not need to take this placement exam. If you have any questions, please get in touch with Ms. Clare Grosser at [email protected].
When: Saturday, April 29, 2023, from 8:00 - 9:00 am     
Where: SHDHS
How Long: 1 hour; 45 Questions
How Much: No charge
Registration: https://apps.shdhs.org/admissions/math-placement-test/

For more information about SHDHS Freshman Math Courses, click here.
---
Don't Forget to Shop and Support SHDHS
SHDHS participates in The Kroger Plus Community Rewards Program, where you can earn funds for SHDHS without spending additional money! Link your shopper's cards to St. Henry District High School and start shopping.
Kroger Community Rewards 
Visit https:www.kroger.com/i/community/community-rewards for detailed instructions.
Search for St. Henry District High School from the list, select, and click "Save."
---
KEEP THE CHILDREN IN YOUR LIFE SAFE ONLINE-The Diocese of Covington Safe
Environment Office is excited to host Mr. Stephen Smith with "A Wired Family" for two
upcoming presentations. Are you the parent, guardian, grandparent, teacher, coach, or caregiver to children, 'tweens, or teens? If so, this presentation will open your eyes to the dangers that may lurk on the other side of the screen. These presentations are FREE and open to all adults in our community who want more information and guidance on these topics. To learn more about Mr. Smith and his organization, please visit awiredfamily.org
Presentations:
St. Henry District High School- Monday, February 27, 7:00 pm -9:00 pm
Bishop Brossart High School- Tuesday, March 7, 7:00 pm -9:00 pm
Need more information? Call 859-392-1515.
*THESE PRESENTATIONS ARE ONLY FOR THOSE 18 AND OLDER DUE TO THE
NATURE OF THE TOPICS PRESENTED
Alumni News
Calling all alum artists!
The SHDHS Fine Arts Department is taking submissions for this year's Alumni Art Exhibition.
Crusader alums are invited to submit artwork of any media to be displayed in the Wilson Family Art Gallery. 
Artwork may not be bigger than 32in X 40in, and artists are limited to three (3) pieces. 3D work is accepted. All 2D work needs to be matted or framed for hanging. All pieces must be dropped off at the school office between 8:00 am and 3:00 pm by March 27.
SHDHS is not financially responsible for any damages while the show is on display
For more information, please get in touch with Katie VonHandorf, Art Department Chair, at [email protected].
The Alumni Art Exhibition will be held on Sunday, April 3, from 11:00 am - 1:30 pm in the Wilson Family Art Gallery at SHDHS. Admission to the art show is free.
The SHDHS Hall of Fame induction ceremony follows the art show. More information and a link to buy Hall of Fame tickets will be sent out in the coming weeks.