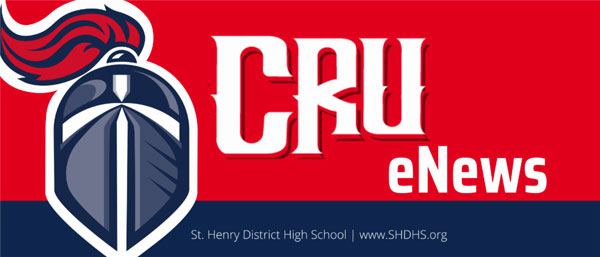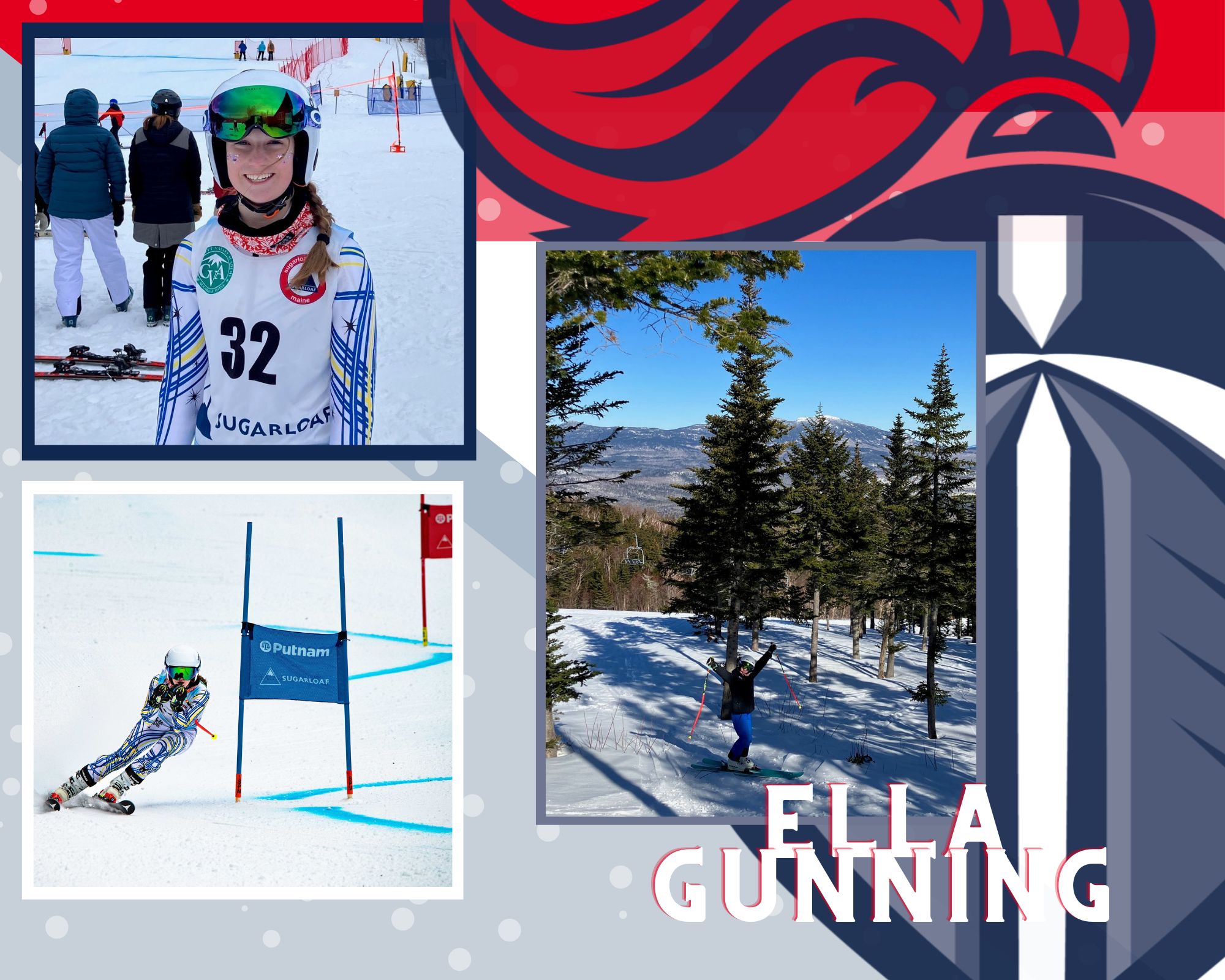 SHDHS Freshman Ella Gunning, daughter of Scott and Natalie Gunning, is training in Maine with elite athletes during the winter season. Way to go, Ella! You are a Cru superstar!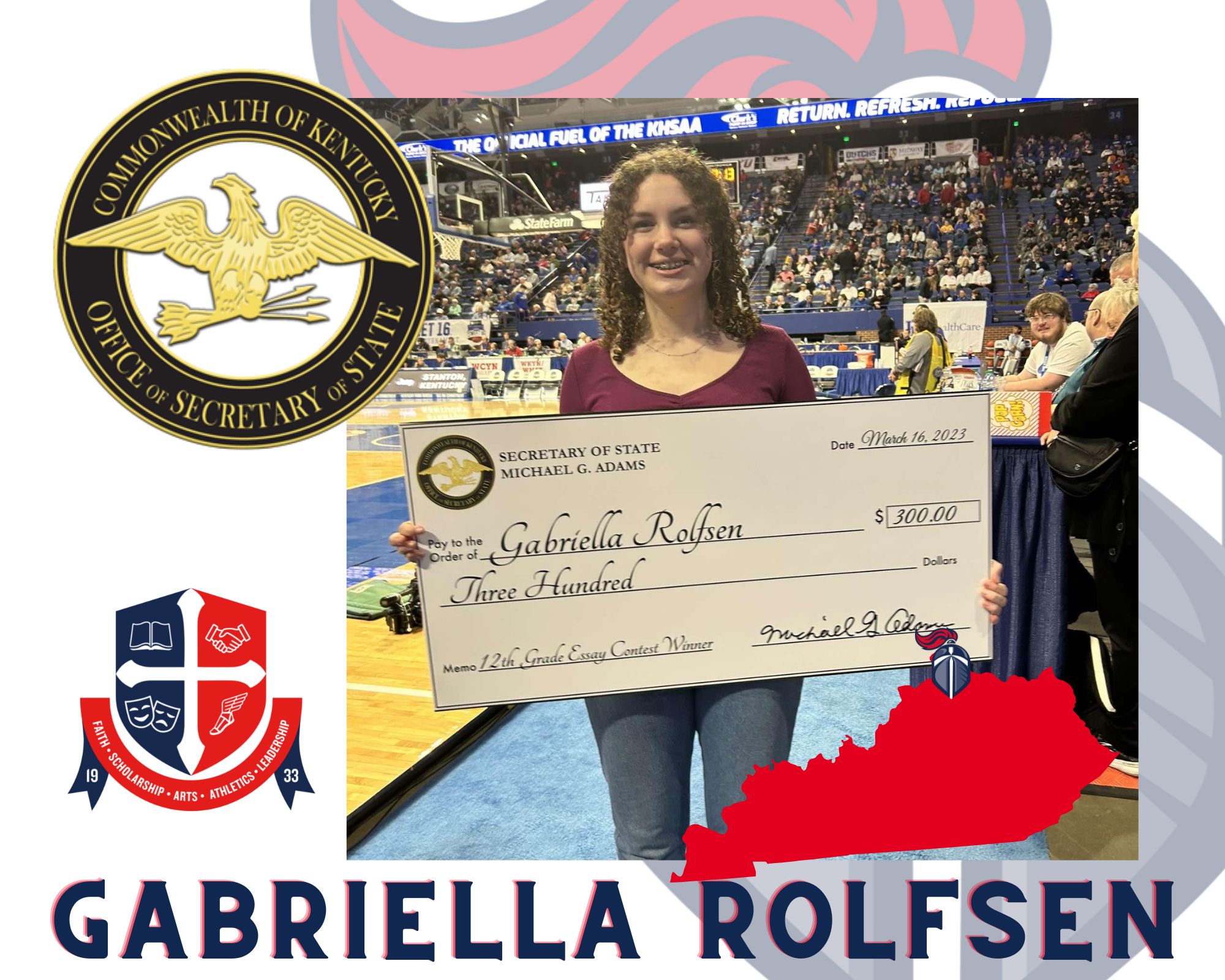 KY Secretary of State Scholarship Winner
Ella Rolfsen recently won the KY Secretary of State Essay Contest for seniors in high school for the prompt, "What can Kentucky do to recruit more poll workers?" Ella won $1000 and was awarded the check at the KHSAA basketball tournament this week.
 Information from the Front Office
March 23 Early Dismissal-11:55 am
Campus Closed 12:00–4:00 pm
Local law enforcement has agreed to provide our staff with specific training as well as provide tools and resources to help us be prepared in the case of an emergency situation. Therefore, we will schedule an early release day on Thursday, March 23, to train our staff. Lunch will not be served on this day. No students will be permitted to be on campus from 12:00 pm-4:00 pm, and all after-school activities will not start until 4:00 pm that day.
Thank you for your cooperation and understanding as we continue to help provide a safe learning environment for all our students and staff.
---
On March 24, Senior Mass will take place at the Cathedral Basilica of the Assumption at 10:00 am. Students are to arrive at school at the regular time and will be bussed down to the Cathedral. After Mass, we will head back to school, and the Seniors will be released for the remainder of the day. 
---
There are no Wednesday late arrivals for April or May. We will be on a regular schedule on April 5 and May 3.
---
Donations needed
One of our newer Senior traditions, An Evening En Blanc, is fast approaching, and we could use your support. Whether you have a Freshman or a Senior, it is a school-wide effort to make this evening a success. Click here to read more...
Class of 2027
2023 Summer Enhancement Math Program for Incoming Freshmen
The Math program is designed to enhance math skills and remediate basic math concepts to better position students for the school year. The program provides support for those needing review for Algebra I.
Dates: Tuesdays and Thursdays from 9:00 am - 11:00 am
July 11, July 13
July 18, July 20
July 25, July 27
August 1, August 3

$200.00 per student. Click here to register.
The Math program is designed to enhance math skills and remediate basic math concepts to better position students for the school year. The program provides support for those needing review for Algebra I. For more information, contact Mandy Finke at [email protected].
---
2023 Summer Enhancement English Program for Incoming Freshman
The English summer enhancement program is designed to reinforce students' skills essential for a successful transition into a high-school-level class. To increase comprehension, students will practice critical reading techniques such as close reading, note-taking, and annotating. Additionally, students will incorporate writing tools to effectively communicate, develop and support ideas in an organized and focused manner. 
Dates: Tuesdays and Thursdays from 11:30 am - 1:30 pm
July 11, July 13
July 18, July July 20
August 1, August 3
Cost: $175.00 per student. Click here to register.
For more information, contact Angela Hartwig at [email protected].
---
Math placement test information for 2023-2024 freshmen
This MATH Placement test is for any incoming freshman who is interested in taking Algebra II Honors as a freshman. Students registering for Algebra I or Algebra I Honors as freshmen do not need to take this placement exam. If you have any questions, please contact Ms. Clare Grosser at [email protected].
When: Saturday, April 29, 2023, from 8:00 - 9:00 am     
Where: SHDHS
How Long: 1 hour; 45 Questions
How Much: No charge
Registration: https://apps.shdhs.org/admissions/math-placement-test/

For more information about SHDHS Freshman Math Courses, click here.
Crusaders of the Week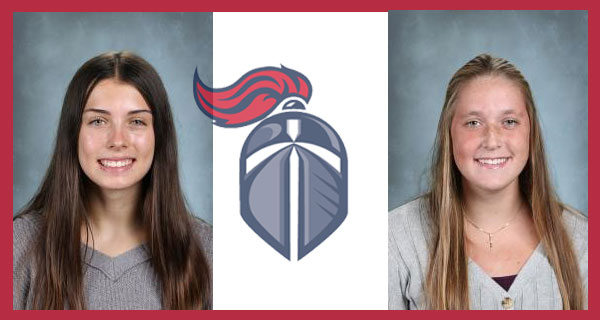 Mrs. Bessler proudly nominates Addison Mann for Crusader of the Week for STEM Explorations for the 2022-2023 school year. Addie comes to class prepared each day. She answers questions readily and asks for clarification when needed. She thinks logically and applies information well. She completes homework and prepares for tests and projects with diligence. Her work ethic is so good, and she has a perfect score in the class to date (I'm still trying to stump her:). Not only is she an incredible student, but she is also kind and always has a smile. The Crusader family can expect great things from Addie in the classroom and beyond.
Congratulations, Addie, on being nominated Crusader of the Week for STEM Explorations! The SHDHS community can't wait to see what your future holds!

While every student in Precal Honors has impressed Mrs. Duff this year, the Crusader of the Week award goes to Sara Kleier. Sara comes into class daily with a positive attitude and is ready to learn. She is a kind, collaborative teammate when we do group work activities, always willing to help others. Sara completes her practice problems diligently and makes time to ask questions if necessary. Keep up the great work, Sara! You are such a pleasure to have in class!
Academic Showcase/Clubs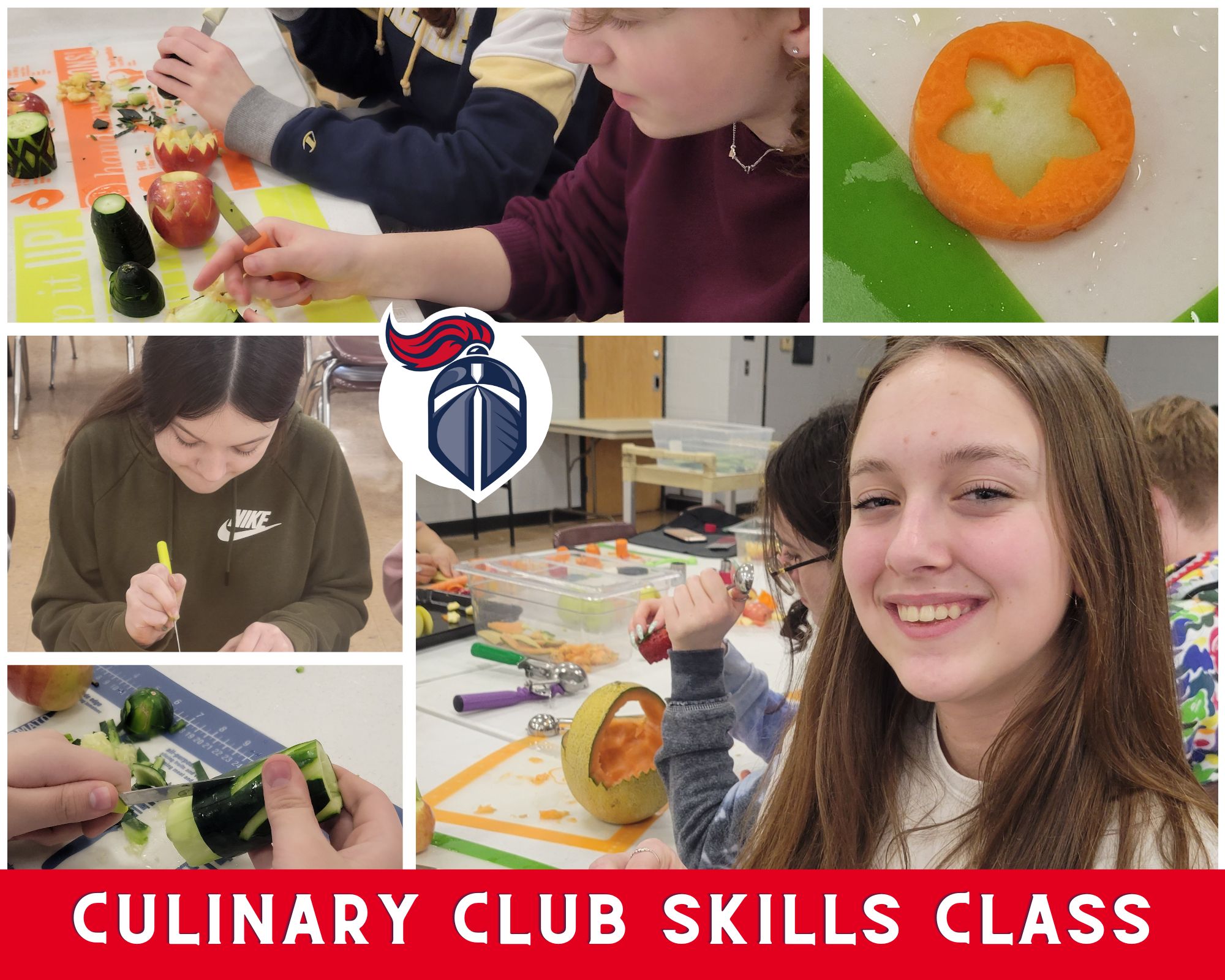 Culinary Club gets Creative with Food!
Last week, members of the Culinary Club learned about tools and techniques for "carving" fruits and vegetables. They turned strawberries into roses, cucumbers into sculptures, and created other unique focal points to add to any food display.
At the end of the month, the club will explore Asian Cuisine and sushi in conjunction with the Japanese Club!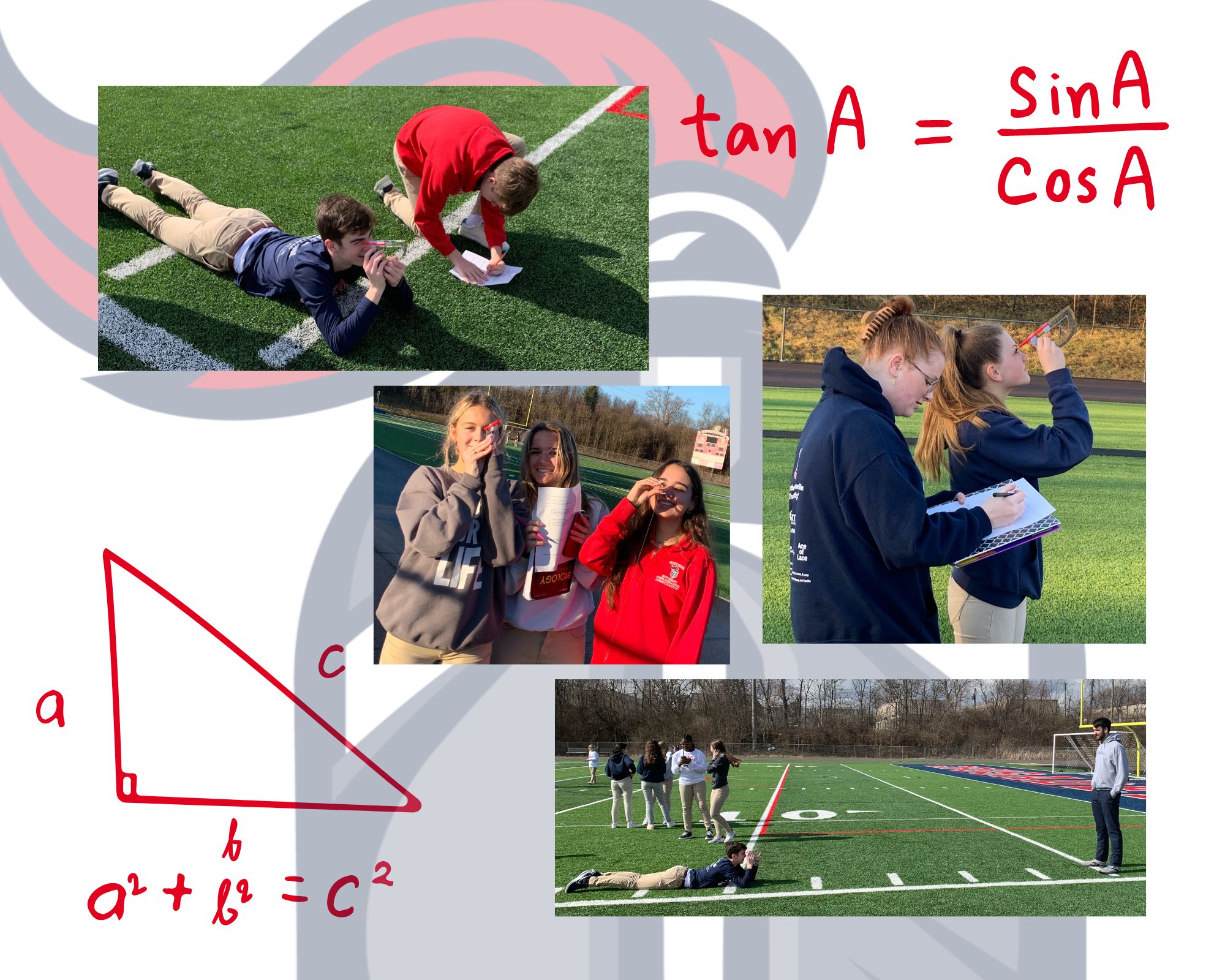 Sophomores studying Trigonometry made clinometers in Geometry class this week. We then used them to measure angles of depressions and angles of elevation! Can you guess how tall Jeffrey is???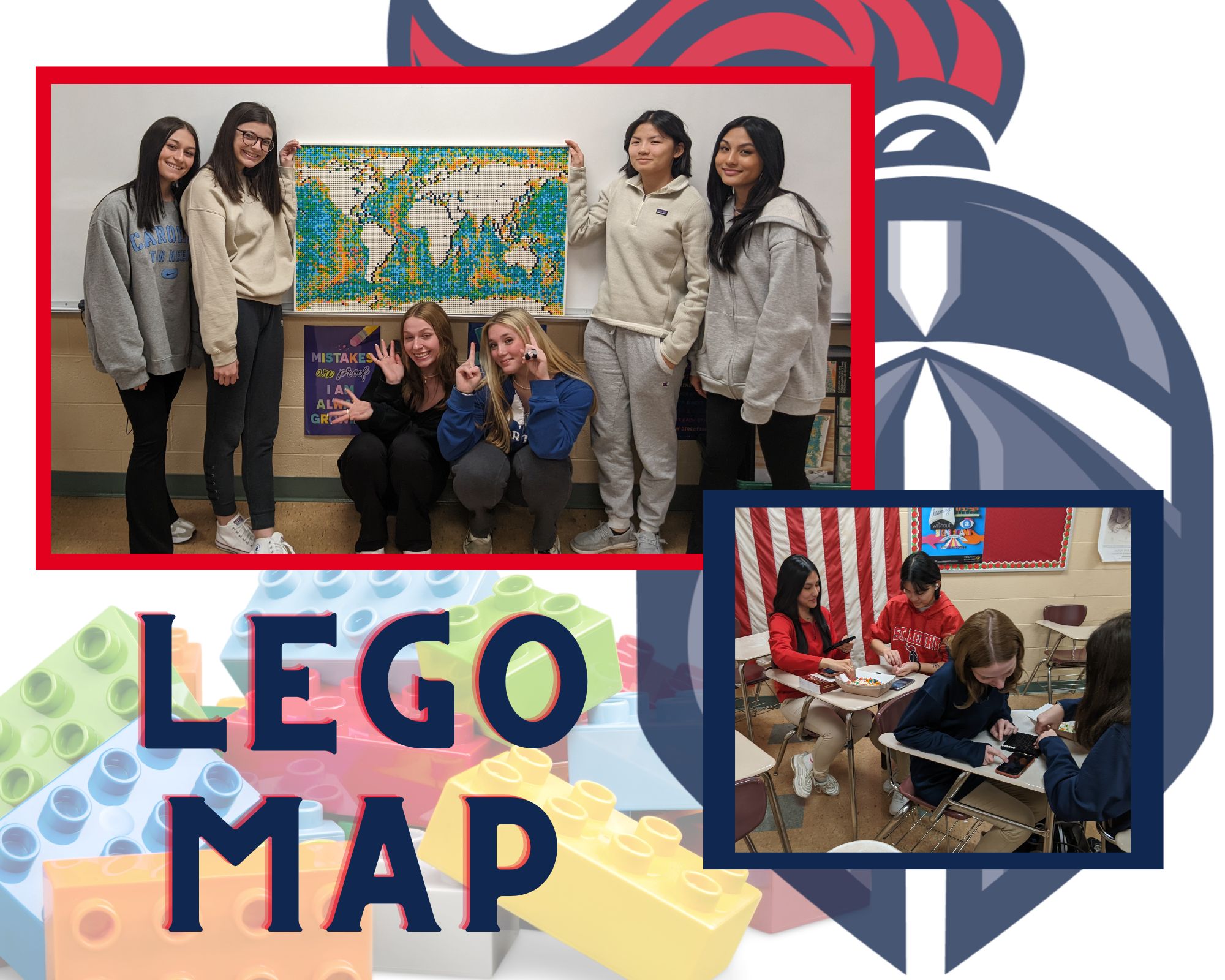 Lego Map Finished!
Students have been coming to Mrs. Kaiser-Munday's room during Flex for the last three months to work on the Lego Map! All 12000 pieces have been placed, and it is now finished and will be displayed in room 204.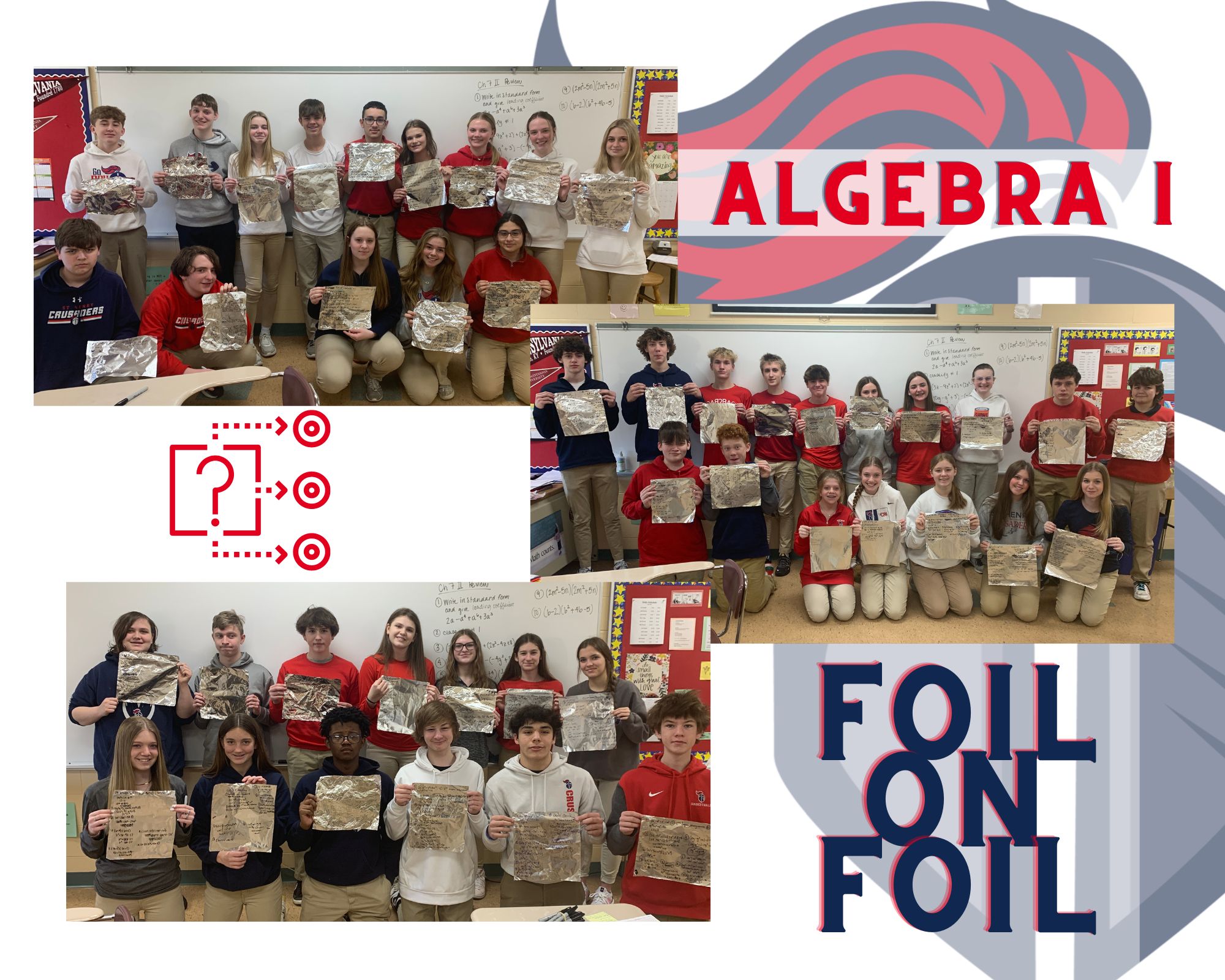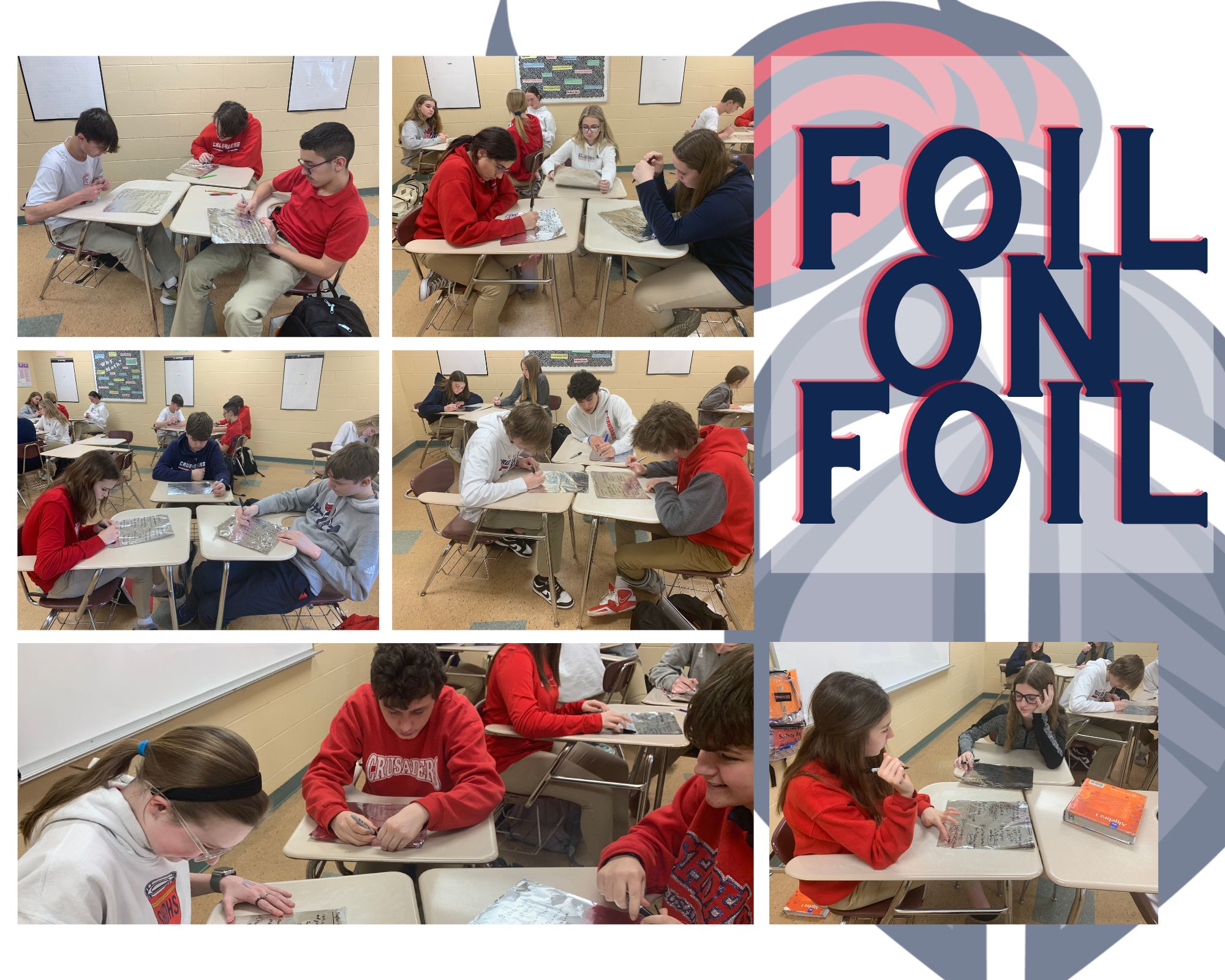 FOIL on Foil 
Last week, Ms. Grosser's Algebra I CP I classes practiced for their upcoming test on Polynomials by reviewing the FOIL Method (multiplying binomials) using aluminum foil.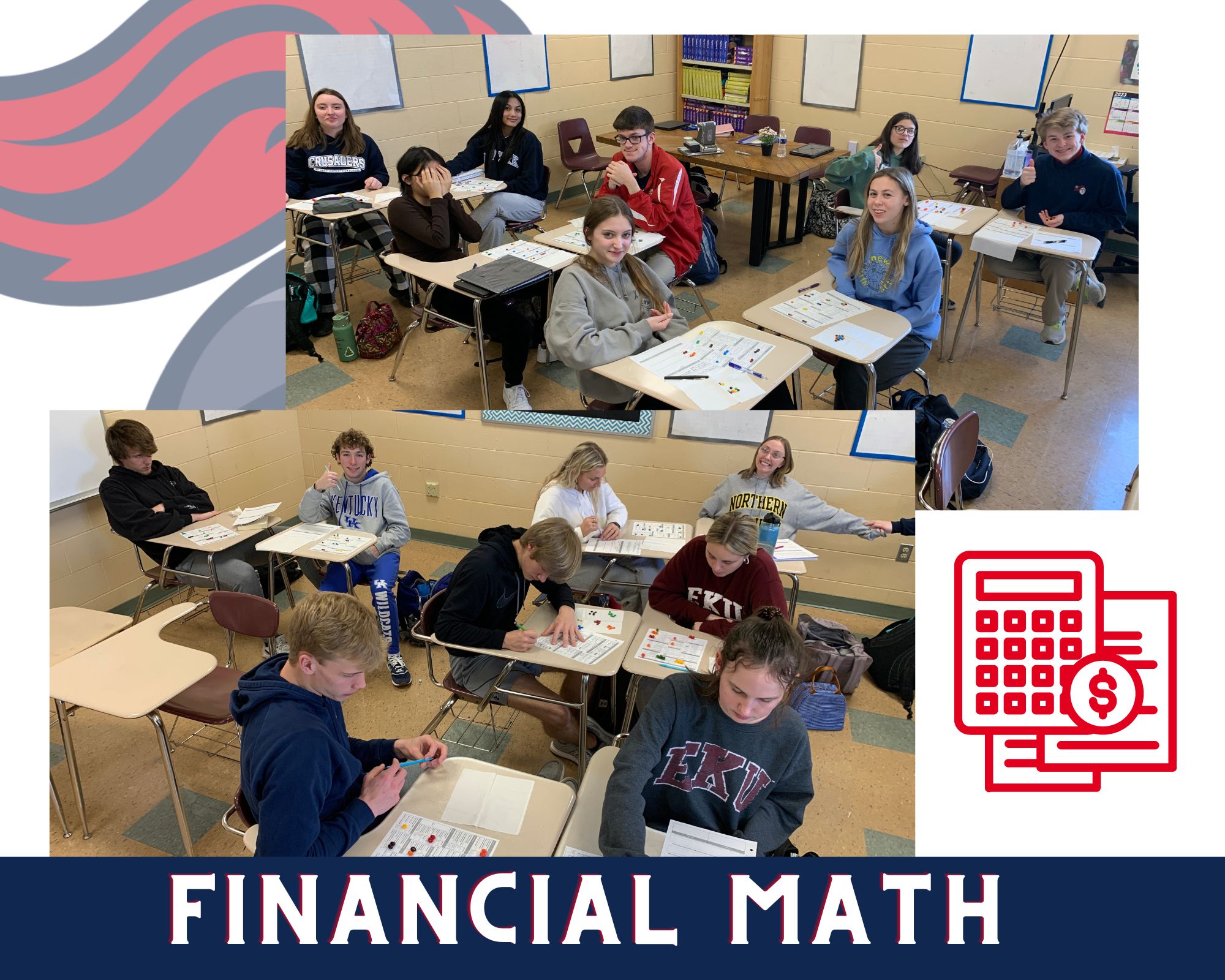 Advanced Topics class playing the Bean Game (with M&Ms or jelly beans) on Day 1 of our Financial Mathematics unit… students started with a 20-bean budget. They had to allocate their beans to cover rent, food, entertainment, savings, etc. This activity helped students learn about budgeting and needs vs. wants.
Athletic News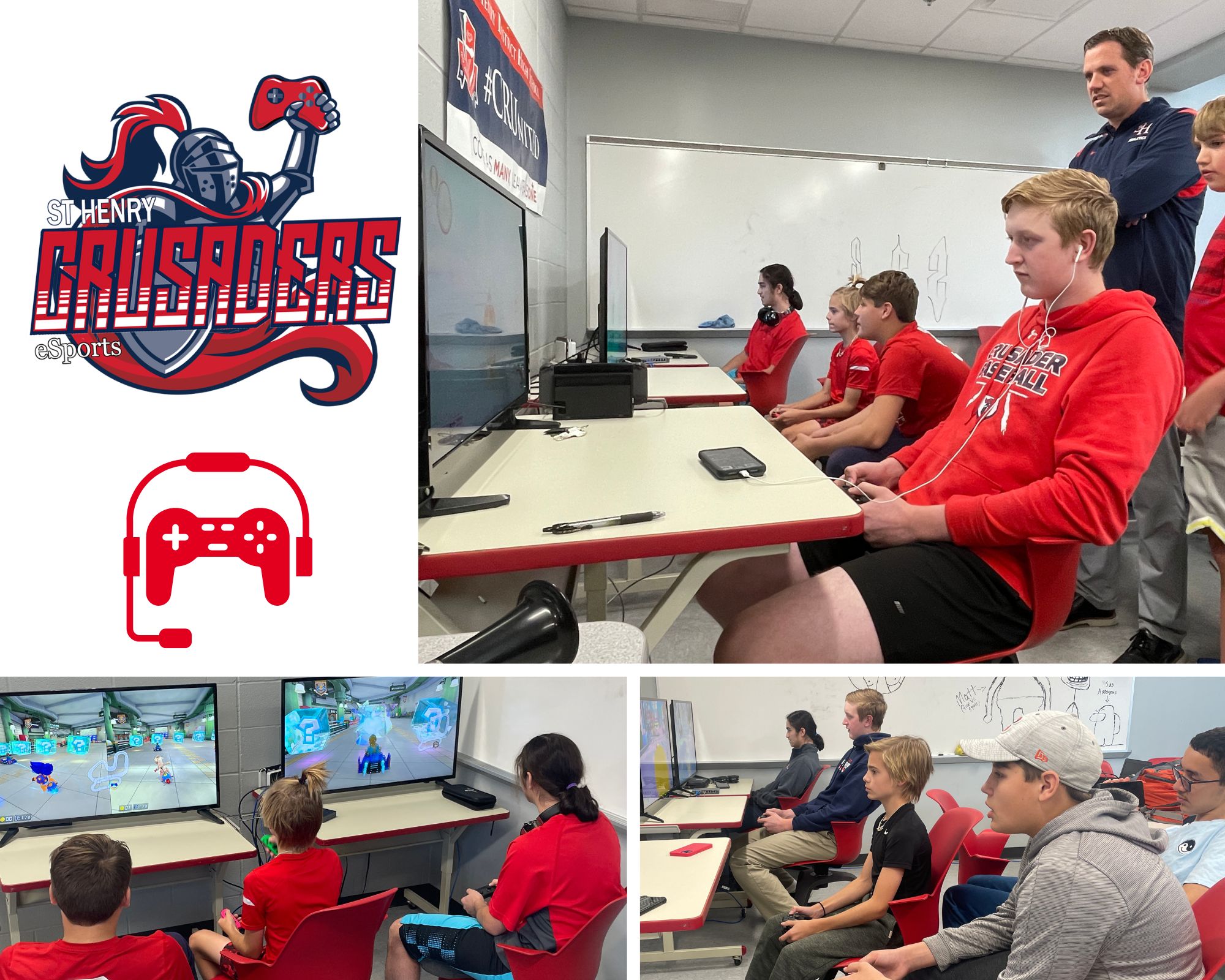 Esports Midseason Update
We have reached the midpoint of the Spring Esports season, and the CRU is coming off an impressive week! Because the Esports scheduling system pairs teams with equal records against each other, the second half of the season will pick up in intensity!
The Rocket League squad is now 5th in the state, one of only six undefeated teams remaining alongside traditional rivals Trinity High School and Shelby County. The team continues to perform at high levels and has welcomed the addition of junior Matthew Hayden (recruited by longtime vet Kyle Moellering).
The Splatoon squad had cause to celebrate this week after claiming their first win in epic style! The CRU took their opponents into Game 5 in a best-of-five series and won by the finest of margins (1 point!) after a clutch play (the difference of 7 seconds between victory and defeat). The teams were evenly matched, and the victory was very satisfying! While the whole team added valuable contributions, sophomore Peter Holocher was the MVP of this series!
Though the Super Smash Bros squads suffered defeats this week, they put in strong performances, and SS1 remains in a strong position to push for a playoff berth. The team dominated their Week 4 opponents in a sweep and, similar to the Splatoon team, celebrated the victory by acceptable margins in Week 3 after a clutch play by 8th grader Jack Riddell who had moved up several positions in the closing seconds of Race 12 to win the match by 2 points. The Mario Kart squad is in a similar situation, also pushing for a playoff spot. 
We look forward to the second half of the season, which promises to have some exciting action!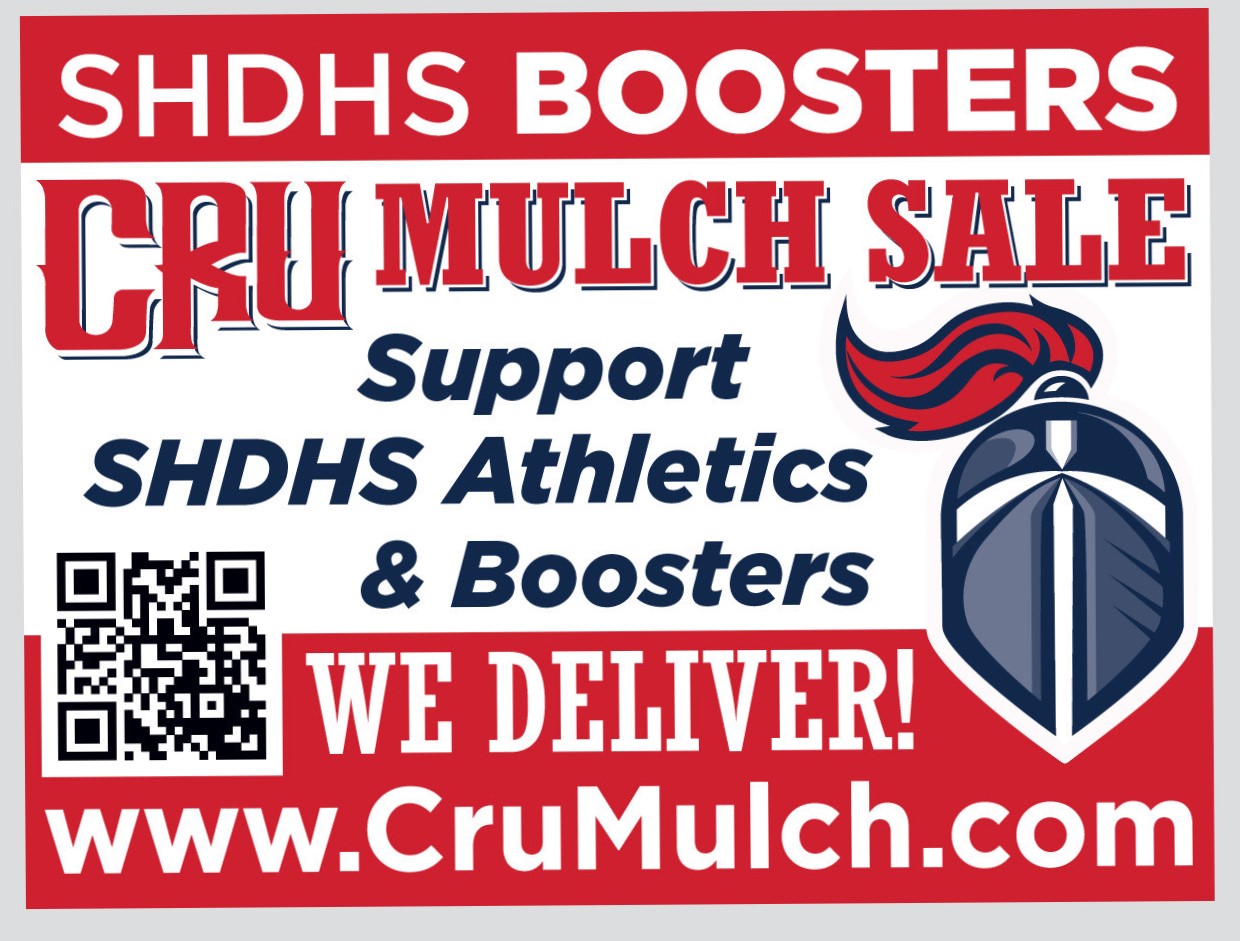 Are you getting ready to spruce up the landscaping? Your Crusaders can help with that!
The SHDHS Boosters organization is selling mulch this year. Crusader athletes will even DELIVER THE BAGS to your house and place them around your yard.
There are three color options: black-dyed, brown-dyed, and natural. The bags are two cubic feet and cost $4.50 each (there is a five-bag minimum to order). All proceeds benefit SHDHS Athletes.
Click here to order your mulch today!
You can make your yard look amazing and help out Crusader athletes at the same time. It's a win-win!
---
Coaches & Assistant Coaches wanted for the Crusader Youth League Spring 2023 Flag Football Season. This would be a one-day-a-week commitment, practice, and games on Wednesday nights. No experience is needed; you must be 18 or older. We've had a fantastic turnout for registration, with over 250 players. We will be practicing/playing on the SHDHS new turf field. You would be signing up to volunteer your time to be a coach for our first-ever flag football league this spring. I know everyone is busy,  but leagues like this are impossible without people like you willing to give their time to help our youth. We are looking to make this a first-class league where our players can get exposed to flag football, improve their skills, learn the values of teamwork, and hopefully have a ton of fun at the same time. 
The season starts on 4/19/2023 and ends on 5/17/2023 - The season is five weeks long.
Post-season tournament games on 5/24/23 and 5/31/23
If you're interested, please sign up at crusaderyouthleague.com.
We are calling all Volunteers. If refereeing or coaching is not your thing, that's OK. We still need your help. We would love as many volunteers as possible to help us organize, manage, and execute on game nights. This is a great way to get involved with the early football stages at SHDHS.
If you're interested in volunteering, please sign up at crusaderyouthleague.com.
Counselors Corner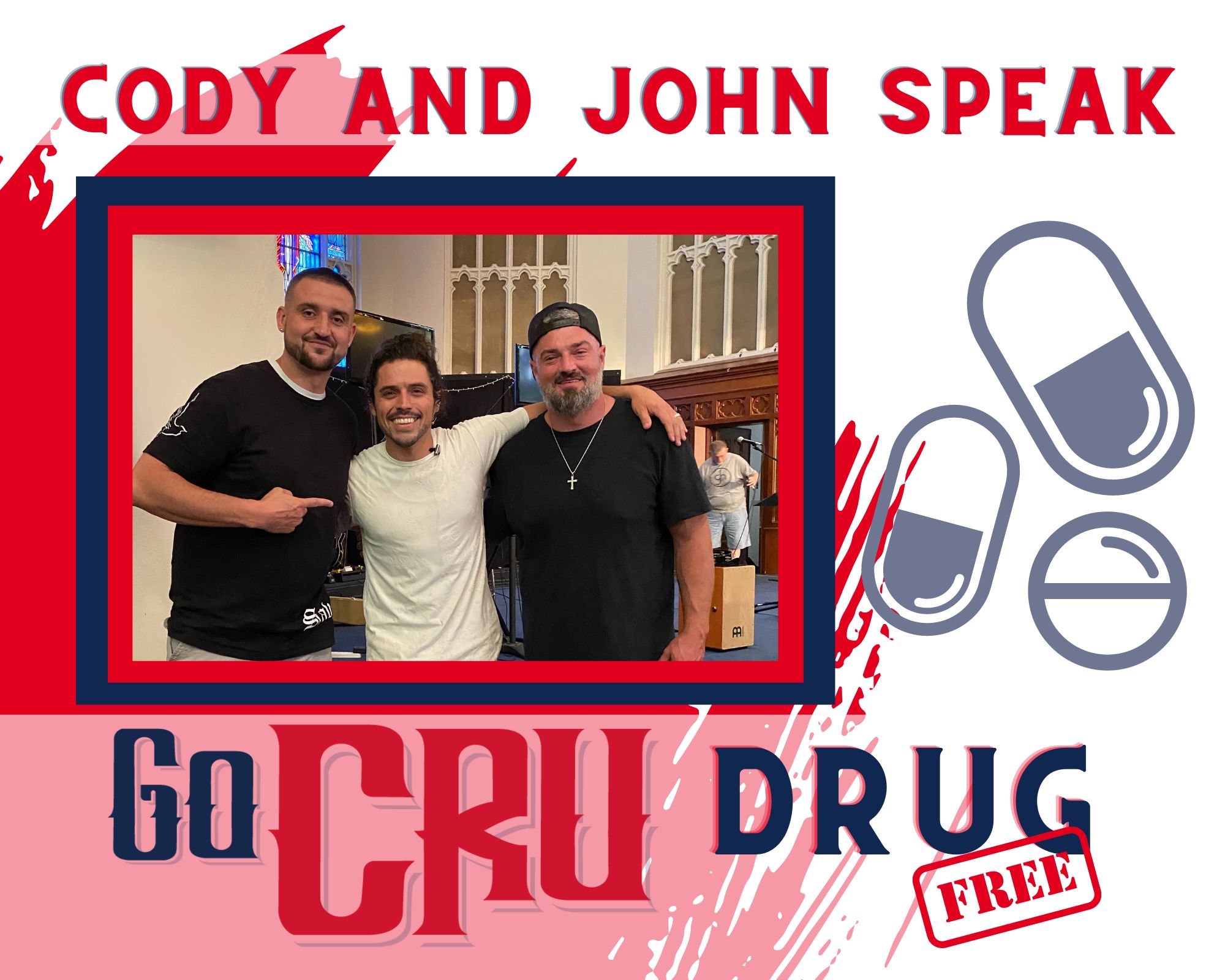 SHDHS welcomes Cody and John Speak
During an all-school assembly on March 21, the Cru community will hear a powerful message from popular speakers Cody Knuckles and John Humphries, who have dedicated their lives to substance use awareness and prevention. https://www.codyandjohn.com/
Their Message:
Today's youth are facing more challenges with mental health than any other generation. From the Covid pandemic, social media abuse, bullying, lack of motivation, self-harm, anxiety, depression, violence, reckless decision-making, and the rising fentanyl epidemic, our youth are at risk.
Their Mission:
To tell the truth about these dangers through sharing their life experiences
To encourage students that they are not alone and they have a purpose
To support them with tools to overcome these struggles
To ultimately save lives
---
NEW EVENT: Academic Scholarship Signing
Senior Parents: 
St. Henry District High School is starting a new tradition this year. Much like an athletic signing, we will host an Academic Scholarship Signing.
We will host this signing in the auditorium on Tuesday, May 16, at 11:30 am. Parents and family members are invited for a small reception following the event.  
Students qualify in one of two ways:
1. An academic scholarship to the school they are attending of 50% or more of the listed tuition price (not including KEES, grants, or loans)
2. Admission to a university they are attending that has a 50% admission rate or lower.
---
The SHDHS Counseling Department is beginning a summer enrichment database for all students. The following document will be updated as more summer programs become known to us:
https://docs.google.com/document/d/1esz5IAl_vkicXDbjgIUZm_PLk4ltGLNB6WmflIilHRs/edit?usp=sharing
---
Scholarship Update
Senior Parents,
The following document includes a list of current scholarships offered to SHDHS students. This LIVE document will be updated yearly as scholarships come through the counseling office. Links to download applications and links to apply directly are provided. The last page will always be a list of helpful websites. https://docs.google.com/document/d/1cPIVNE4EyhfiUrxY81K4JqioK4N7RtRyzUMDugkuUJk/edit?usp=sharing
Graduation 2023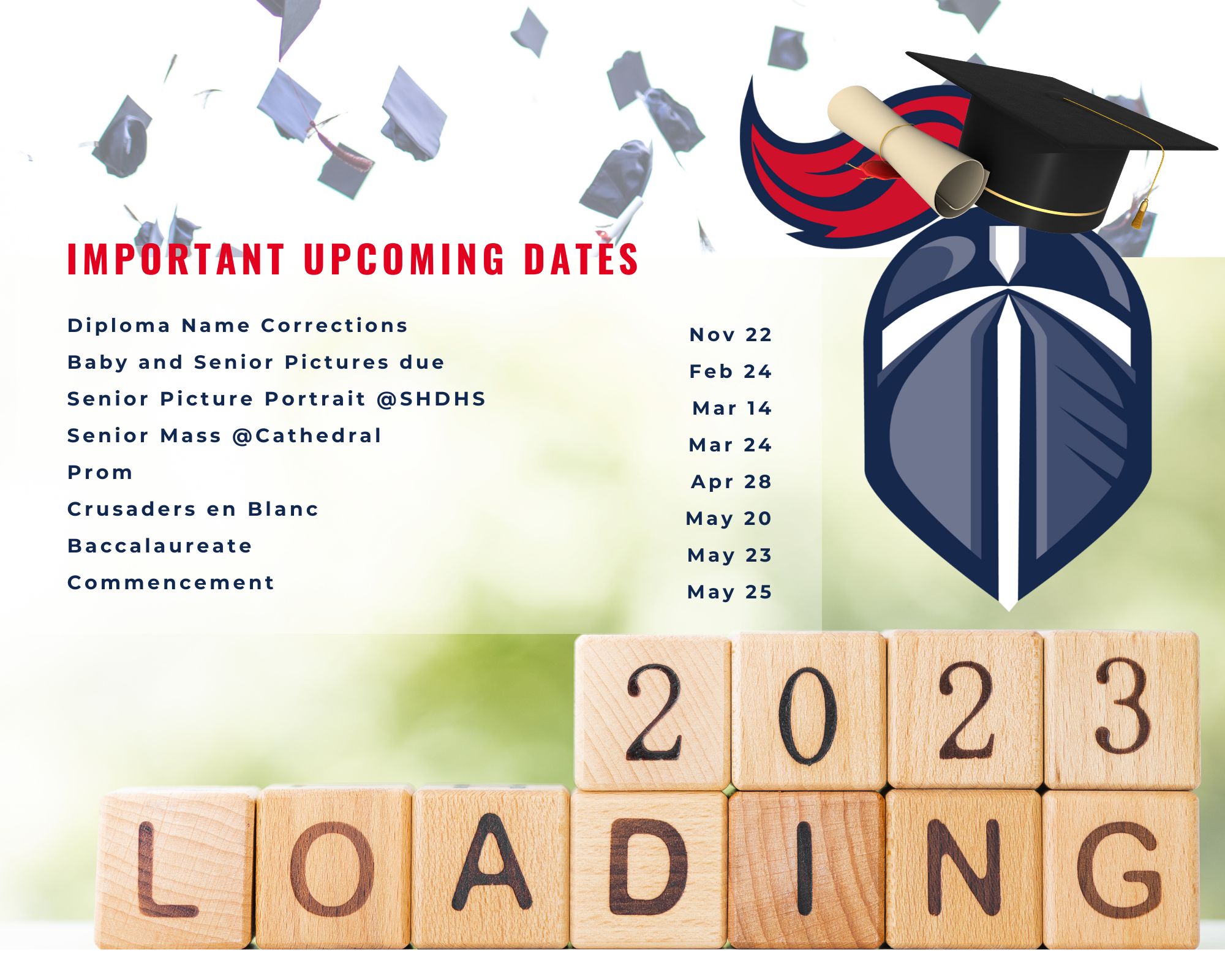 On March 14, photographer Dianne Bomar provided yearbook photos for your students. The New Studio/You See Photography, Inc. has been in business since 1977. It is the premiere school photographer in the greater Cincinnati area, providing school portraits and senior portraits to local schools and our school too! The New Studio/You See Photography, Inc. is based in Loveland, Ohio, and you can visit their studio website at www.TheNewStudio.net for examples of senior portrait work. These photos will be used for Schoology, Tyler SIS, and yearbook purposes. If you have any questions, please do not hesitate to contact Dianne directly via email at [email protected]
---
May 20 - Crusader En Blanc (Seniors only) time change
The Crusader en blanc time has changed from 6-10 to 5–9 pm. Parents are welcome to stay from 5–6 pm. Plan to visit the art gallery for the art show beginning at 4:00 pm. 
---
5/23/23 Baccalaureate Mass and Senior Awards
Seniors dress up for this occasion and sit with their parents.
Mass will be held in the SHDHS Drees Homes Auditorium at 6:00 pm.
The Senior Awards ceremony will begin shortly following Mass.
Students will receive four tickets per family (senior students do not need a visa).
If you need extra tickets, please call the office at 859.525.0255 or email [email protected]. If your family does not need all four tickets, please let the office know so we can open up spots for larger families. Spacing is only limited to Baccalaureate, not Graduation. We will do our best to accommodate larger family needs.
Please make sure all scholarship offer information has been submitted to Mr. Chris Reeves at [email protected] ASAP - our students deserve to be recognized for their hard work.
No caps and gowns for this evening.
5/25/23 Graduation
Graduation practice is mandatory and will be held at Thomas More University (TMU) at 10:00 am on 5/25/23.
Graduation will be held at TMU and begin at 7:00 pm
There will be no limit on guests attending Graduation.
After the graduation ceremony, students will proceed out the back doors at floor level. Families will exit at the main entrance where they originally entered.
Graduation gowns must be turned in before leaving TMU.
For questions, email Toni Lehan at [email protected].
Campus Ministry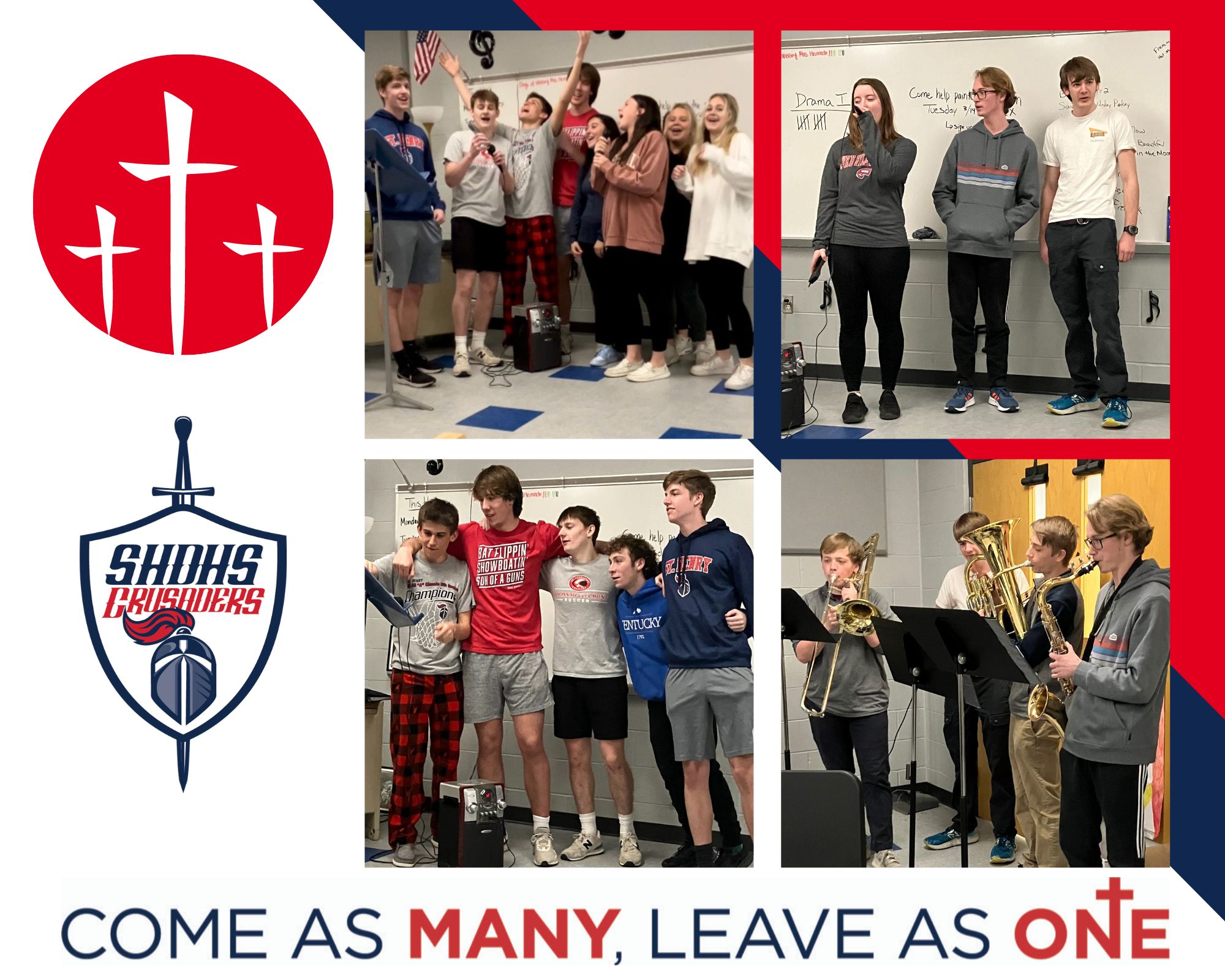 Mrs. Ryan's Religion class raised the most money last week for our Lenten collection, Mary's Meals, and they chose a karaoke class for their reward. It was a lot of fun!
---
Grandparent Masses
Please invite grandparents (or grandparent figures) to the annual grandparent Mass(es)! Each grade level will celebrate Mass in the auditorium. Grandparents will be seated at 9:45 am, and Mass starts at 10:00 am, followed by a light refreshment/reception. For questions, please email Annie Poat (Campus Minister) at [email protected]. Please click here to sign up.
Junior - Tuesday, March 28
Sophomore - Tuesday, April 4
Freshman - Tuesday, April 25
---
Lenten Giving
Our Lenten Fundraising Event for USA with Ukraine and Mary's Meals begins NEXT WEEK! You will bring monetary donations to your religion class for five weeks and compete with other class periods. Your teacher has different weekly incentives for the class with the most money collected! If each student brings in $2-3, we can raise $2,000 for these two amazing agencies. If you want to learn more about what they do, check out their websites/videos below.
Video here: https://www.youtube.com/embed/uDQrm93dzrw
Website: https://usawithukraine.org/
---
SHDHS has several Lenten offerings, including weekly Masses, service opportunities, weekly Rosary, weekly Confession and Adoration, and Lenten small groups. I recommend you review the activities for your student to join and encourage them to participate and sign up! Click here for more information. 
---
NCYC 2023
The Office of Catechesis and Evangelization invites you to join us at the 2023 NCYC: Fully Alive conference on Nov. 16-18, 2023, at the Indiana Convention Center in Indianapolis. 
National Catholic Youth Conference (NCYC) is a unique three-day experience for Catholic teens. Hear inspiring Catholic speakers, celebrate Mass with thousands of teens, and participate in reconciliation and adoration. Enjoy praise and worship music led by award-winning artists and experience interactive exhibits with games, crafts, obstacle courses, and more. For more information, visit  https://ncyc.us/about/
If interested in attending, please contact our Campus Minister, Annie Poat, at [email protected].  
There will be an informational meeting in the upcoming weeks to discuss registration and fundraising to cover the cost of the event.
---
Service Opportunity Sign Ups 
Mary Queen of Heaven Fish Fry 
SVDP - Dates - 3/18 and 3/19, 4/1, 4/2
Sign up here - https://www.signupgenius.com/go/10c0e4aa5af23a0fbc43-svdp2#/
Sign up here - https://www.signupgenius.com/go/10C0E4AA5AF23A0FBC43-svdp3
NKY Emergency Shelter - Dates - 4/2, 4/22
Sign up here - https://www.signupgenius.com/go/10C0E4AA5AF23A0FBC43-emergency
FEC News 
FEC Meeting:  The next FEC meeting is scheduled for Tuesday, March 21, at 7 pm in the media center; We will discuss the end-of-year activities such as Teacher Appreciation Week, Graduation/Baccalaureate needs, and initial plans for next year. All are welcome to attend!
Important Upcoming Dates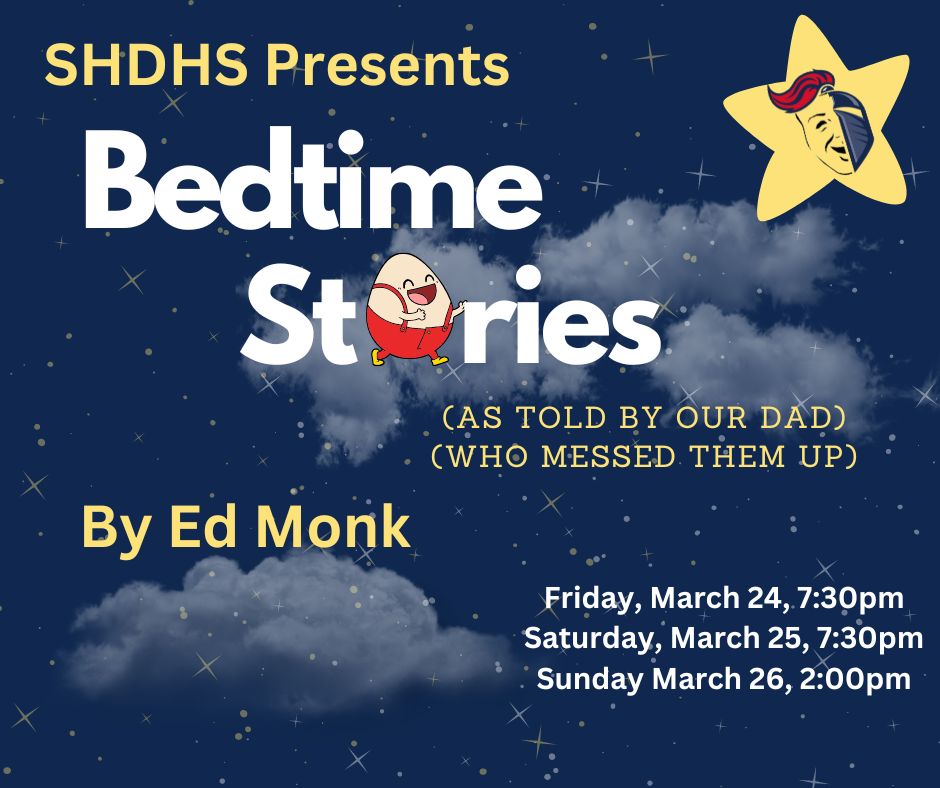 Bedtime Stories - Tickets on sale now

Tickets can be purchased in advance. You can buy multiple tickets for different performances simultaneously by adding them to your cart. An email with your tickets will be sent to the address you provide (including a PDF version if you prefer to print them).
Tickets will also be available at the door. (Cash and Credit Cards are accepted at the door).
Click here to purchase tickets.
---
AT A Glance events
March 23 - Early dismissal, 11:55 am
March 24 - Senior Mass at the Cathedral, 10:00 am
March 24 & 25 - SHDHS Play, 7:00 pm
March 26 - SHDHS Play, 2:00 pm
March 27 - Boosters Meeting, 6:30 pm
April 2 - Hall of Fame, 2:00 pm
April 3 - Winter Sports Banquet, 6:00 pm
April 4 - Sophomore Grandparent Mass, 10:00 am
April 6 - Holy Thursday - no classes
April 7 - Good Friday - no classes
April 10-14 - Spring Break
April 18 - NHS Induction, 6:30 pm
April 21 & 22 - Alumus Basketball Tournament
April 24 - Athletics Spring Signing Day, 2:15 pm
April 25 - Freshmen Grandparent Mass, 10:00 am
April 25 - Science NHS Induction, 6:00 pm
April 28 - Prom, 7:00 - 11:00 pm
April 29 - Math and Spanish placement exam
---
2022-2023 School Calendar
Click here for a quick look at the 22-23 pdf school calendar. Subscribe to our school calendar by clicking here for all up-to-date information.
Upcoming Events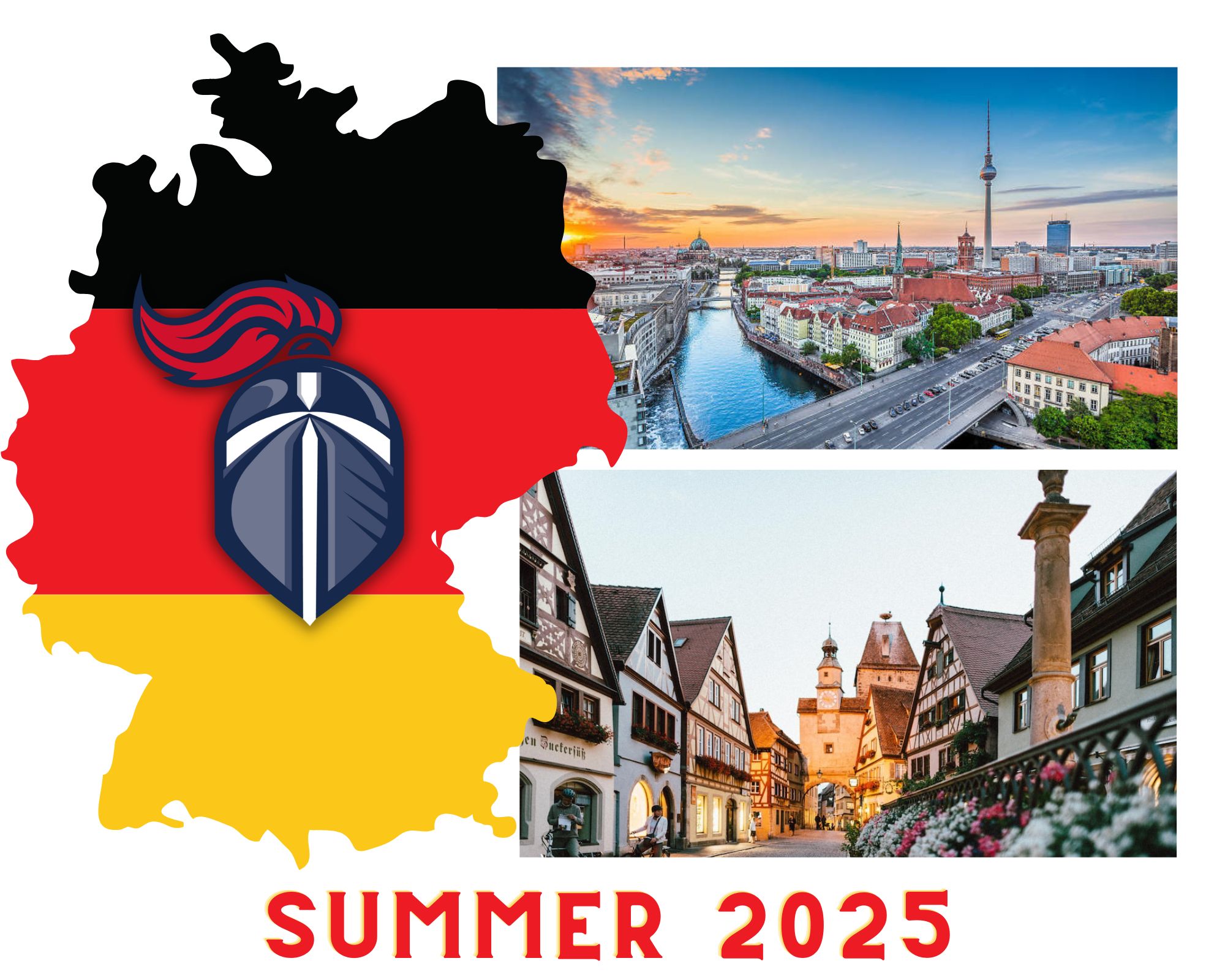 Enrollment for Germany 2025 is NOW OPEN

I'm so excited to invite you to join us in Germany (and a bit of France) in the Summer of 2025! As I mentioned at our info session last week, educational travel exposes students to new people, places, and cultures, expanding their knowledge of the world and their knowledge of themselves. I'm thrilled to bring this opportunity to your family and our community!
Please remember that students who will be 8th graders going into 9th grade (or younger) in June of 2025 will NOT be eligible for this trip, and all students must be enrolled at SHDHS. Also, adults are welcome on the trip, but there is limited space, so enroll quickly to save your spot!

Visit my info page here: www.eftours.com/2623376at to enroll. Enroll by Sun, March 12, to lock in your $200 discount and take advantage of EF's risk-free enrollment period. We have limited space available!

Below is the preliminary information you should know for those who couldn't attend the info session. Once you've reviewed the news, you can enroll online or contact me with any questions.

I've partnered with EF Tours, the world leader in international education, to offer this experience. Read more about how EF supports our group, including additional info about safety, affordability, credit options, and more: https://www.eftours.com/how-it-works/for-parents.

Once you enroll with your $95 Enrollment Fee, you will have access to your fundraising page and be able to apply for EF's Global Citizen Scholarship.

Again, here's the link where you can enroll: www.eftours.com/2623376at. 
Be sure to sign up by Sun, March 19, for the absolute lowest price offered!!

Thank you, and I look forward to showing your students the world!

Katie VonHandorf
 
Additional Resources
Quick Links
Cafeteria Information and Lunch Menu
Calendar of events
SHDHS Enrollment Portal
TylerSIS Student Information
Schoology
Crusader Check & Connect
Follow your Crusaders on
We want to thank all of our Platinum Sponsors.