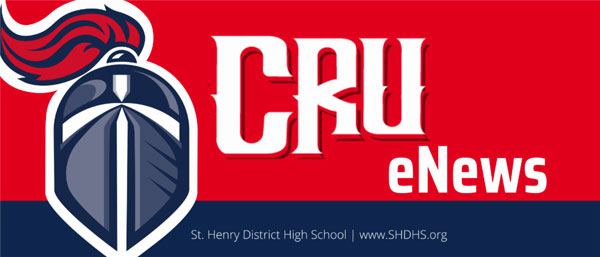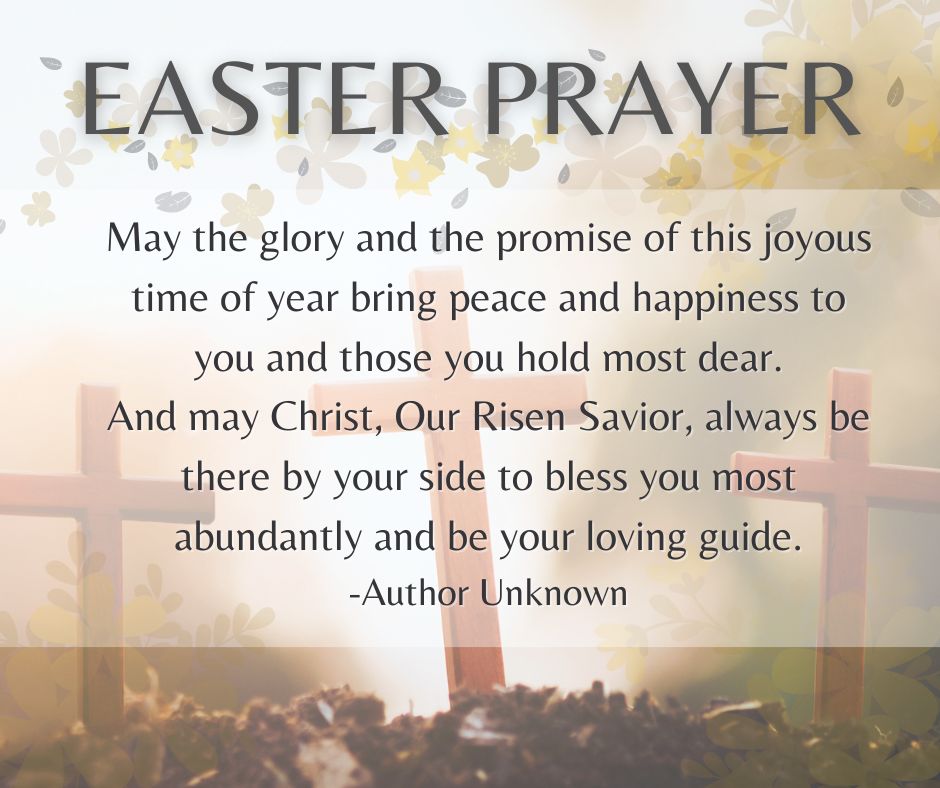 Dear Crusader Families,
SHDHS wishes you and your family a blessed and holy Easter Season! May God shower you with blessings, love, and peace.
The faculty, staff, and administration want to thank all of you for your continued support of St. Henry District High School. We pray ‌fo you to find time to relax with family and friends during this much-needed break while recharging for the final six weeks of the 2022-2023 school year. 
Happy Easter!
 Information from the Front Office
The school office will be closed on April 6 - April 14.
---
Donations needed
One of our newer Senior traditions, An Evening En Blanc, is fast approaching, and we could use your support. Whether you have a Freshman or a Senior, it is a school-wide effort to make this evening a success. Click here to read more...
---
The June Kroger scholarship (current Juniors only) is available for the 23-24 school year. The deadline for this scholarship is April 21, 2023. Click here for more information or email [email protected].
---
2023-2024 Class Schedule
The re-enrollment process must be complete before your student receives their 2023-2024 class schedule. For budget purposes and to ensure your student receives their 2023-2024 class schedule by the end of the school year, please pay the registration fee by April 14. If your son or daughter is not returning for the 2023-2024 school year, please email Toni Lehan at [email protected]. 
Registration fees are invoiced through your FACTS account and need to be paid manually through FACTS. The registration fee for the 2023-2024 school year is $200. 
1st child $200
2nd child $175
3rd child $150
Family Cap at $525
If you have questions about how to pay the registration fees, please email Connie Cornett at [email protected].
---

SHDHS Crusader Summer Camps and Activities will be here before we know it! This summer, SHDHS is excited to offer a variety of athletic and fine art activities for your sons and daughters, including:
Baseball Skills Camp
Basketball Skills Camp
Drama Camp
Soccer Skills Camp
Visual Arts Camp
Volleyball Skills Camp
Tennis Camp
Our coaches, faculty members, and students would love to spend time with your child(ren) this summer, helping them learn valuable skills, all while having fun. Space for each activity is limited, so please go to the Summer Camp page of our school website (https://shdhs.org/st-henry-district-high-school-summer-camps) to complete the registration form(s) before the allotted spots are filled. Details on all the great opportunities listed above, including exact dates, times, and costs, can also be found via the link above.
---
Prom Tuxedo Rental
Fittings at the SHDHS main campus during lunch (no payment due until tuxedos are delivered) Schrader's Formalwear, 859-781-6789 or 859-866-0363 or  www.schradersformalwear.com.
Dates for fittings (during lunch period): Tues April 18 | Mon April 24
Tuxes will be delivered after school on Thursday, April 27, 2023 (*A $10 late fee will be assessed for non-returned complete outfits or missing items).
---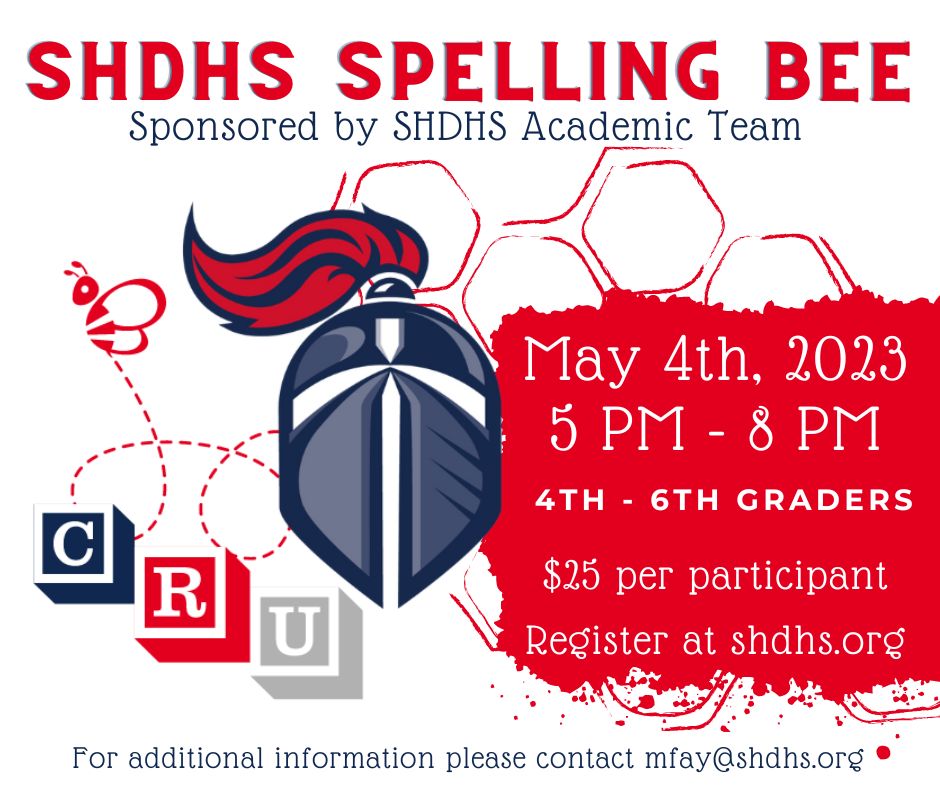 Class of 2027
2023 Summer Enhancement Math Program for Incoming Freshmen
The Math program is designed to enhance math skills and remediate basic math concepts to better position students for the school year. The program provides support for those needing review for Algebra I. For more information, contact Mandy Finke at [email protected].

Dates: Tuesdays and Thursdays from 9:00 am - 11:00 am
July 11, July 13
July 18, July 20
July 25, July 27
August 1, August 3

$200.00 per student. Click here to register.
---
2023 Summer Enhancement English Program for Incoming Freshman
The English summer enhancement program is designed to reinforce students' skills essential for a successful transition into a high-school-level class. Students will practice critical reading techniques such as close reading, note-taking, and annotating to increase comprehension. Additionally, students will incorporate writing tools to effectively communicate, develop and support ideas in an organized and focused manner. 
Dates: Tuesdays and Thursdays from 11:30 am - 1:30 pm
July 11, July 13
July 18, July July 20
August 1, August 3
Cost: $175.00 per student. Click here to register.
For more information, contact Angela Hartwig at [email protected].
---
Math placement test information for 2023-2024 freshmen
This MATH Placement test is for incoming first-year students interested in taking Algebra II Honors as a freshman. Students registering for Algebra I or Algebra I Honors as freshmen do not need to take this placement exam. If you have any questions, please get in touch with Ms. Clare Grosser at [email protected].
When: Saturday, April 29, 2023, from 8:00 - 9:00 am     
Where: SHDHS
How Long: 1 hour; 45 Questions
How Much: No charge
Registration: https://apps.shdhs.org/admissions/math-placement-test/

For more information about SHDHS Freshman Math Courses, click here.
---
Spanish Placement test for 2023-2024 freshmen
 
The Spanish Placement test is for any incoming freshmen interested in taking Spanish 2/2 Honors in the coming fall (skipping Spanish 1) and any student interested in taking Spanish 1 Honors instead of regular with a strong Spanish background. If you have questions, please get in touch with Mrs. Elizabeth Hasken at [email protected].
When: Saturday, April 22, from 9:00 - 10:00 am
Where: SHDHS
How long: -1 hour
How much: - no charge 
Registration: https://apps.shdhs.org/admissions/spanish-placement-test/
Crusader of the Week
Academic Showcase/Clubs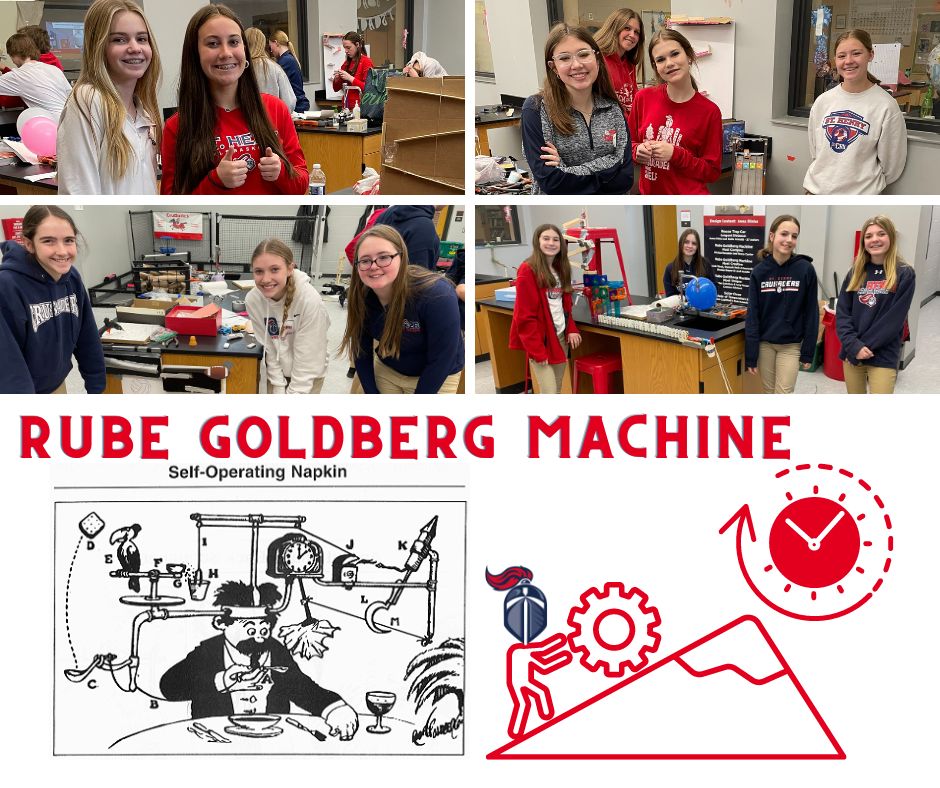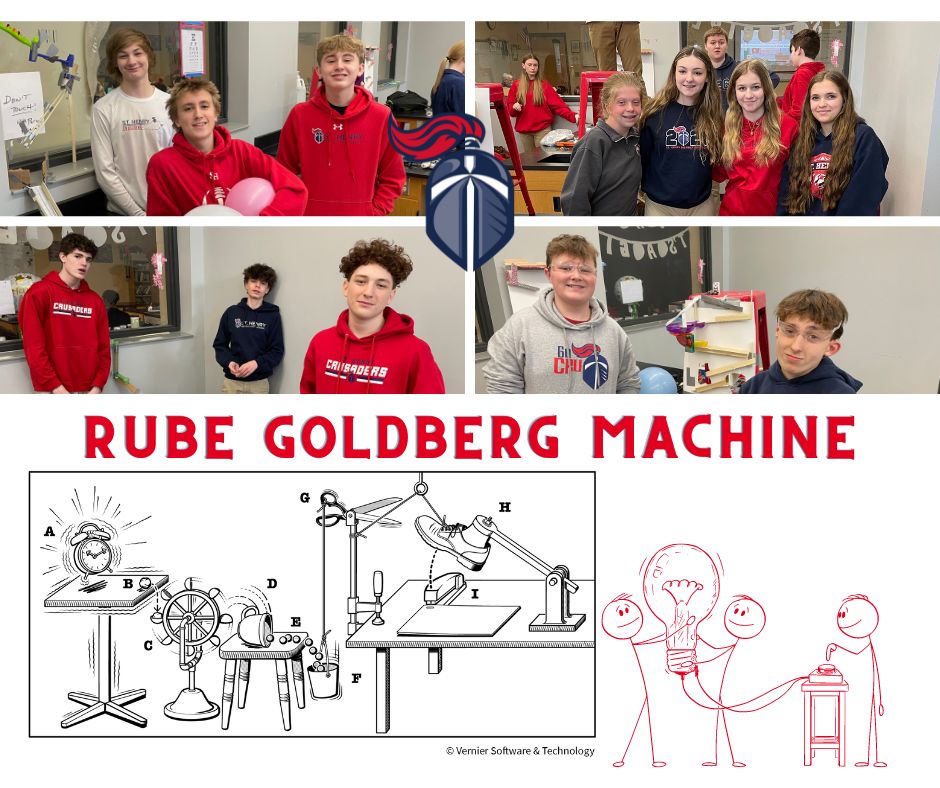 Rube Goldberg Machine
The freshmen have been working on their second STEM project, a Rube Goldberg Machine. Parents, each group created a video to present their project. Ask your student to show you their video. They did a great job! Congratulations to the winners of each category voted on by their peers! Great job, Freshman!
2023 RGM Competition Winners
Most Complex:  The Vending Machine by Jake Montgomery, Max Walden, and Anthony Crawford
Most Unique:  Root Beer Goldberg Machine by Jack Linnemann, Jack Lewis, Leo Crawford, and Luke Martin
Most Creative:  Marble Madness by Hunter Strasinger, AJ Ray, and Trey Fedders
Best Video: The "Hail Mary" by Josh Adkins, Gabe Larkins, and Gunnar Ditrick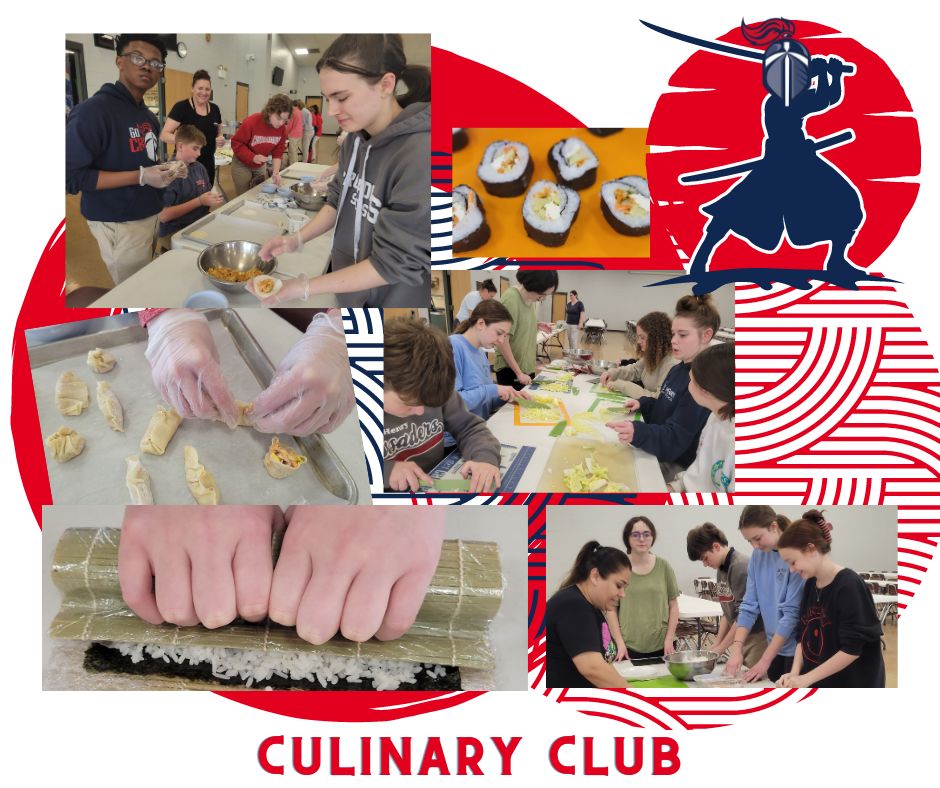 Culinary Club Crossover Event!
Last week, the Culinary Club partnered with the Japanese Club for an Asian cuisine and sushi event. Chef Summy taught us to make gyoza (Japanese dumplings), and Chef Coronado taught us to roll our own sushi. The results were DELICIOUS! Special thanks to Ms. Michelle Kempf (Japanese Club moderator) for her help and chopstick skills. 
Culinary Club members are voting on the dish for our April session (based on member recommendations). We'll end the year in May with a potluck dinner/food celebration!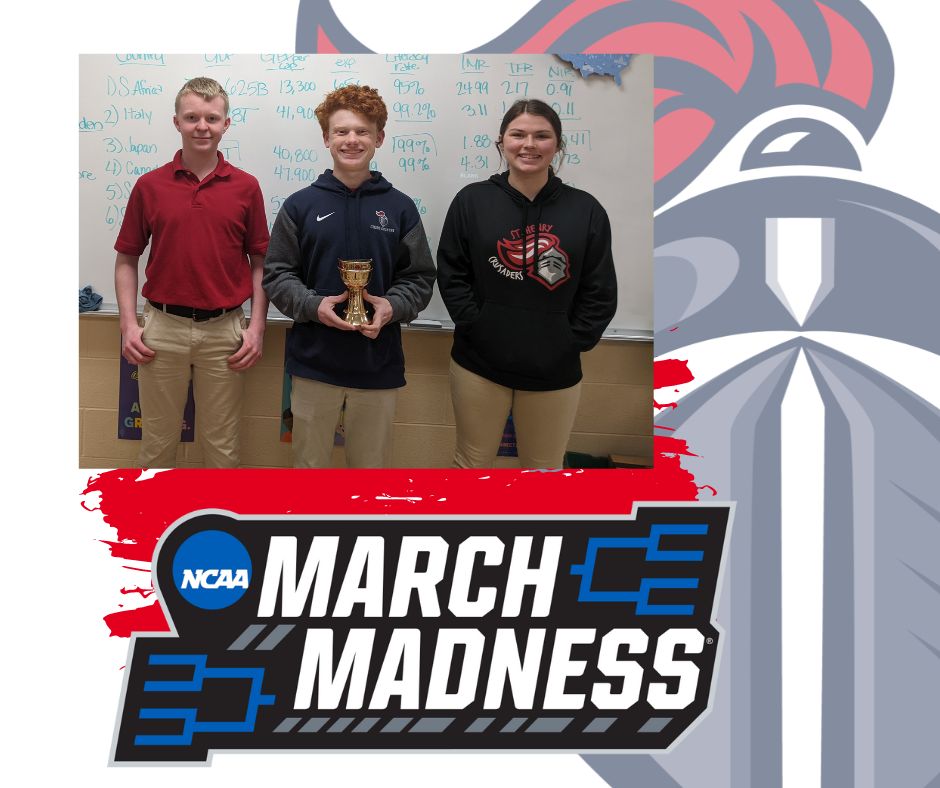 AP Human Geography March Madness
Mrs. Kaiser-Munday's AP Human Geography class did their March Madness Bracket using different countries' statistics and data through collaboration with the Rostow process. The victor gets to sign the Rostow Cup passed down for six years in AP Human Geography!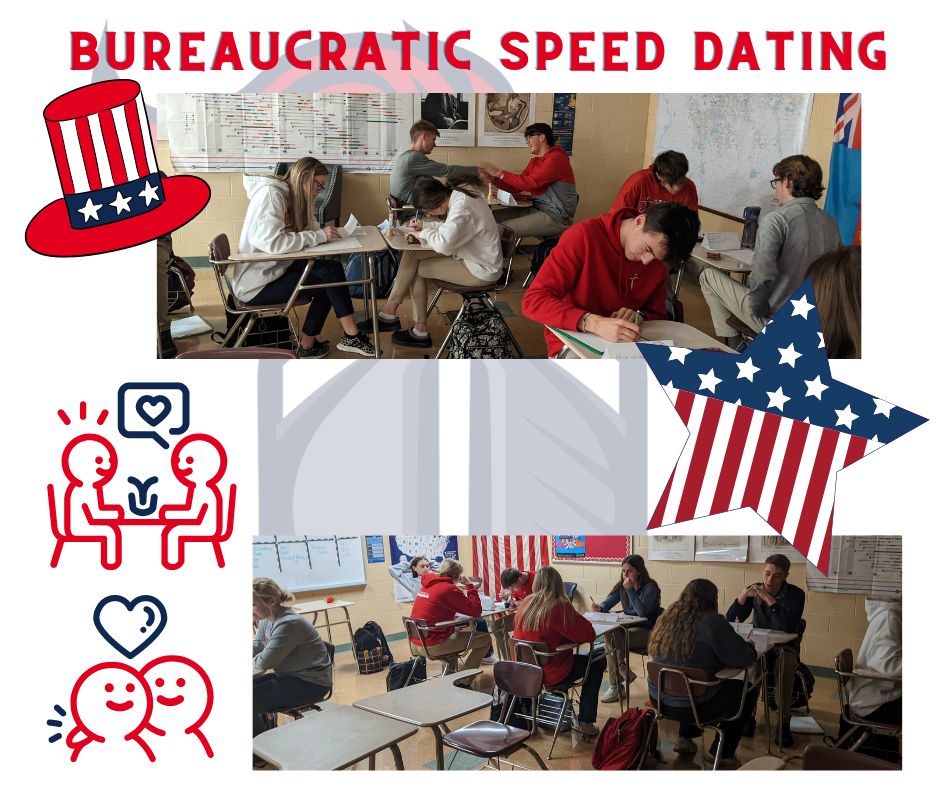 Government Bureaucratic Speed Dating
Mrs. Kaiser-Munday's Government classes participated in their bureaucratic speed-dating process. Each student had one agency and got to discuss how their agency works, what they do, and why they are connected to the federal government.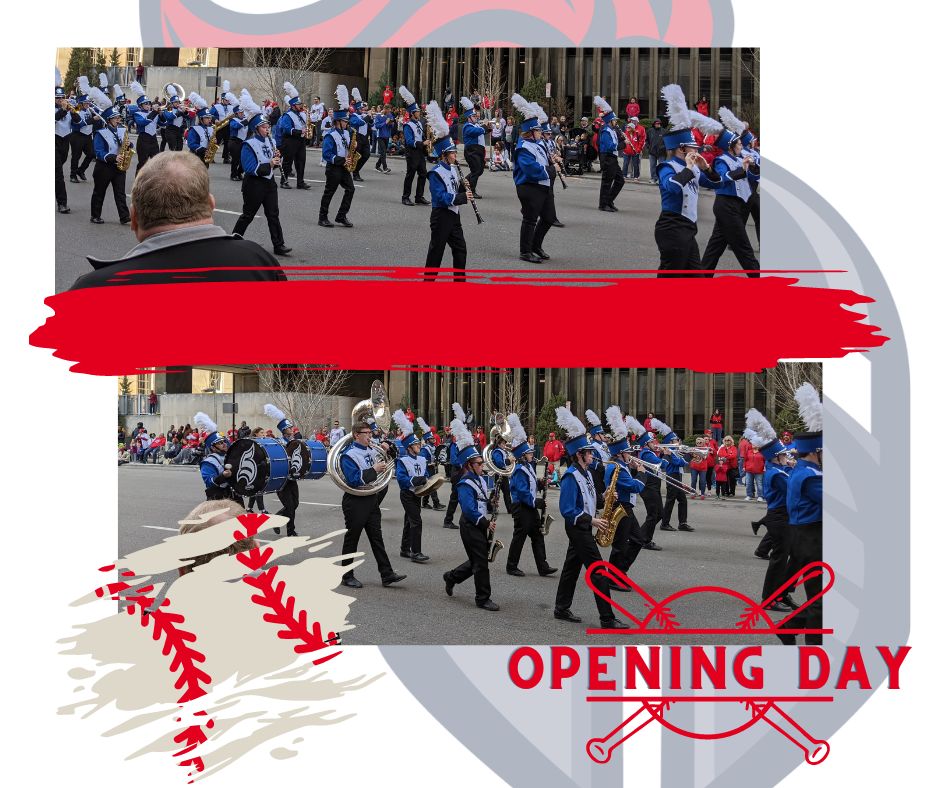 Crusaders perform at the Opening Day Parade.
James Constant and Henri Verbrugghen participated in the Opening day parade last week with the Thomas More Band.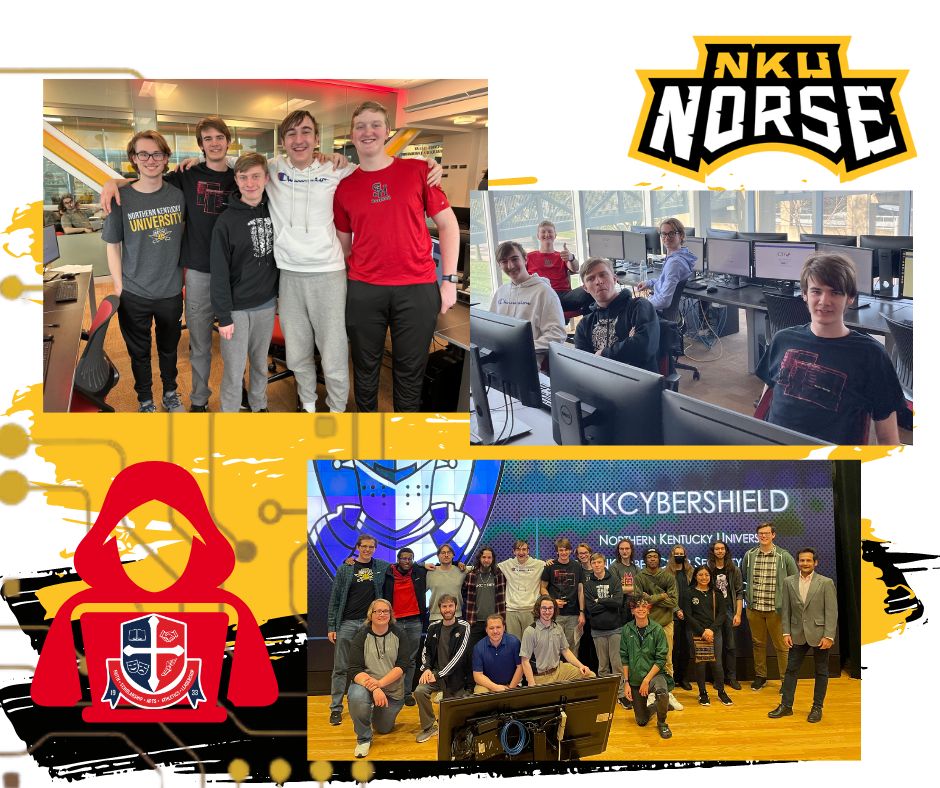 Tech CRU wins NKU's First Cybersecurity Capture the Flag Competition!   
NKCybershield is a Capture-The-Flag (CTF) event consisting of a series of challenges that vary in degree of difficulty and require participants to exercise different skill sets to solve. Once an individual challenge is solved, a "flag" is given to the player, and they submit this flag to the CTF server to earn points. For more information, please check out NKU's program at NKCybershield.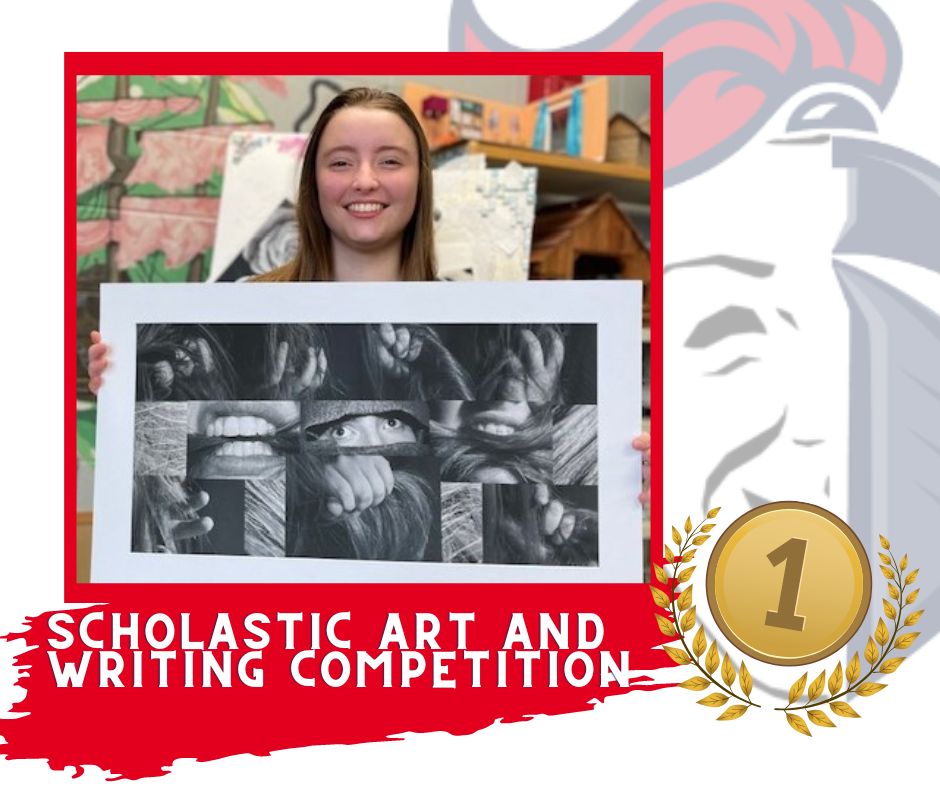 Gold Medal Winner in Scholastic Art and Writing Competition
We are extremely honored and proud to announce that we have our first-ever Gold Medal winner for the Scholastic Art Competition. In October, the regional competitors were narrowed down from over 100,000 pieces to just 40,000. Those 40,000 went to the national competition. They then select around 2,000 medal winners. Senior Savannah Koch received a Gold Medal for her photography collage and will now travel to New York City for the awards ceremony! This also makes Savannah eligible for numerous potential scholarships. WAY TO ROCK, SAVANNAH!!!
Athletic News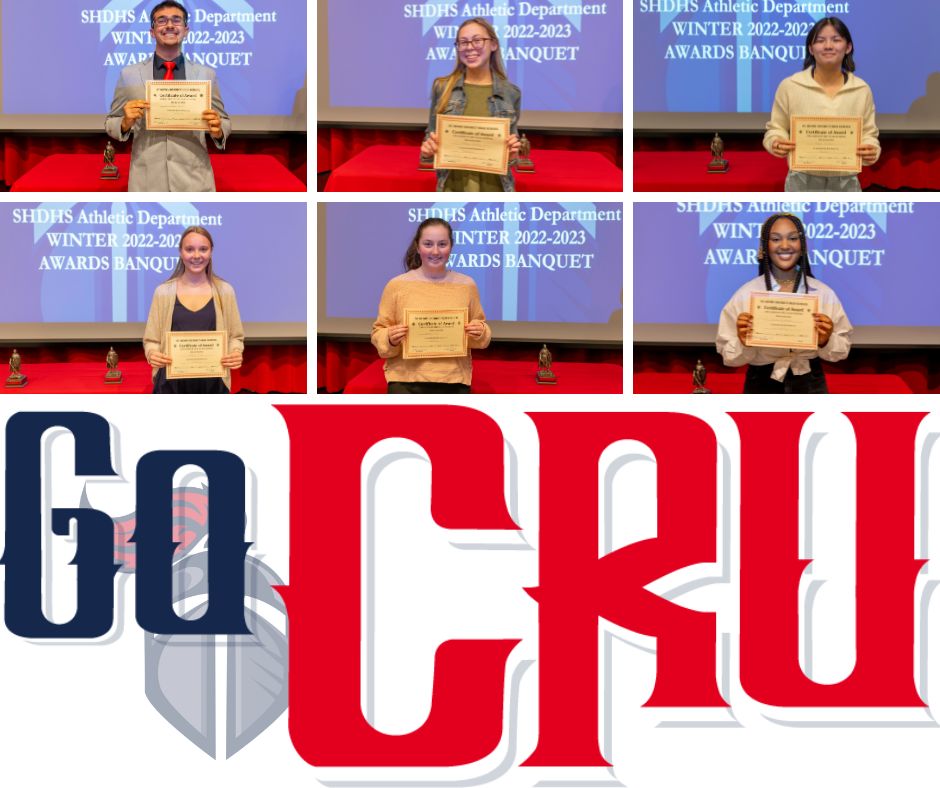 Congratulations to the following athletes for being named Crusader of the Year nominee:
Rhet Ravenscraft - Boys Basketball
Reagan Fredrick - Archery
Chilota Iloegbunam -Girls Basketball
Julianne Dirst - Swimming
Anay Sehgal - Swimming
Morgan Mueller - Cheerleading
Allyson Egan - Bowling
Matt Resing and Emma Littrell were named the Most Outstanding Winter Athlete.
---
Athletic Signing
Athletic singing for Athletes will occur on Monday, April 24, at 3:00 pm in the Drees Auditorium. Parents, if your child is signing, you will receive a separate letter from the Athletic Department with further information.  
---
St. Henry District High School Booster Scholarship for Seniors
The SHDHS Booster organization will offer two $500.00 scholarships, one male and one female Senior. All applications should be completed in full and given to Mrs. Kolkmeier by Thursday, April 27. A Booster Selection committee will receive all applications from the Athletic Department to make the selections. The committee will evaluate the applicants based on the criteria below. Applications will be held in the strictest confidence. The Booster scholarships are not based on financial need and do not include SAT or ACT testing scores. Any post-secondary college/university, including technical colleges, is acceptable. Click here to apply.
---
BINGO - July 1
The Athletic Department and the Future Problems Solvers will secure the volunteers for the July 1 Bingo. Twenty volunteers are needed to run this Bingo. Anyone who can volunteer to help with this Bingo, please get in touch with Sue Kolkmeier at [email protected] to sign up. Hours of Bingo will be 10:45 am-4:30 pm. Lunch will be provided.
---
Are you getting ready to spruce up the landscaping? Your Crusaders can help with that! The SHDHS Boosters organization is selling mulch this year. Crusader athletes will even DELIVER THE BAGS to your house and place them around your yard.
There are three color options: black-dyed, brown-dyed, and natural. The bags are two cubic feet and cost $4.50 each (there is a five-bag minimum to order). All proceeds benefit SHDHS Athletes. Click here to order your mulch today!
You can make your yard look amazing and help out Crusader athletes at the same time. It's a win-win!
Counselors Corner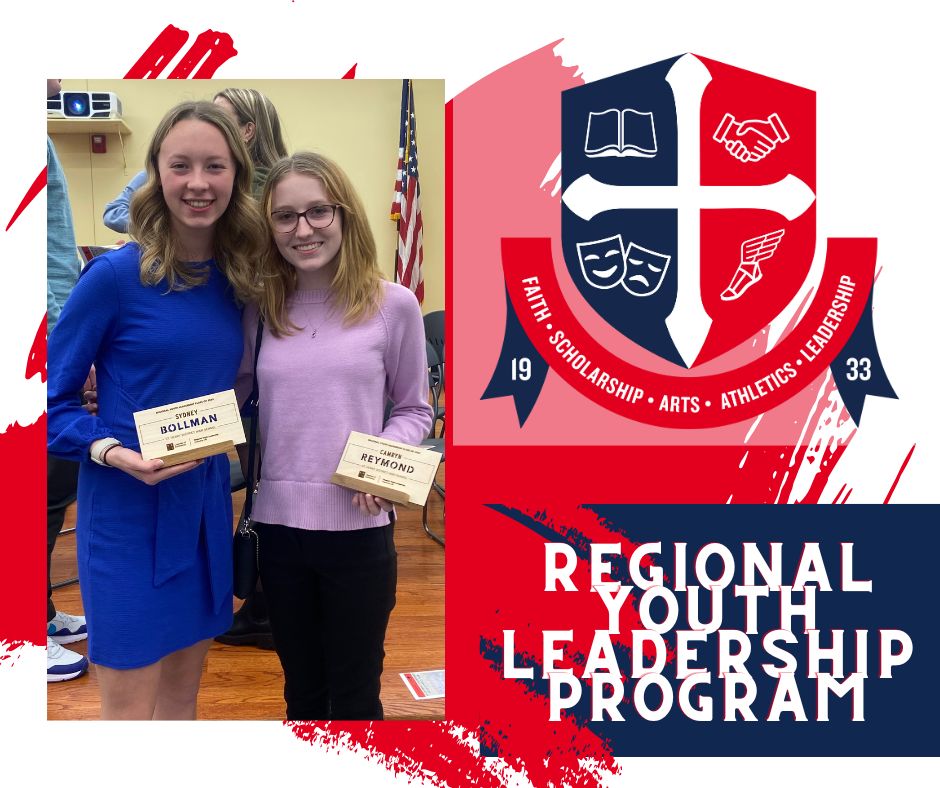 Regional Youth Leadership Program
Sydney Bollman and Camryn Reymond for graduating from the Regional Youth Leadership Program! 
---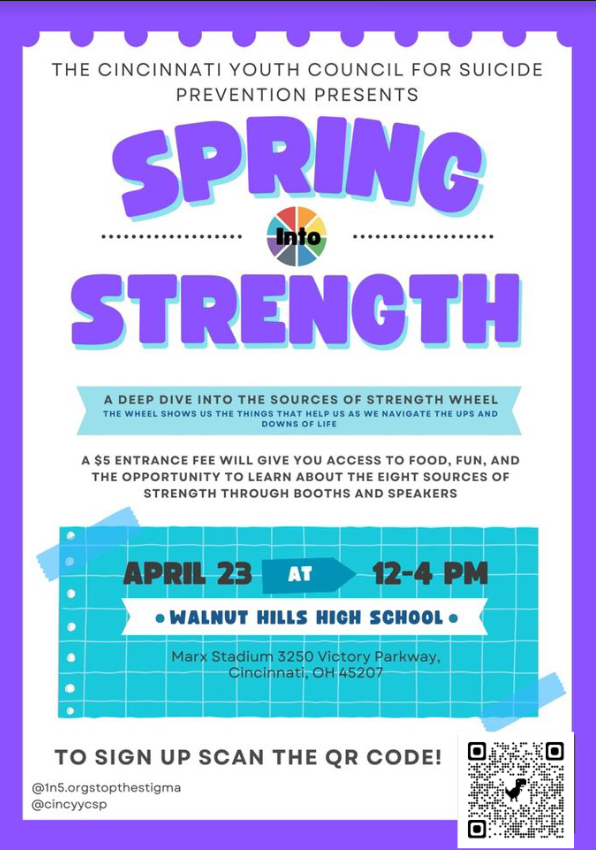 Sources of Strength Spring Event April 23, 12–4 pm.
Parents: Please encourage your student to participate in our Sources of Strength program.
Students: If you are already a Sources of Strength member or want to get involved with the program, check out this opportunity to meet other students in Greater Cincinnati and learn more about suicide prevention. (This would look great on your resume!) For more information, email Molly Roebker at [email protected]. 
---
Summer College Bus Tour
The Counseling Department is planning the 2023 Summer College Bus Tour for rising seniors and juniors (Class of 2024 & 2025). We want to visit universities June 5-7 in Ohio and Indiana. More information will be available the week after spring break. If you have any questions, please get in touch with Billy Sarge at [email protected] or 859.525.5844.
Graduation 2023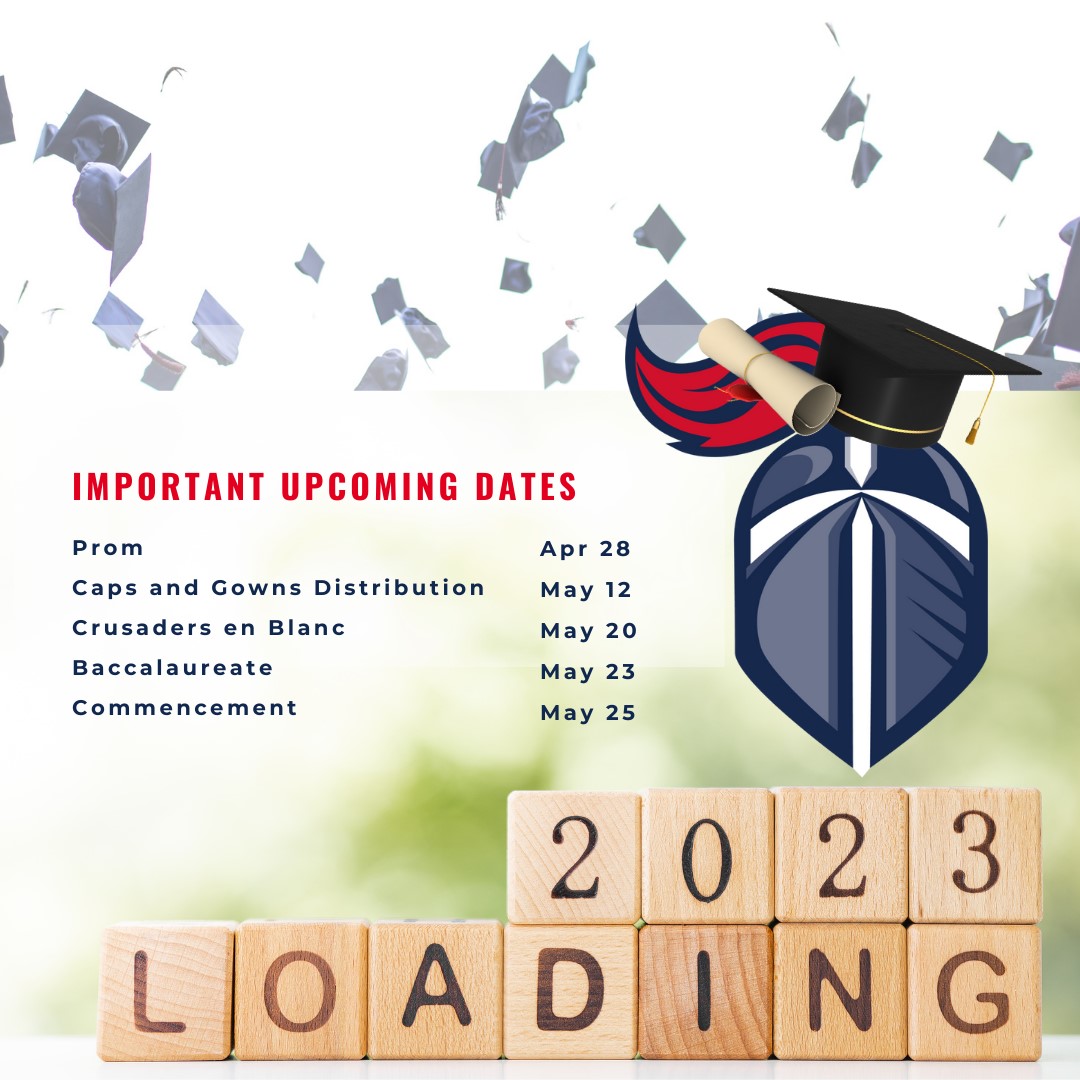 Graduation Party Planning
2023 Graduation Shop
Celebrate your 2023 Grad with custom SHDHS graduation party supplies!!! 
https://crazycrusader.com/collections/2023-graduation-shop
Orders need to be placed by Friday, March 24.   For any questions, please get in touch with Monica Gumz at [email protected].
---
May 20 - Crusader En Blanc (Seniors only) time change
The Crusader en Blanc time has changed from 6-10 to 5–9 pm. Parents are welcome to stay from 5–6 pm. Plan to visit the art gallery for the art show beginning at 4:00 pm. 
---
5/23/23 Baccalaureate Mass and Senior Awards
Seniors dress up for this occasion and sit with their parents.
Mass will be held in the SHDHS Drees Homes Auditorium at 6:00 pm.
The Senior Awards ceremony will begin shortly following Mass.
Students will receive four tickets per family (senior students do not need a ticket).
If you need extra tickets, please call the office at 859.525.0255 or email

[email protected]

. If your family does not need all four tickets, please let the office know so we can open up spots for larger families. Spacing is only limited to Baccalaureate, not Graduation. We will do our best to accommodate larger family needs. Tickets will be given to the students with caps and gowns on May 12.
Please make sure all scholarship offer information has been submitted to Mr. Chris Reeves at [email protected] ASAP - our students deserve to be recognized for their hard work.
No caps and gowns for this evening.
5/25/23 Graduation
Graduation practice is mandatory and will be held at Thomas More University (TMU) at 10:00 am on 5/25/23.
Graduation will be held at TMU and begin at 7:00 pm
There will be no limit on guests attending Graduation.
After the graduation ceremony, students will proceed out the back doors at floor level. Families will exit at the main entrance where they originally entered.
Graduation gowns must be turned in before leaving TMU.
For questions, email Toni Lehan at [email protected].
Campus Ministry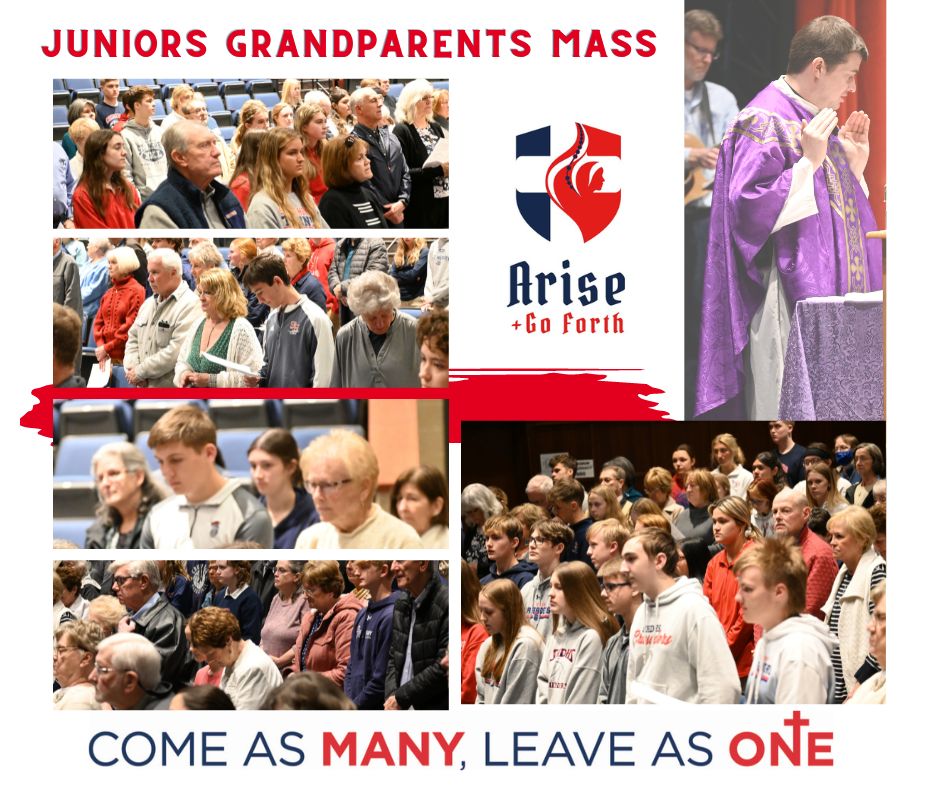 SUMMER VOLUNTEER HOURS: 
The iCan Bike Camp with the DSAGC (Down Syndrome Association of Greater Cincinnati) is not until June, but they need volunteers to help run the camp! If you are interested in learning more, check out their website below 
https://www.dsagc.com/programs1/ican-bike-camp/?eType=EmailBlastContent&eId=32efc685-638f-44c5-a6ea-c3fdfff23a92
---
Grandparent Masses
Please invite grandparents (or grandparent figures) to the annual grandparent Mass. Freshmen Grandparents will be seated at 9:45 am, and Mass starts at 10:00 am, followed by a light refreshment/reception. For questions, please email Annie Poat (Campus Minister) at [email protected]. Please click here to sign up.
Freshman - Tuesday, April 25
---
Sisters of Notre Dame 4th of July Festival Volunteering 
The sisters of Notre Dame are looking for students to volunteer for their 4th of July Festival over the summer. If you are interested in volunteering, please fill out and submit this form HERE. Contact Anna Resing at [email protected] for any questions.
---
NCYC 2023
The Office of Catechesis and Evangelization invites you to join us at the 2023 NCYC: Fully Alive conference on Nov. 16-18, 2023, at the Indiana Convention Center in Indianapolis. 
National Catholic Youth Conference (NCYC) is a unique three-day experience for Catholic teens to hear inspiring Catholic speakers, celebrate Mass with thousands of teens, and participate in reconciliation and adoration. Enjoy praise and worship music led by award-winning artists and experience interactive exhibits with games, crafts, obstacle courses, and more. For more information, visit  https://ncyc.us/about/
If interested in attending, please contact our Campus Minister Annie Poat at [email protected].  
FEC News 
Teacher/Staff Appreciation Week:  The FEC is starting to plan the upcoming Teacher/Staff Appreciation Week from 5/1 - 5/5. We are looking to organize something special for our amazing teachers/staff each day of the week with an "SHDHS Rocks" theme! 
If you are interested in sponsoring or co-sponsoring a day or have a business that would like to sponsor a day, please get in touch with Elaine Stich at [email protected].
Let's plan a Rockin' week of appreciation for our awesome teachers and staff!
Senior Signs - Help Needed:  The FEC is looking for several volunteers to put out the Senior Signs on Sunday, April 30, time TBD. The signs will be out for the remainder of May, and Seniors can take them home once school is out. Please get in touch with Elaine Stich at [email protected] if you can help.
Alumni Art Show/Hall of Fame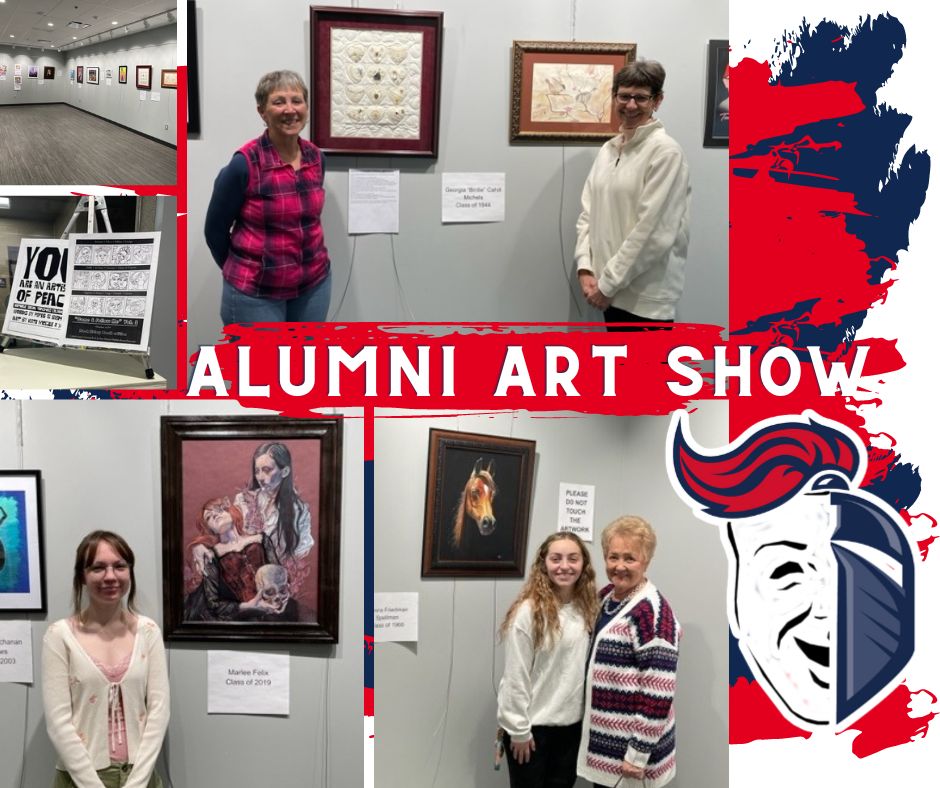 Alumni Art Show is a hit!
SHDHS welcomed their talented Alumni Artists to submit pieces for the second annual Alumni Art Exhibition, which opened before the Hall of Fame Induction on April 2. Pieces submitted ranged from graduates in the class of 1944 all way up to 2022! We thank everyone that took part and look forward to seeing an even bigger turnout for the next one in November 2023!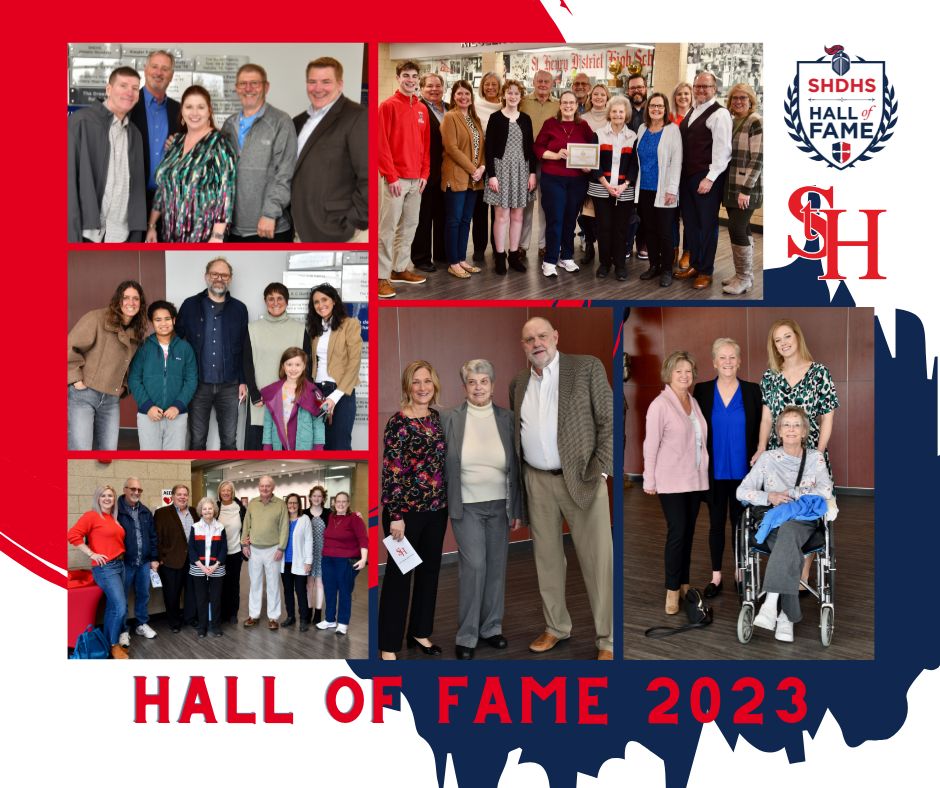 SHDHS is honored to present the newest members of the Hall of Fame class of 2023. Each new member is being inducted under one of our five pillars; faith, arts, athletics, leadership, or scholarship.
Michael McGuire        Class of 1961       Arts
Scott Brauch                                           Athletics
Amy Eisenmenger     Class of 1979       Athletics
Jay Eisenmenger       Class of 1979       Athletics
Virginia Goetz                                         Faith
Terri Seibert                                            Leadership
Susy McAfoose                                      Leadership
Gina Ruehl                                             Scholarship
Each inductee received a Crusader figure inscribed with our Hall of Fame insignia. When we think of a Crusader, we often envision it holding a sword. This figure, however, has been designed to hold a pen. We thought these figures were perfect because, as they say, "the pen is mightier than the sword." Current Hall of Fame members and new inductees…each of you has helped write our Crusader family's story. Your impact on our school has, indeed, been mighty. 
Congratulations!
 Upcoming Dates
AT A Glance events

April 10-14 - Spring Break
April 18 - NHS Induction, 6:30 pm
April 21 & 22 - Alumus Basketball Tournament
April 24 - Athletics Spring Signing Day, 2:15 pm
April 25 - Freshmen Grandparent Mass, 10:00 am
April 25 - Science NHS Induction, 6:00 pm
April 28 - Prom, 7:00 - 11:00 pm
April 29 - Math and Spanish placement exam
---
2022-2023 School Calendar
Click here for a quick look at the 22-23 pdf school calendar. Subscribe to our school calendar by clicking here for all up-to-date information.
Additional Resources
Quick Links
Cafeteria Information and Lunch Menu
Calendar of events
SHDHS Enrollment Portal
TylerSIS Student Information
Schoology
Crusader Check & Connect
Follow your Crusaders on
We want to thank all of our Platinum Sponsors.