School Office Summer Hours
The school office will be closed on May 26 and May 29. The Summer office hours will begin on May 30, Tuesday - Thursday (9:00 am - 1:00 pm). We are closed on Mondays and Fridays.
---
School Compliance Verification Form for New Drivers
If your child is scheduled to take the driver's test for their learning permit over the Summer break, please have them stop by the front office next week to pick up the KRS159.051 School Compliance Verification Form, required by the Commonwealth of Kentucky. This form cannot be faxed or emailed. The form is good for 2 months after the date issued. Please see the above summer hours.
---
Tuition rates for the 2023-2024 school year
In-Diocese        
    1st. Child    $8,910.00  
    2nd Child    $8,310.00
    3rd. Child    $4,455.00
Out-of-Diocese
    1st. Child    $9,960.00
    2nd Child    $9,360.00
    3rd. Child    $4,980.00
The General Fee is $850.00 per child. 
All tuition payments go through FACTMgt. All new families must log in and create their profile; by May 19, 2023. Once you create your account by entering your information and selecting your payment plan, then your account will go to "pending." Existing family agreements will roll over. If you have an existing account and will have an incoming freshman in the 2023-2024 school year, the SHDHS will add your new student to your existing account. 
Tuition agreements will be sent out by May 26, 2023. You will then need to accept your tuition agreement to finalize your payment plan. 
Families who choose the "pay in full by July 31" FACTS agreement (FACTS payment date of July 20) will receive a $120.00 discount ($100 prepayment credit and $20 reimbursement of the FACTS processing fee). If you have ‌questions, please contact Connie Cornett, Business Manager, at 859.525.0255 ex—2801 or via email at [email protected].
---
COMPLETION OF 2022-2023 TUITION PAYMENTS - If you have chosen the 12-month payment option, your final payment will be in June 2023 for the 2022-2023 school year. Balances for the 2022-2023 school year must be paid in full by June 30, 2023, for your student to return in the Fall or for senior transcripts to be released. 
---
Cafeteria Information
Please click here and follow the procedures for a cafeteria refund for your student's lunch money. All lunch charges must be paid by (Seniors by May 12) and underclassmen by May 19. You may leave lunch money in your account if you are an underclassman.
---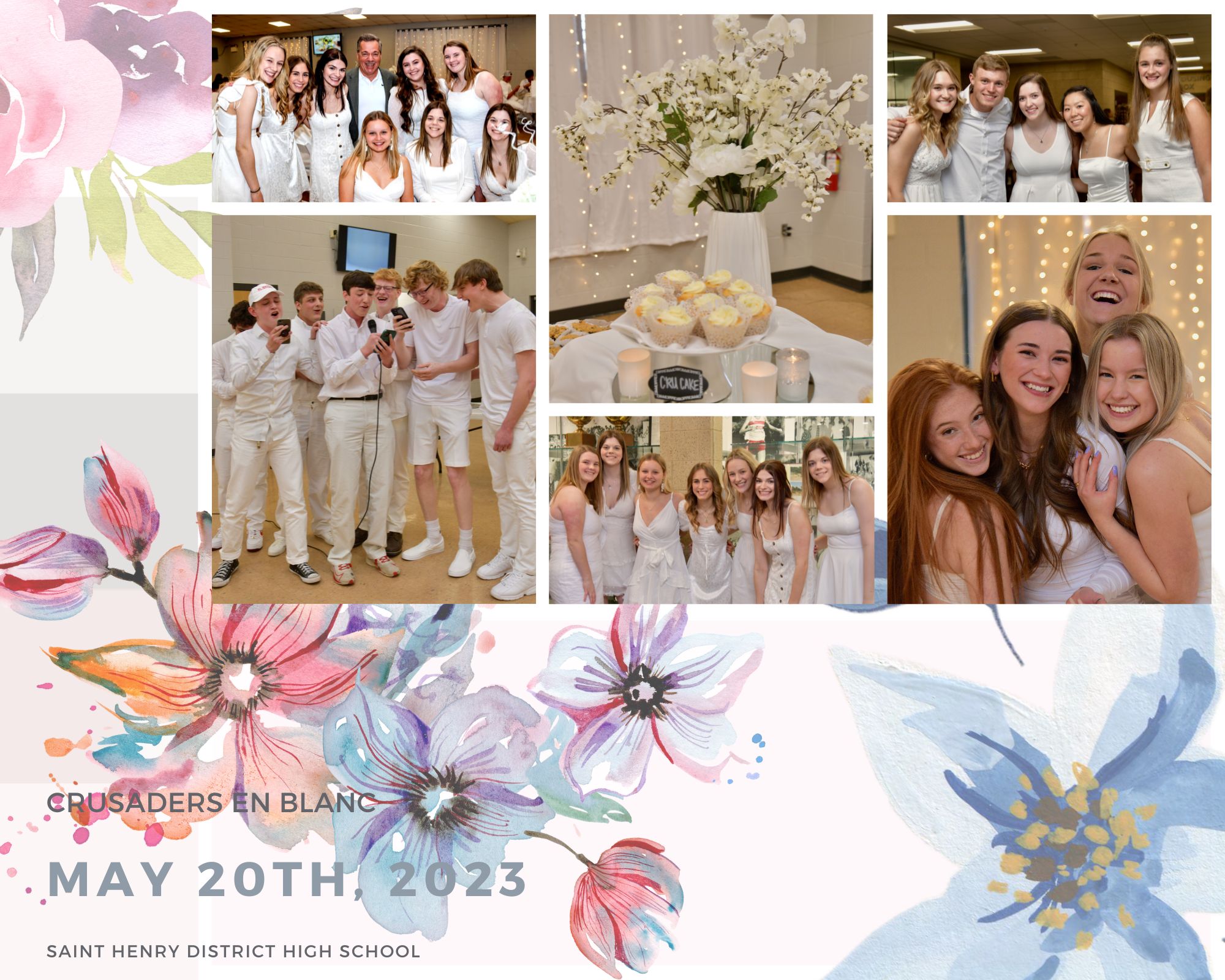 Crusaders en Blanc and Senior Art Show
Saint Henry District High School (SHDHS) prides itself on celebrating the Class of 2023 with CRUsaders en Blanc.
Date: May 20th, 2023
Senior Art Show:  4:00 - 5:00 pm
CRUsaders en Blanc Time:  5:00 - 9:00 pm
Location:  Saint Henry District High School's main campus
Cost:  No cost to the Class of 2023 seniors
RSVP:  All RSVP cards must be returned to the Front Office by May 15th, 2023
CRUsaders en Blanc is a celebration of the graduating class that will take place at SHDHS's main campus on May 20, 2023.  Invitations are on their way, and students are expected to return the RSVP card by May 15th, 2023. Everyone is expected to wear white; the color white is often used to convey a sense of purity and peacefulness - parents are encouraged to wear white as well.  The Senior Art Show will open at 4:00 PM in the Wilson Family Art Gallery.  The celebration will commence at 5:00 PM in the Drees Homes Auditorium, and parents and family members are welcome to join all the seniors for a presentation and a show.  The remainder of the evening is for senior students only; they will be served a sit-down dinner prepared by our amazing chef, Carmen Summy.  After dinner, students will participate in a Bingo game.  SHDHS is thankful for the parent volunteers who stepped up to help coordinate this event, Donna Grayson, Jennifer Fedders, and Elaine Stich. Mark Setters will be this event's photographer; all photos will be available to all senior parents. This event will be free to all seniors. More information will be shared with the Class of 2023 through Schoology. If you have any questions or concerns, please contact Polyana Seguim at [email protected].
---
Please click below to view the 9,10, and 11-grade exam schedule:
Underclassman Exam schedule - May 22,23,24 & 25
---
Donations needed
One of our newer Senior traditions, An Evening En Blanc, is fast approaching, and we could use your support. Whether you have a Freshman or a Senior, it is a school-wide effort to make this evening a success. Click here to read more...
---

SHDHS Crusader Summer Camps and Activities will be here before we know it! This summer, SHDHS is excited to offer a variety of athletic and fine art activities for your sons and daughters, including:
Baseball Skills Camp
Basketball Skills Camp
Drama Camp
Soccer Skills Camp
Visual Arts Camp
Volleyball Skills Camp
Tennis Camp
Our coaches, faculty members, and students would love to spend time with your child(ren) this summer, helping them learn valuable skills while having fun. Space for each activity is limited, so please go to the Summer Camp page of our school website (https://shdhs.org/st-henry-district-high-school-summer-camps) to complete the registration form(s) before the allotted spots are filled. Details on all the great opportunities listed above, including exact dates, times, and costs, can also be found via the link above.