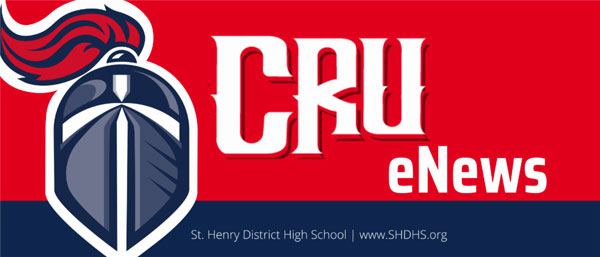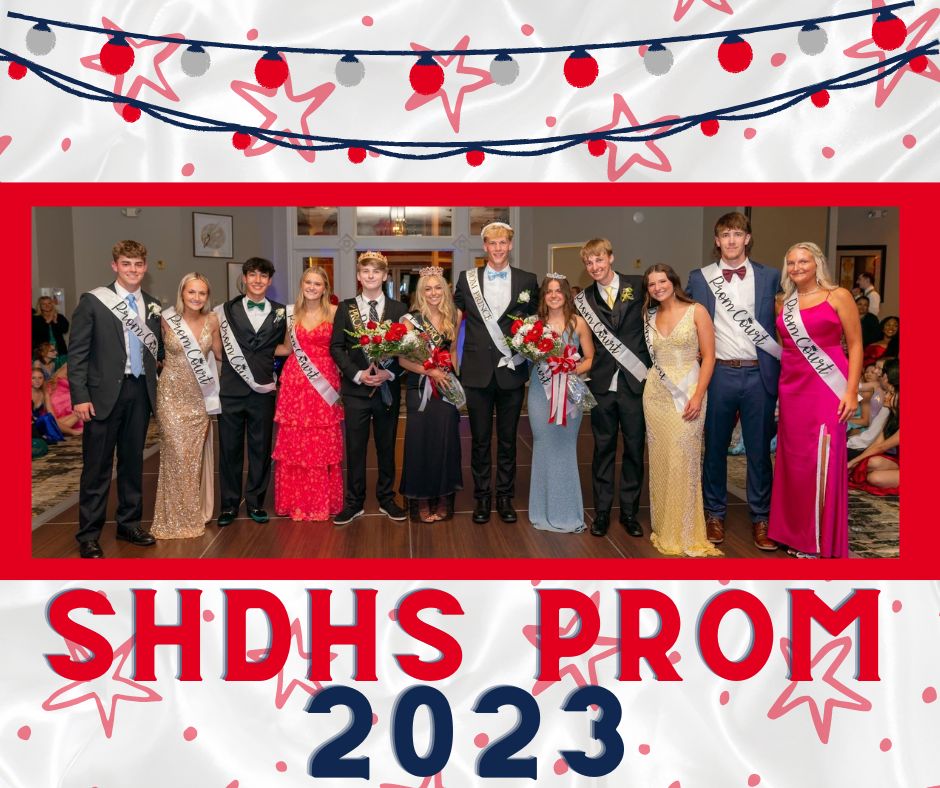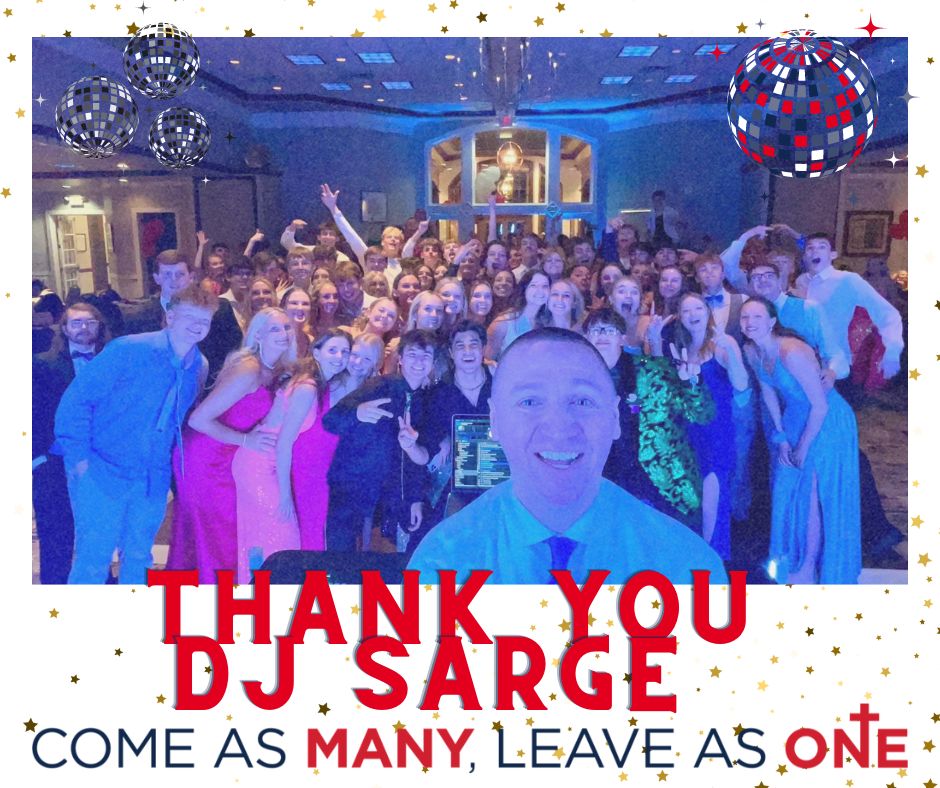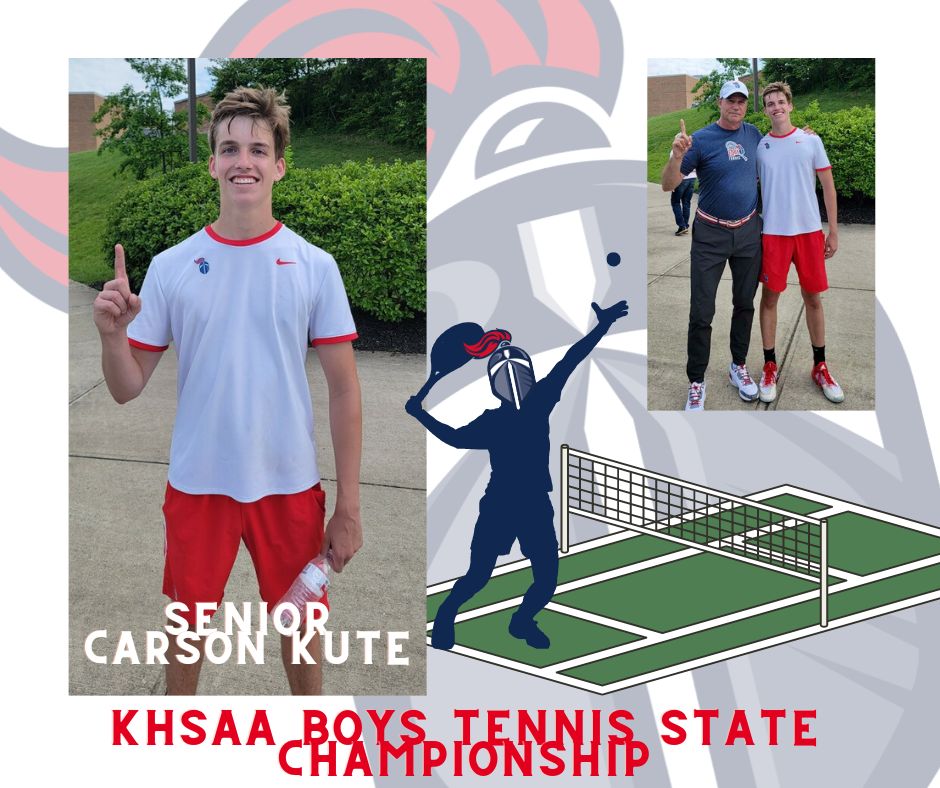 Senior Carson Kute Qualifies for KHSAA Boys Tennis State Championship
Congratulations to Senior Carson Kute! Carson has qualified for the @KHSAA Boys Tennis State Championships. The state championship will occur on May 30-June 1 at Top Seed Tennis Club in Nicholasville, KY. Best of luck, Carson. We are so proud of you!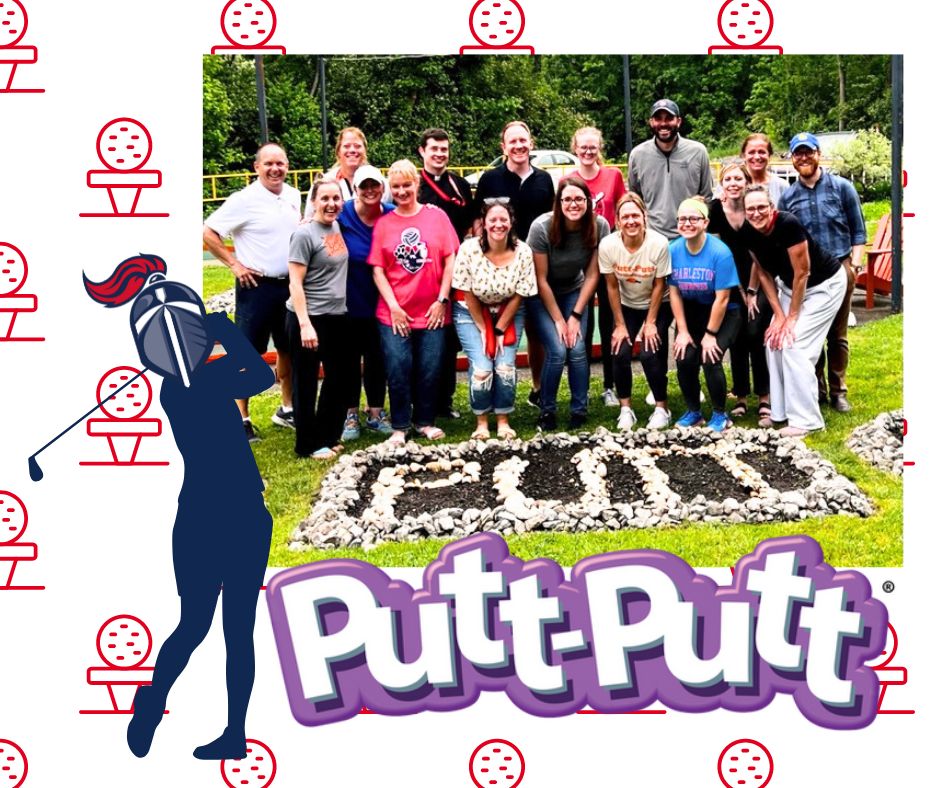 SHDHS Faculty enjoy some end-of-year fun together! We have a couple of teaching positions open (Mathematics and part-time Latin) if you know anyone who would like to join our CRU family. Please email Principal Brannen at [email protected]g. #
 Information from the Front Office
School Office Summer Hours
The school office will be closed on May 26 and May 29. We are closed on Mondays and Fridays. The Summer office hours will begin on May 30, Tuesday - Thursday (9:00 am - 1:00 pm).
---
School Compliance Verification Form for New Drivers
If your child is scheduled to take the driver's test for their learning permit over the Summer break, please have them stop by the front office next week to pick up the KRS159.051 School Compliance Verification Form, required by the Commonwealth of Kentucky. This form cannot be faxed or emailed. The form is good for two months after the date is issued. Please see the above summer hours.
---
Access Report Cards Second Semester 2022-2023
TylerSIS is our Student Information System, where you can view academic history, attendance, final grades, and other school information. Parents, to access TylerSIS, please click the following link (https://kysh.sisk12.net/KYSH360x3/parent). 
Please click here for more details if you need instructions on accessing TylerSIS. 
If you have trouble or can not access TylerSIS, please contact the Technology Department at [email protected]. 
All current families must log in to access the following:
Final Grades - Report cards will not be sent home. You can access grades by selecting "Academic History" or "Go To Grades" when logged in to Tyler SIS. If you'd prefer an official printed grade report on St. Henry letterhead, please get in touch with the front office at [email protected]. The 2nd-semester official report card will be ready after June 5.
---
Tuition rates for the 2023-2024 school year
In-Diocese        
    1st. Child    $8,910.00  
    2nd Child    $8,310.00
    3rd. Child    $4,455.00
Out-of-Diocese
    1st. Child    $9,960.00
    2nd Child    $9,360.00
    3rd. Child    $4,980.00
The General Fee is $850.00 per child. 
All tuition payments go through FACTMgt. All new families must log in and create their profile; by May 19, 2023. Once you create your account by entering your information and selecting your payment plan, then your account will go to "pending." Existing family agreements will roll over. If you have an existing account and will have an incoming freshman in the 2023-2024 school year, the SHDHS will add your new student to your existing account. 
Tuition agreements will be sent out by May 26, 2023. You must then accept your tuition agreement to finalize your payment plan. 
Families who choose the "pay in full by July 31" FACTS agreement (FACTS payment date of July 20) will receive a $120.00 discount ($100 prepayment credit and $20 reimbursement of the FACTS processing fee). If you have ‌questions, please get in touch with Connie Cornett, Business Manager, at 859.525.0255 ex—2801 or via email at [email protected].
---
COMPLETION OF 2022-2023 TUITION PAYMENTS - If you have chosen the 12-month payment option, your final payment will be in June 2023 for the 2022-2023 school year. Balances for the 2022-2023 school year must be paid in full by June 30, 2023, for your student to return in the Fall or for senior transcripts to be released. 
---
Please click below to view the 9,10, and 11-grade exam schedule:
Underclassman Exam schedule - May 22,23,24 & 25
---
A Message from the Diocese of Covington
As summer approaches, we want to ensure that all our community's children can access nutritious meals, even when school is out. We are excited to inform you about the USDA Summer Meals for Kids Site Finder at www.fns.usda.gov/meals4kids.
This website allows you to find nearby sites where your child can receive free meals during the summer months. These sites are available in Boone County, Campbell County, Harrison County, Kenton County, and Mason County and will operate from June 2, 2023, to July 28, 2023. To find a nearby site, simply visit www.fns.usda.gov/meals4kids and enter your zip code or address. The site will provide locations, mealtimes, and any eligibility requirements. You can also call 1-866-3-HUNGRY (1-866-348-6479) to speak to a representative who can help you locate a site. It is important to note that these meals are available to all children under 18, regardless of income or eligibility for reduced-price school meals. We encourage you to use this program to ensure your child receives nutritious meals throughout the summer. We hope that you and your family have a safe and enjoyable summer. If you have questions, please get in touch with Laura Hatfield at [email protected].
---
SHDHS Crusader Summer Camps and Activities will be here before we know it! This summer, SHDHS is excited to offer a variety of athletic and fine art activities for your sons and daughters, including:
Baseball Skills Camp
Basketball Skills Camp
Drama Camp
Soccer Skills Camp
Visual Arts Camp
Volleyball Skills Camp
Tennis Camp
Our coaches, faculty members, and students would love to spend time with your child(ren) this summer, helping them learn valuable skills while having fun. Space for each activity is limited, so please go to the Summer Camp page of our school website (https://shdhs.org/st-henry-district-high-school-summer-camps) to complete the registration form(s) before the allotted spots are filled. Details on all the great opportunities listed above, including exact dates, times, and costs, can also be found via the link above.
Class of 2027
School Uniforms - The uniform policy is found on page 42 in the Student Handbook.
---
2023 Summer Enhancement Math Program for Incoming Freshmen
The Math program is designed to enhance math skills and remediate basic math concepts to better position students for the school year. The program provides support for those needing review for Algebra I. For more information, contact Mandy Finke at [email protected].

Dates: Tuesdays and Thursdays from 9:00 am - 11:00 am
July 11, July 13
July 18, July 20
July 25, July 27
August 1, August 3

$200.00 per student. Click here to register.
---
2023 Summer Enhancement English Program for Incoming Freshman
The English summer enhancement program is designed to reinforce students' skills essential for a successful transition into a high-school-level class. Students will practice critical reading techniques such as close reading, note-taking, and annotating to increase comprehension. Additionally, students will incorporate writing tools to effectively communicate, develop and support ideas in an organized and focused manner. 
Dates: Tuesdays and Thursdays from 11:30 am - 1:30 pm
July 11, July 13
July 18, July July 20
August 1, August 3
Cost: $175.00 per student. Click here to register.
For more information, contact Angela Hartwig at [email protected].
Crusaders of the Week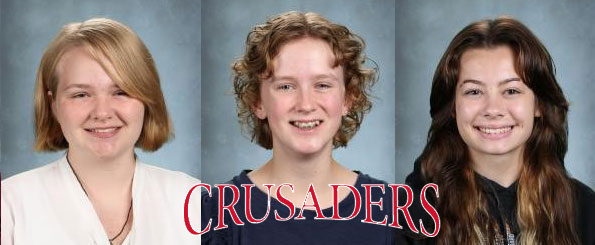 My greatest honor is to nominate Magdalene Jump for Crusader of the Week for Geometry. Mrs. Vaillancourt notes not only is Magdalene an excellent math student, but she always goes above and beyond to show kindness and compassion to everyone in the classroom. From sharing pencils to emailing notes, Magdalene is always the first to volunteer to help a fellow student. I have come to rely on her greatly in class and will miss her next year. Magdalene, it has been an absolute pleasure to teach you this year, and I wish you the best in the years to come. You are a rock star!!!
I am honored to give Crusader of the Week for Art 3 to Emma Linkugel. Emma is an exceptional artist, an extremely hard worker, a great time manager, and a sweet and funny person to have in class. Mrs. VonHandorf appreciates Emma's incredible creativity, fantastic attention to detail, and willingness to take and give constructive criticism. WAY TO ROCK! Emma is just awesome.
Mr. Fay nominates Emma Fischer for Crusader of the Week due to her perseverance in Chemistry Honors and eagerness to understand the concepts rather than just earning good grades. Nearly every day in class, Emma asks clarifying questions to ensure she comprehends the ideas properly. She is always ready to lend a hand, helping her peers understand the content. Her amiable demeanor is a welcome addition to the class, and it often brightens Mr. Fay's day when she offers a cheery "Thank you" after class. Congratulations, Emma!
Academic Showcase/Clubs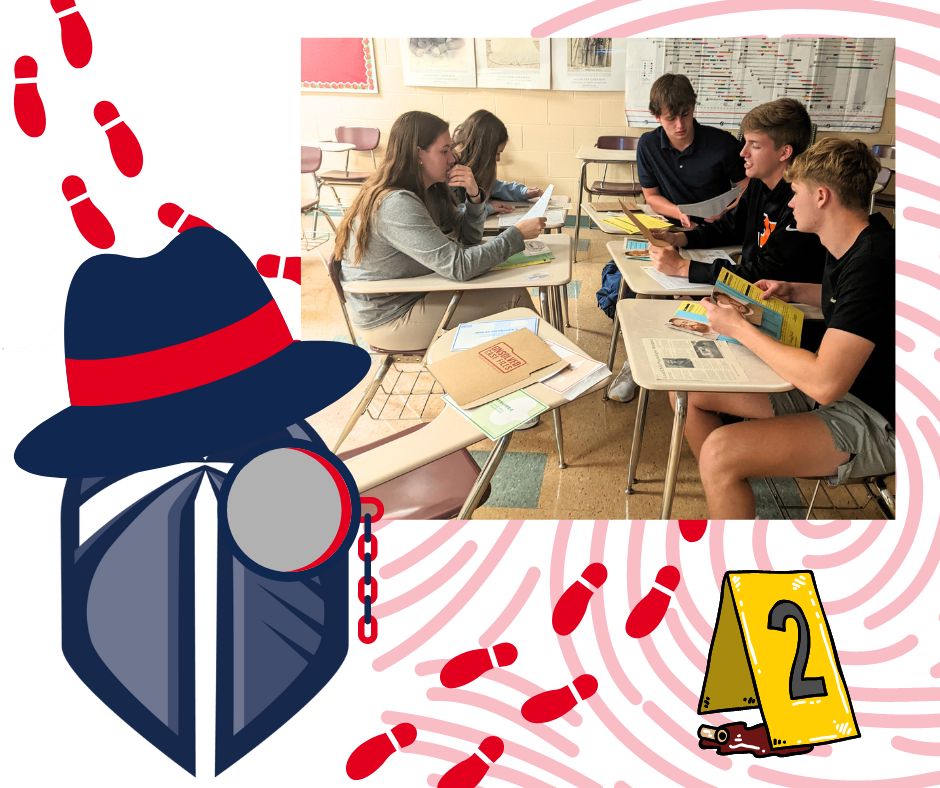 Detective work in AP Gov
Mrs. Kaiser-Munday's 6th-period AP Government students are using their sleuthing skills after the exam to determine the culprit of a murder mystery. They examine clues, find evidence, and look at timelines to observe different outcomes of this crime. 
---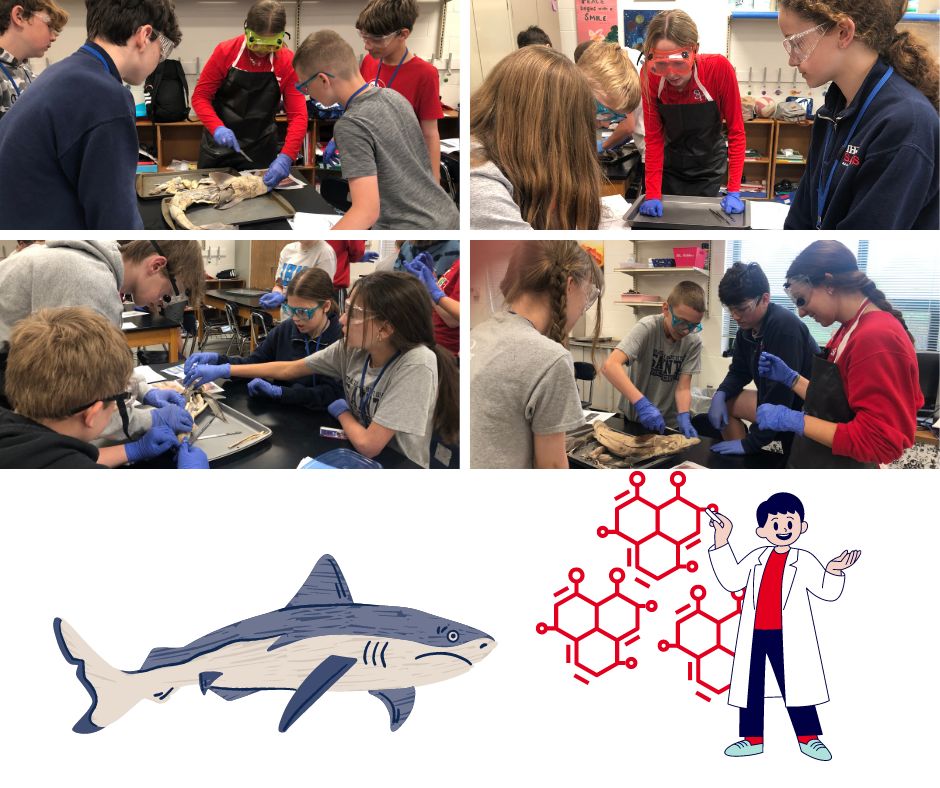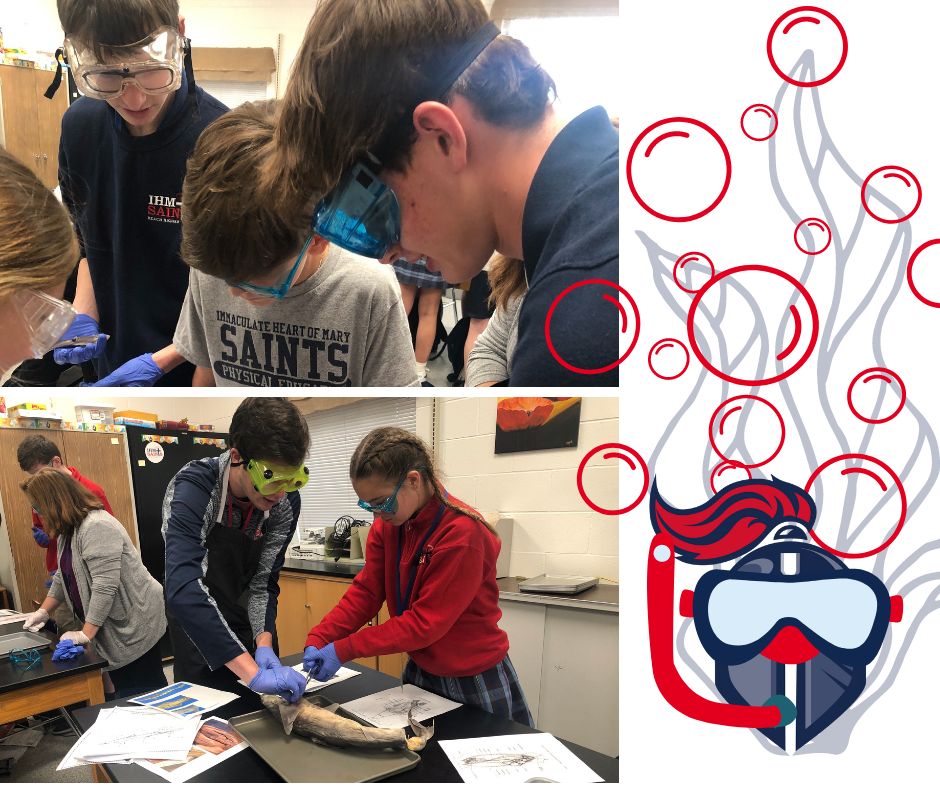 Shark Week!  
This week several SHDHS senior and junior Anatomy students went to Immaculate Heart of Mary School to help 7th-grade science students dissect the dogfish shark as their end-of-the-year project. SHDHS students served as table leaders to guide students through the dissection and assist the 7th graders with structure identifications. This was a fabulous learning opportunity for all students - thanks to Mrs. Mary Ann Robbins, IHM science teacher, for the invitation!
---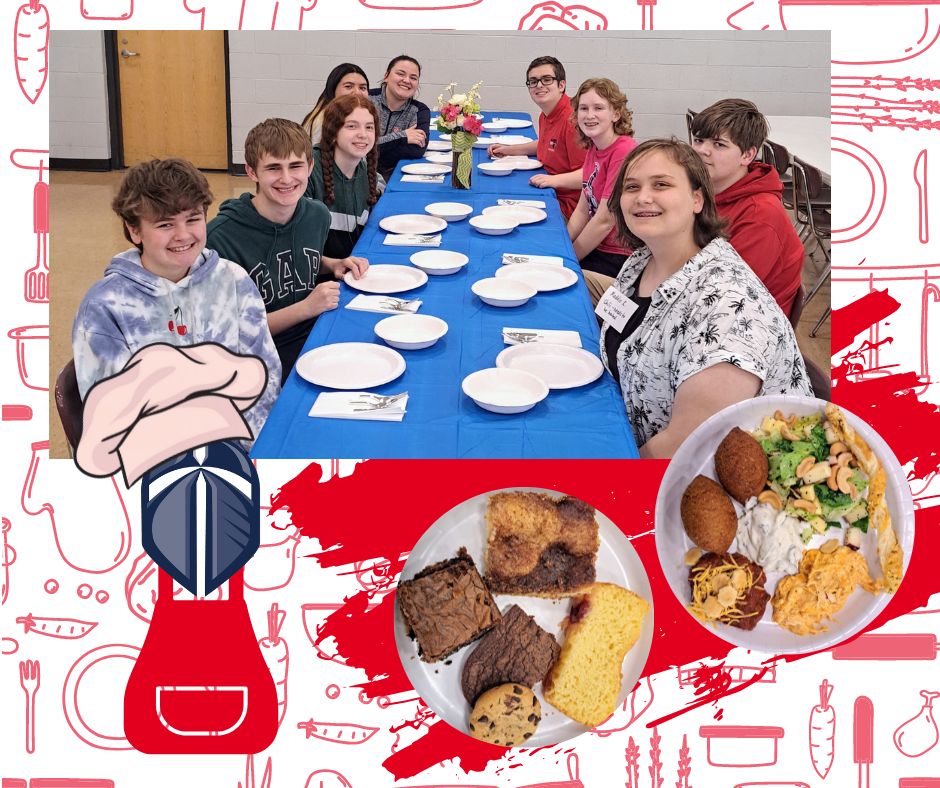 Culinary Club's Final Feast
On Wednesday, May 17, the Culinary Club wrapped up a record year with one last meal. Club members brought dishes to share and feast on salad, kibbeh, chili, buffalo chicken dip, breadsticks, and many desserts, including sopapilla cheesecake. 
We wish the best to our ten graduating seniors: Riley Bowen, Allyson Egan, Moira Fagarang, Reagan Fredrick, Julia Hudepohl, Kaelyn King, Faye Kirchgaessner, Christina Marsh, Isabelle McCarthy, and Katelyn Payne. May there be many delicious meals in your future.  God bless!
---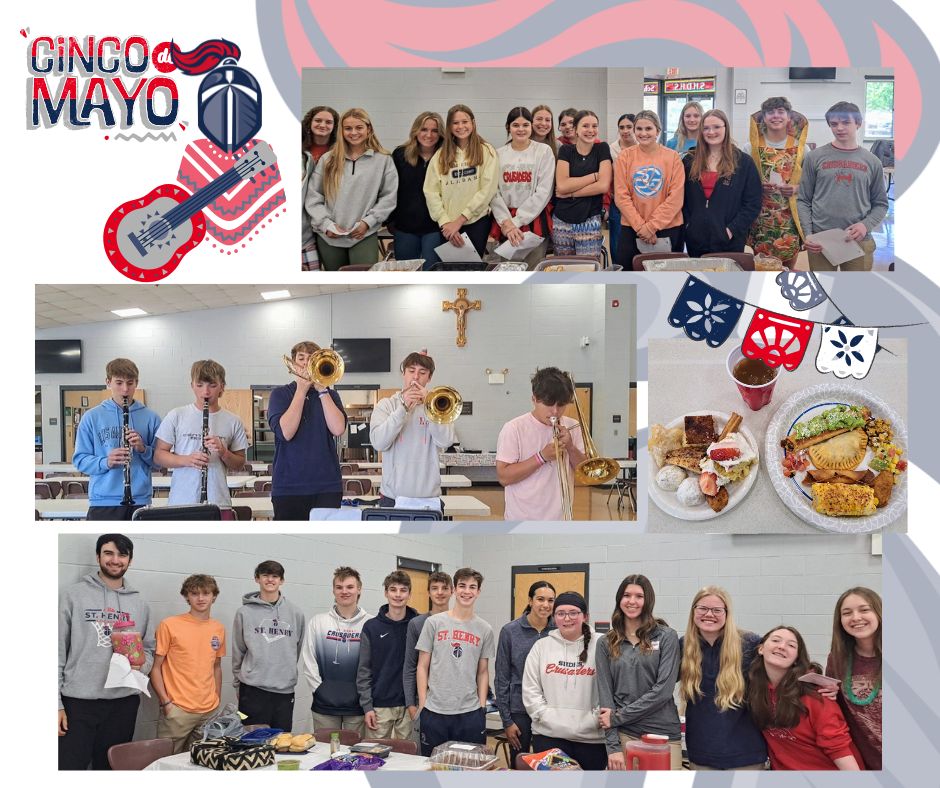 Cinco de Mayo
The Spanish 2 classes celebrated Cinco de Mayo last week. Students researched the history of this holiday and then brought a cultural contribution to our celebration. These included members of the band playing a traditional Mexican song, students making pinatas, decorations, artwork, and of course, lots of delicious Mexican dishes and beverages.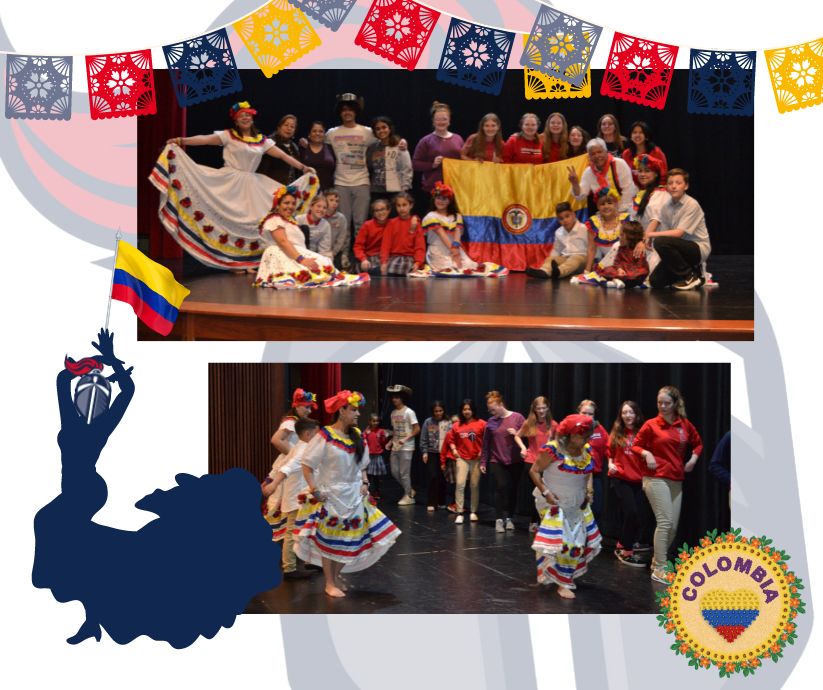 Spanish Dances
Spanish Club hosted an event last Wednesday to learn more about dances in the Spanish-speaking world. A Colombian dance troupe performed for the club in the auditorium and then taught the students how to do the traditional cumbia dance from their country and about their costumes. The students and dancers enjoyed their time together in this fun learning experience.
Athletic News
Girls Cross Country
Join the SHDHS Girls Cross Country Team!
Midnight Run: July 9 at 11:30 pm
Summer Practice: beginning July, 7:00 pm
Click here to view the flyer with detailed information.
---
Volleyball Summer Workouts
Thursday, June 1 (8:30-10 am)
Tuesdays, June 13 (time TBA) & June 20 (8:30-10 am)
Thursdays, June 15 (time TBA) & June 22 (8:30-10 am)
All athletes must be registered on final forms and have a current physical on file to participate in summer workouts. For more information, please reach out to Coach Kaiser at [email protected].
---
Boys Cross Country
Workouts begin  Monday, June 5. We will meet at Freedom Park at 7:00 am every morning. This is for grades 9-12. Our team will attend Bluegrass Running Camp on July 19-23. https://www.bluegrassrunningcamp.com/
Middle school training will begin after the dead period. This is for kids in grades 5-8. Training starts for these young men on Monday, July 10, at 7:00 am at Freedom Park.
Counselors Corner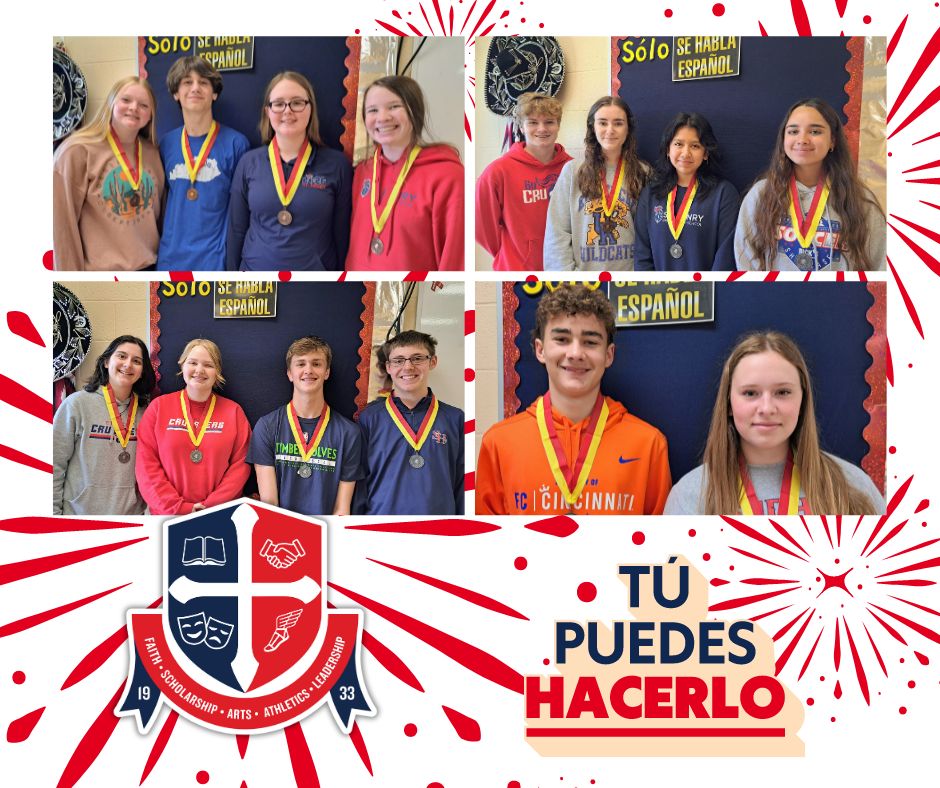 National Spanish Exam
Congratulations to the following Spanish students from SHDHS who attained national recognition for excellent performance on the 2023 National Spanish Examinations.
Silver - 
(Level 4) : Karla Schmidt 
(Level 3) : Allison Torres-Guzman 
(Level 2) : Corrine Blackburn
(Level 1):  Jason Bish, Brennan Lemmond, Olive Williams, Magdalene Jump
Bronze - 
(Level 3): Sam Baker
(Level 2): Claire Williams 
(Level 1): Leah Creed, Gwenyth Brown, Lucas Tabor, Evan Parhad, Elizabeth Addington, Paige Voneye
Honorable Mention - 
(Level 3) : Karol Fernandez
(Level 2) : Cassidy Ursillo, Molly Brue, Keylee McDaniel, Emilia Arias, Lauren Taylor, Wendy Daniels, Charlie Bihl, Claire Schild, Lizzie Casey, Jeff Stewart, Jeffrey Pilcher, Sarah Littrell, Maggie Kute, Ashley Kessans, Adam Lubert, Carly Apgar, Eli Abdrabbo, Austin Wood, JT Houston
(Level 1) :  Caden Kunstek, Caroline Tabeling, Jonah Tally, Kelcey Bollman, Luke Tobler, Addison Mann, Jada Purcell, Katelyn McDermott, Lauren Boyle, Taylor Erpenbeck, Ian Schneidt
 "Attaining a medal or honorable mention for any student on the National Spanish Examinations is very prestigious," said Kevin Cessna-Buscemi, National Director of the Exams, "because the exams are the largest of their kind in the United States with over 55,000 students participating in 2021."
St. Henry District High School students have a long history of high achievement on these exams and were taught by Spanish teachers Elizabeth Hasken and Ruth Coronado.
The National Spanish Examinations are administered yearly in grades 6 through 12 and are sponsored by the American Association of Teachers of Spanish and Portuguese.
---
On May 16, St. Henry District High School held its first annual Academic Scholarship Signing. Over 30% of the senior class qualified for this event, where we celebrated with family and friends. Students qualified by earning at least 50% of tuition or being admitted to a selective college. Congratulations to all of these fantastic students. Please click on the link to view the pictures from the event. 
Graduation 2023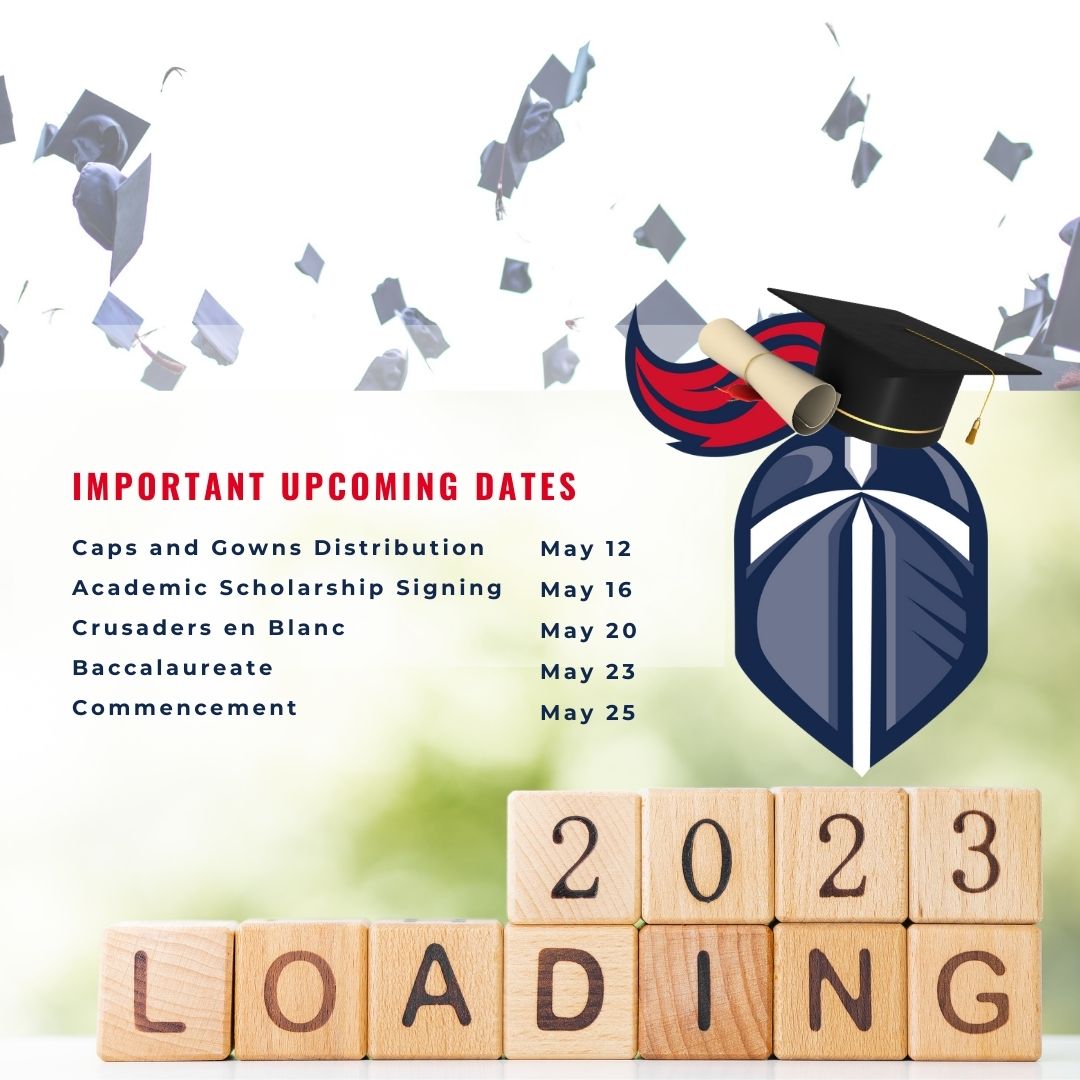 5/23/23 Baccalaureate Mass and Senior Awards
Seniors dress up for this occasion and sit with their parents.
Mass will be held in the SHDHS Drees Homes Auditorium at 6:00 pm.
The Senior Awards ceremony will begin shortly following Mass.
Students will receive four tickets per family (senior students do not need a ticket).
If you need extra tickets, please call the office at 859.525.0255 or email

[email protected]

. If your family does not need all four tickets, please let the office know so we can open up spots for larger families. Spacing is only limited to Baccalaureate, not Graduation. We will do our best to accommodate larger family needs. 

Tickets were given out Friday, May 13, with their cap and gown.

Please ensure all scholarship offer information has been submitted to Mr. Chris Reeves at [email protected] ASAP - our students deserve to be recognized for their hard work.
No caps and gowns for this evening.
5/25/23 Graduation
Graduation practice is mandatory and will be held at Thomas More University (TMU) at 10:00 am on 5/25/23.
Graduation will be held at TMU and begin at 7:00 pm
There will be no limit on guests attending Graduation.
After the graduation ceremony, students will proceed out the back doors at floor level. Families will exit at the main entrance where they originally entered.
Graduation gowns must be turned in before leaving TMU.
For questions, email Toni Lehan at [email protected].
---
Senior Parents can register online prior to the ceremony—one less thing to do on this special day.
Campus Ministry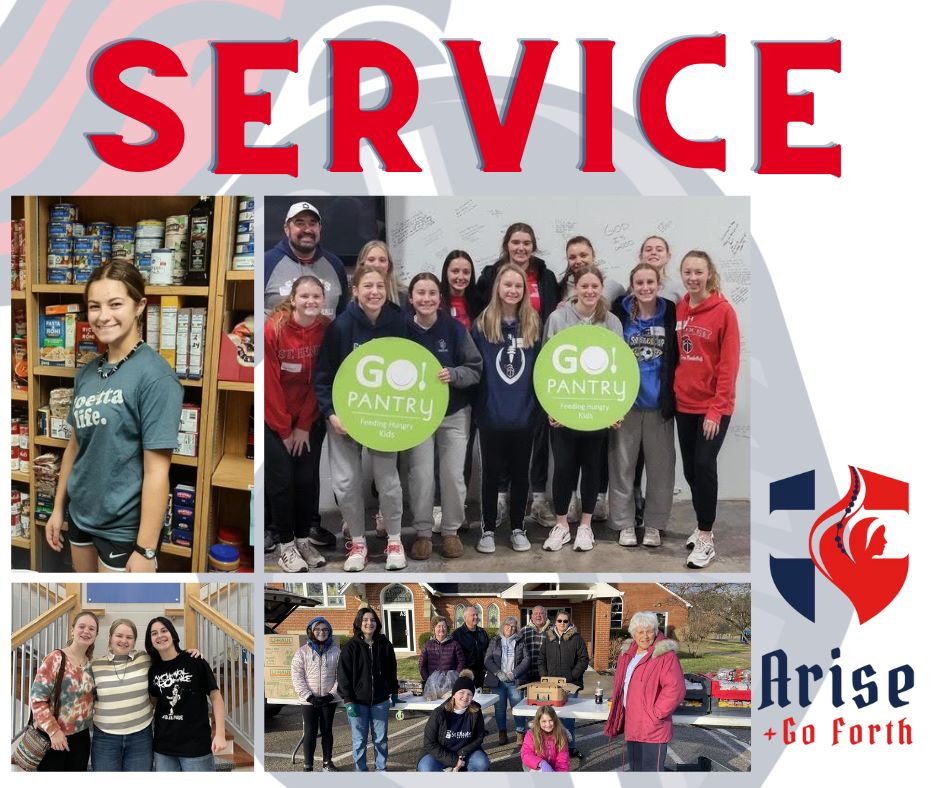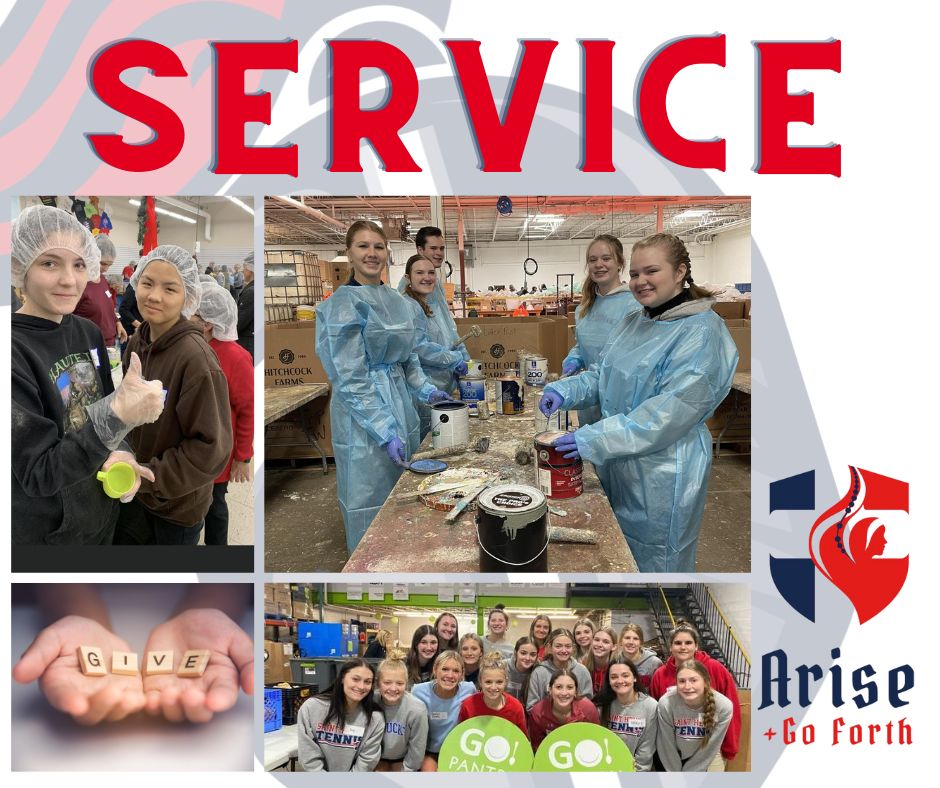 SUMMER SERVICE OPPORTUNITIES -  All hours served during the summer will be applied toward fall semester service requirements. Remember to log service in the student MobileServe account when it occurs. The following have specifically requested the help of SHDHS students. If you have questions or would like help in promoting a service event, please email [email protected].
 Upcoming Dates
AT A Glance events

May 20 - Crusader en Blanc, 5:00 - 9:00 pm
May 23 - Baccalaureate Mass/Awards, 6:00 pm
May 25 - Graduation Practice, 10:00 am
May 25 - Graduation Ceremony, 7:00 pm
2023-2024 School Calendar
Click here for a quick look at the 23-24 pdf school calendar. Subscribe to our school calendar by clicking here for all up-to-date information.
Additional Resources
Quick Links
Cafeteria Information and Lunch Menu
Calendar of events
SHDHS Enrollment Portal
TylerSIS Student Information
Schoology
Crusader Check & Connect
Follow your Crusaders on
We want to thank all of our Platinum Sponsors.