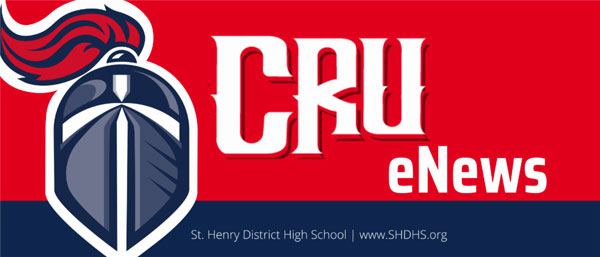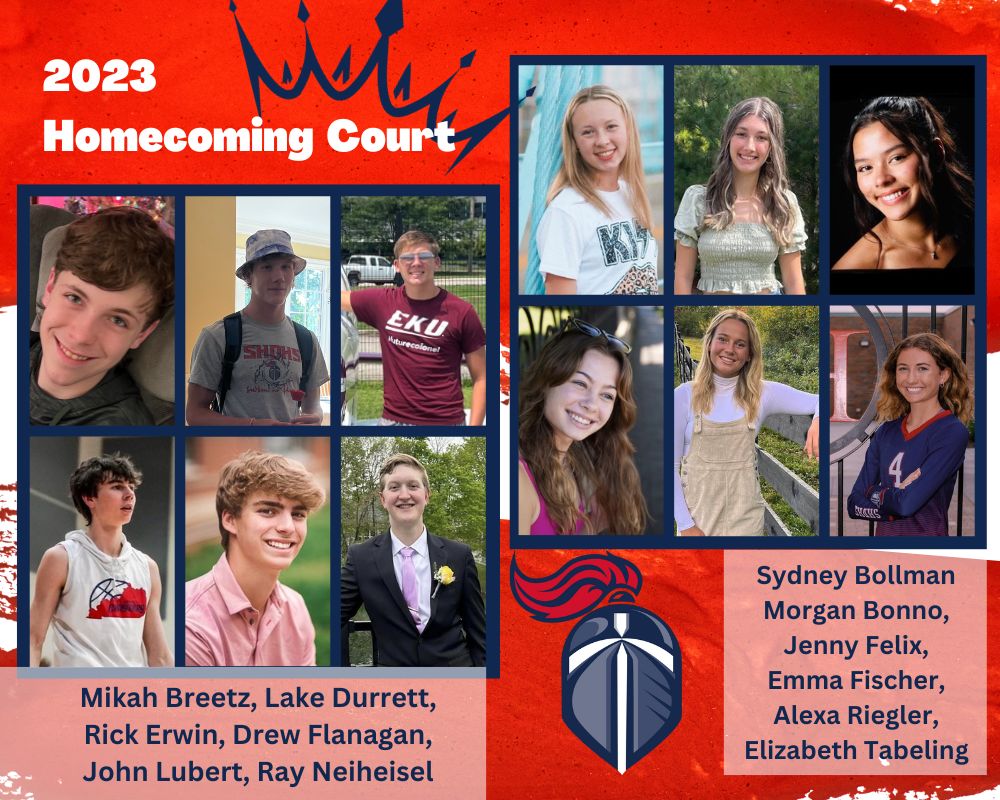 ---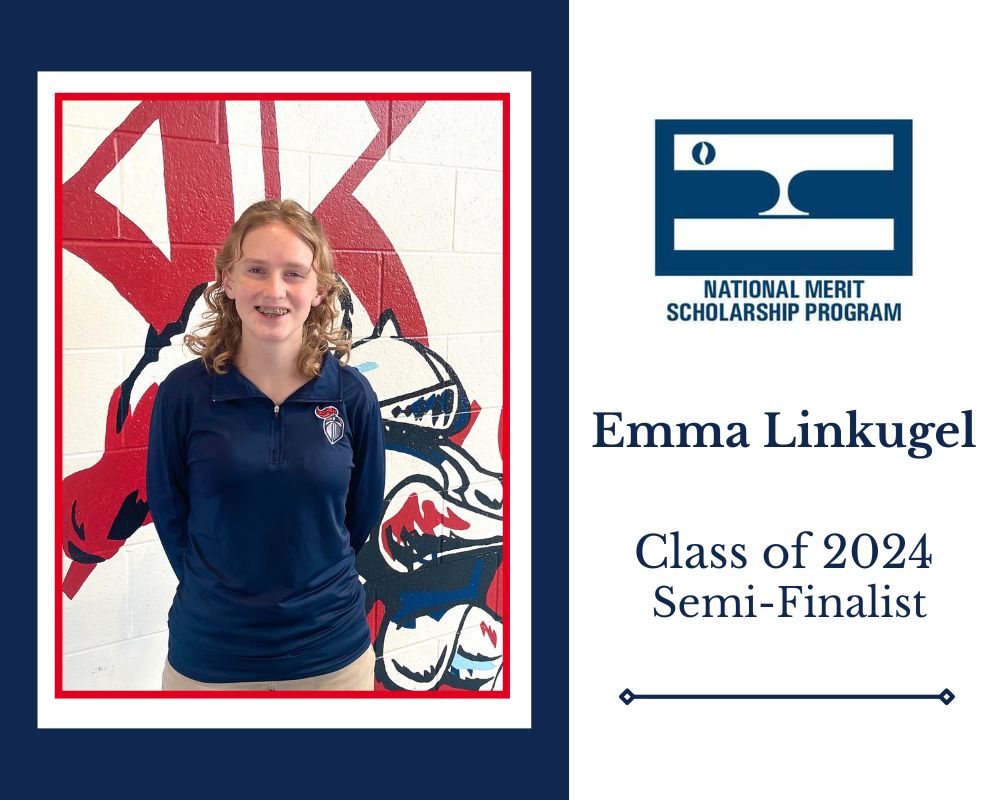 St. Henry District High School would like to congratulate Emma Linkugel, who was named a National Merit Semifinalist! Emma is one of 16,000 students invited to continue with the 2023-2024 National Merit Scholarship Competition (NMSC). We would like to congratulate Emma on all her accomplishments and wish her the best as she goes through the NMSC application process!
---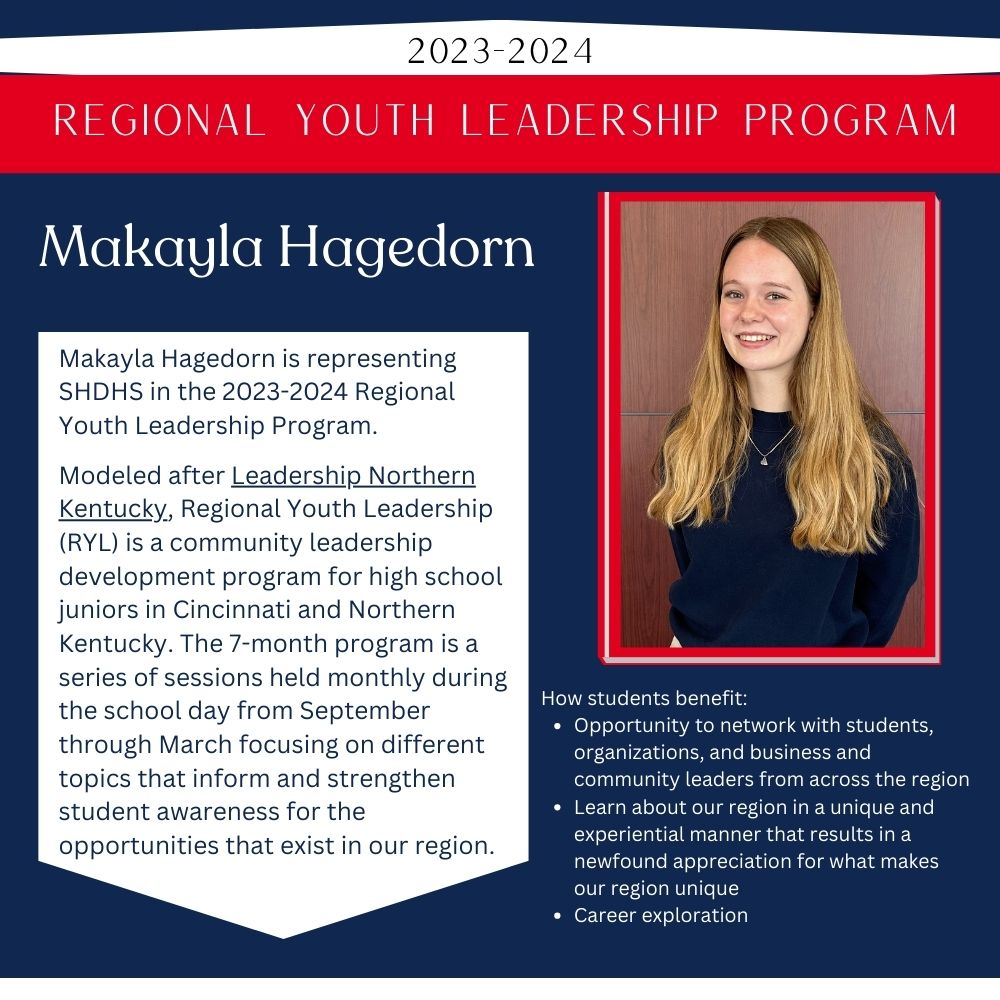 ---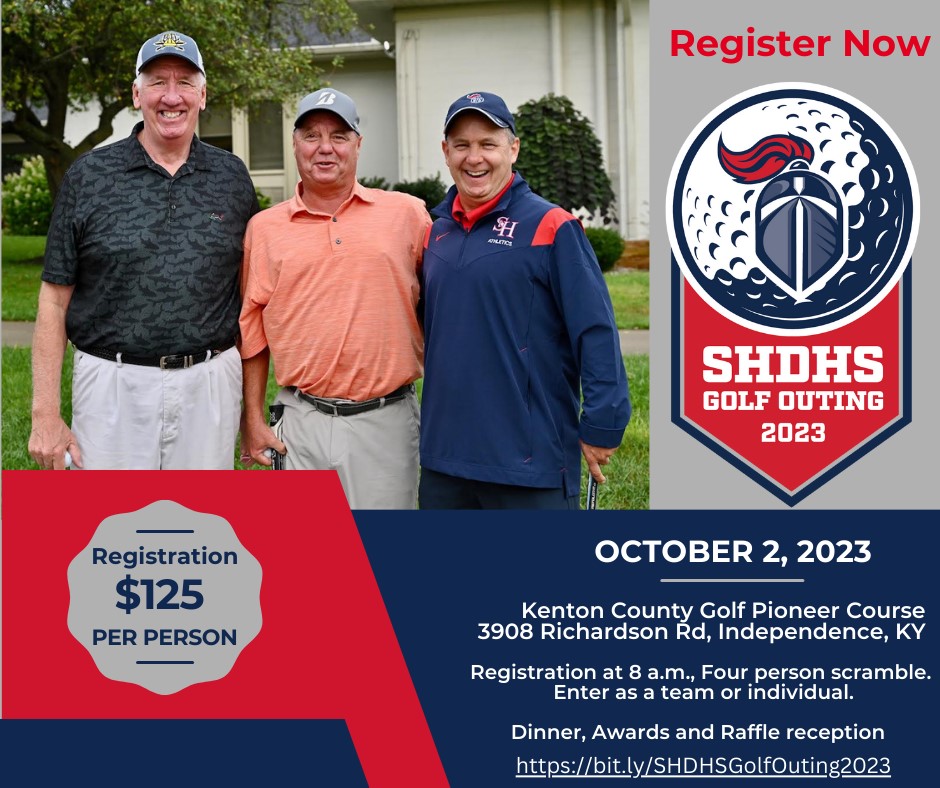 The SHDHS Golf Outing is starting a new tradition this year. We are combining forces between Athletics and Advancement/Alumni to make this a schoolwide fundraiser to help cover expenses throughout the school. The money from this year's event will go toward repairs to cafeteria equipment, upgrading safety equipment at the school, and purchasing a Gator for field maintenance.
Over the past 12 years, the SHDHS Golfathon has raised more than $700,000.00 to benefit our athletes and the school. These items include:
Purchasing a new van for the athletic teams, school clubs, and classes to use throughout the year
Construction of the stadium press box and storage shed facility behind the softball field
Renovations and purchase of team equipment for the SHAC
Installation of soundboards and acoustic panels in the SHDHS gym
Financial support for the Virgin Mary Grotto, the final piece of the "Building on Excellence, Guided by Faith" expansion project
Since the Golf Outing is now a combined, schoolwide effort, we no longer depend solely on the athletic teams to raise money. We are all taking part. This is where you come in. In addition to monetary donations, we need bottles of higher-end bourbon and items for silent auction baskets. To make this easy and convenient for you, we have created an Amazon Wish List. Please click here to view and purchase items if you feel inclined. The items will ship directly to SHDHS.
---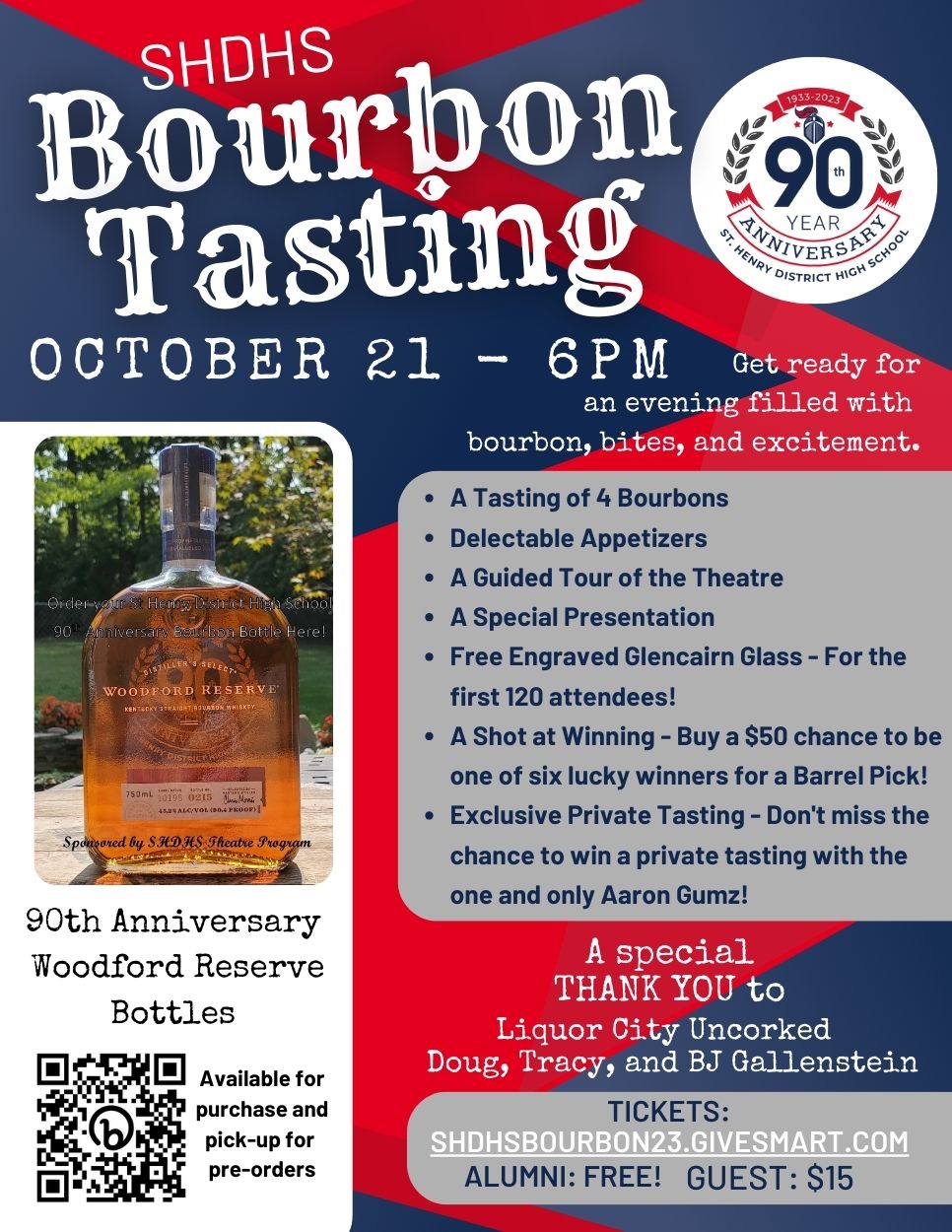 Information from the Front Office
At A Glance, Important upcoming important dates
9/25 - Booster Meeting, 6:30 pm
9/25-29 - Spirit Week
9/28 - Homecoming Tailgate, CRUnite, Homecoming Court Presented, Soccer Games
9/29 - Early dismissal, 1:00 pm
9/29 - Homecoming Dance
10/2 - SHDHS Golf Outing 2023 - REGISTER NOW!
10/6 - First Friday Early Dismissmal - 1:00 pm
10/7 - Bingo
10/9 - CRU Preview Day
10/10 - Freshman Retreat (St. Barbara)
10/13 - NO CLASSES
10/17 - Sophomore Retreat
10/17 - ACT Test
10/17 - FEC CRU-Bash planning kick-off meeting, 6:30pm
10/19 - Picture Retake Day
10/20 - Out of Uniform Day - $2
10/23-26 - Red Ribbon Week
10/23 - Booster Meeting, 6:30pm
10/24 - PSAT Test
10/24-25 - Senior Retreat
10/27 - Out of Uniform Day $2

SCHOOL CALENDAR
2023-2024 School Calendar
Click here for a quick look at the 23-24 pdf school calendar. Subscribe to our school calendar by clicking here for all up-to-date information.
Crusaders of the Week
Mr. Patti nominates Junior Ainsley Potter  as US History's Crusader of the Week.  
"It may be early in the year, but Ainsley Potter has been working hard since day one. Ainsley is incredibly engaged in class whether it is a class discussion, group or individual work, or even a lecture. She regularly adds to the class through questions and insights. Which would lead one to believe that a part of her success is not only a strong work ethic, but a desire and curiosity to better understand the content. She has high expectations for herself, and those around her look forward to seeing her meet those expectations."
Mrs. Vieth nominates senior Molly Krallman  as AP English Literature's Crusader of the Week"
The students in the AP Lit class compose a group who has committed itself to being challenged and studying the human condition through great works of literature. Molly Krallman has embraced the challenge and flourished due to her excellent organizational skills, her incisive mind, and her desire to know.  She does not fear struggle because she learns from it.  Furthermore, she works well with her classmates, and offers supportive commentary in writing groups as well as in discussion.  She is a pleasure to have in class.
Congratulations, Molly!"
Advancement Department
DONATIONS NEEDED!
---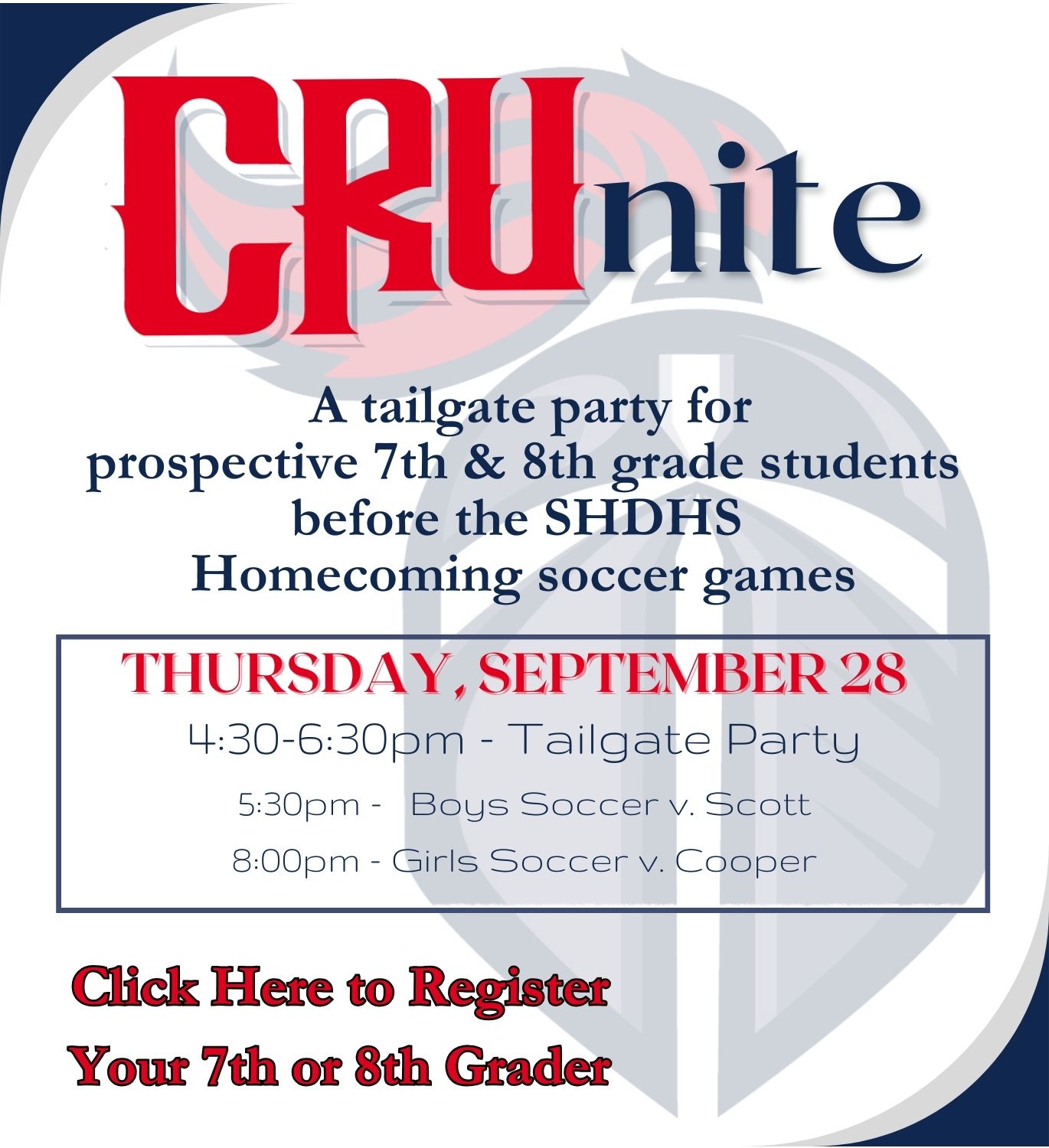 ---
FUTURE CRUSADER COMING EVENTS! 
SHADOW VISITS / FAMILY TOURS
Experience a day in the life of a St. Henry District High School student. Prospective 7th or 8th grade students or transfer students can register to spend a school day on the SHDHS campus, attend classes, eat lunch, speak with teachers, and visit with other students. There is something for everyone at SHDHS!  Spaces are limited. Please register at https://shdhs.org/admissions/visit-shdhs/.
Family Tours are an excellent way for families to walk the school and have those one-on-one conversations with the principal. The family tours are usually after the regular school day has ended. They typically last about an hour and a half.  Families can schedule a tour of SHDHS. https://shdhs.org/admissions/visit-shdhs/.
CRUNITE
Thursday, September 28, 2023
We invite 7th & 8th grade students to join us Thursday, September 28, 2023, at 4:30 p.m. for CRUnite, a tailgate party for prospective 7th and 8th grade students before the SHDHS Homecoming soccer games. There will be games and a tailgate BBQ.  7th and 8th grade students who register by September 15 will get a free t-shirt, too!  Click here to register.
VOLLEYBALL GRADE SCHOOL NIGHT
Thursday, October 5, 2023
3rd to 8th Grade students are invited to the SHDHS vs. St. Ursula Volleyball Game.  Games are at 5:00pm, 6:00pm, & 7:00pm.  Meet the SHDHS Volleyball team! Wear a volleyball team uniform shirt and get in free!
OPEN HOUSE
Sunday, November 19, 2023
6th, 7th, & 8th grade families
Registration will open in October
Homecoming Week
Spirit Week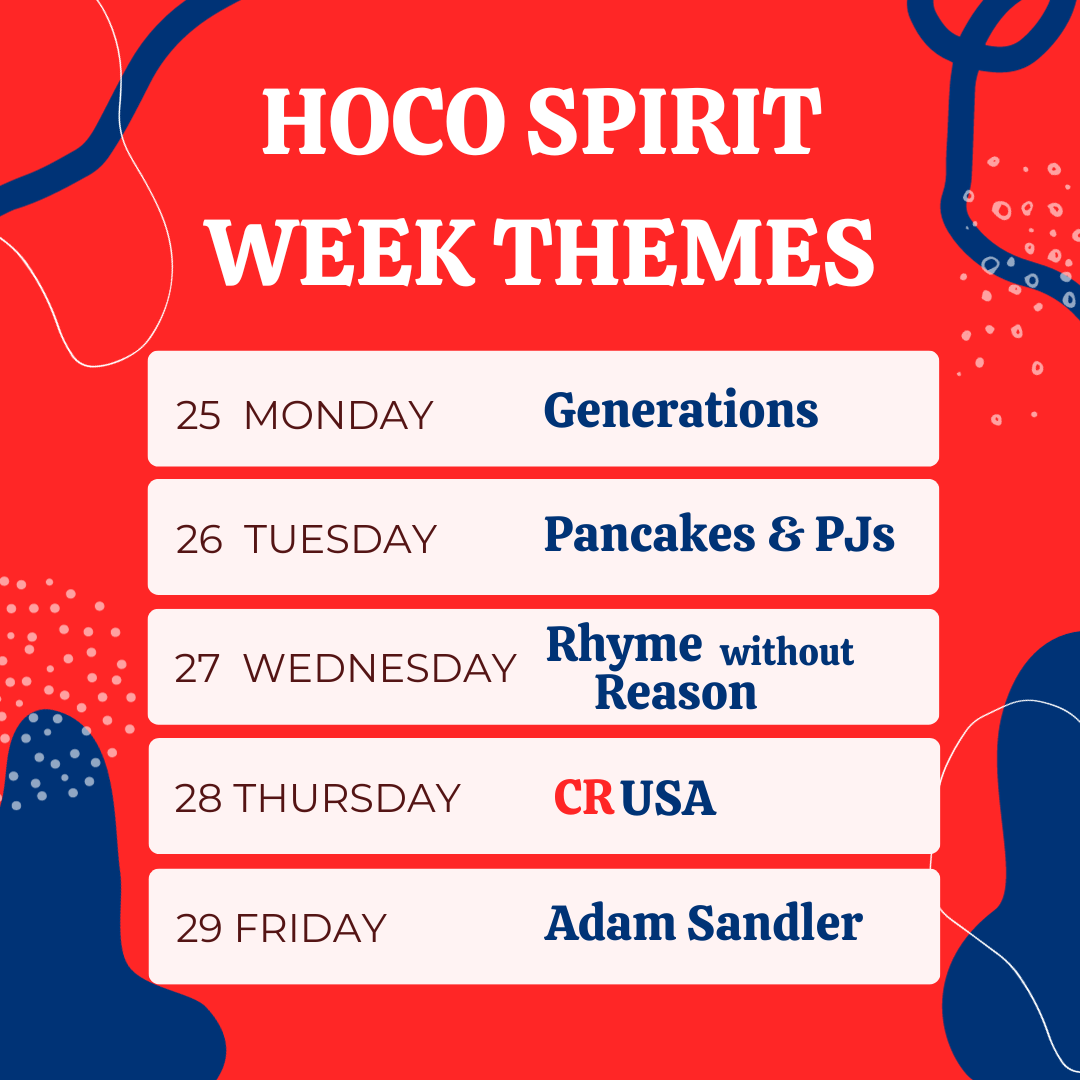 FEC News
Homecoming Tailgate
Save-the-date!  Our 3rd annual HOCO Tailgate will take place on Thursday 9/28 from 4:30-6:30 outside the cafeteria!  All students, parents/families and alumni are invited!  We are again partnering with Go Pantry for admission to the Tailgate and Soccer games for the evening. Please see the attached flyer for more details and plan to come and party with the CRU!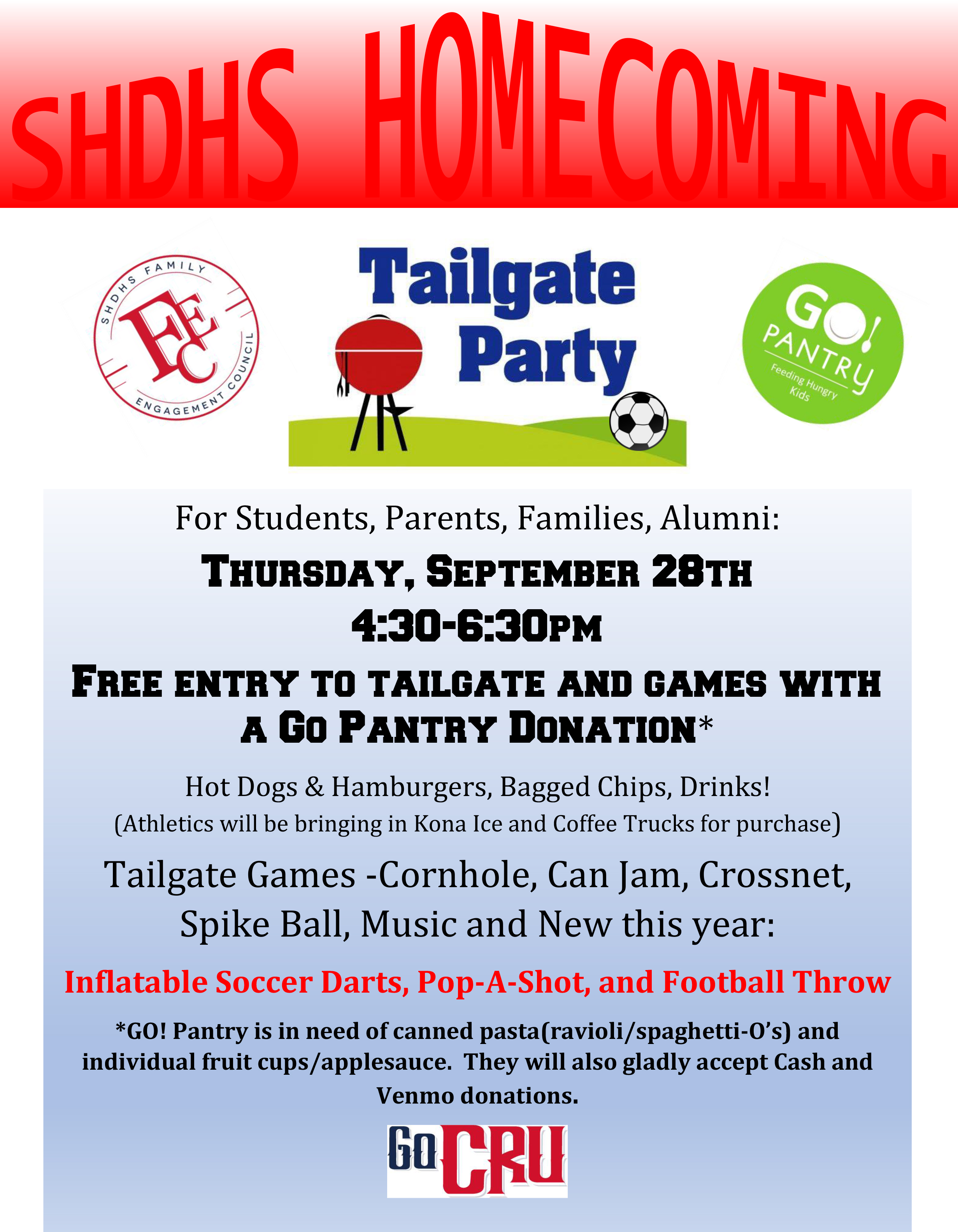 ---
Homecoming Tailgate - Help Needed!  
The FEC needs volunteers to help set-up, clean-up, prep/serve food and beverages, and monitor rented inflatable yard games at our upcoming HOCO Tailgate on 9/28.  We also need to borrow some giant sized and regular sized yard games for the evening.  Please see the following sign-up for more details and to volunteer - thank you!  https://www.signupgenius.com/go/10C0D4AA4AE2DAAFC1-fechoco1
---
SAVE THE DATE - CRU Bash Planning Meeting
CRU BASH (Parent Gala/Fundraiser on 3/16/24) kick-off meeting - Tuesday 10/17, at
6:30 pm 
Athletic News
1st Annual Booster Euchre Tournament

Nov 11, 2023 - St. Henry District High School - Cafeteria
Doors open at 5:30 PM - Cards FLY AT 7 PM
Pre-Registration - $26   Walk-ups - $30
Tickets Purchase:https://shdhs.org/product/shdhs-1st-annual-booster-euchre-tournament/
Benefits SHDHS  Boosters
For additional information, please get in touch with Kevin at 859-380-8433 or email at [email protected]
---
Alumnae Inducted into the NKY Sports Hall of Fame
Emmy Kaiser — St. Henry graduate who has played wheelchair tennis in several Paralympic Games. She reached No. 1 in national women's wheelchair rankings in both singles and doubles during her career.
Emily Wesselman-Eha — St. Henry graduate who was a state tournament qualifier in doubles twice. She went on to play for Thomas More College and holds the team record for career wins in women's singles with 42.
Campus Ministry News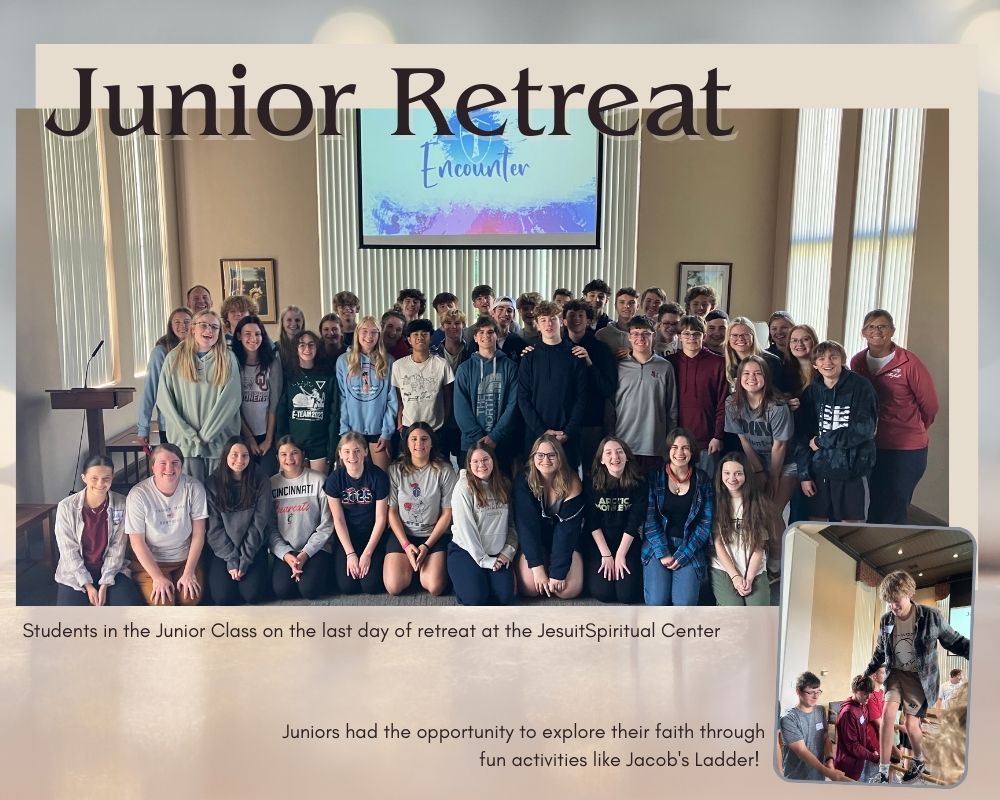 ---
Thomas More Campus Ministry Open House
Thursday, October 25, 6-8pm
The Campus Ministry Open House is designed for prospective high school students to come onto Thomas More's campus and hear about how the Campus Ministry department at TMU works to engage them in their spiritual lives during their time at Thomas More.
They will hear from the Director of Campus Ministry, the Dean of Enrollment, and students on the Campus Ministry leadership team. We will also include information about our Bishop Foys Ministry and Service Scholarship, a program designed for Catholic students to cultivate their leadership in both ministry and service to the Thomas More community. Then, we'll have an informal time where students and their parents/guardians can speak with staff and students about Thomas More and Campus Ministry.
Students can sign up for the open house at www.thomasmore.edu/preview More information on the Bishop Foys Ministry and Service Scholarship at https://apply.thomasmore.edu/register/?id=9e659094-22f5-424a-8374-02eb73ae8a9f 
---
Freshman Retreat Information
Tuesday, October 10, 2023 from 8 AM - 2:30 PM 
Location: St. Barbara Church - Sterling Event Center
Address: 4042 Turkeyfoot Rd, Erlanger, KY 41018 
Transportation - NOT provided by SHDHS.

Parents take students directly to the retreat at St. Barbara Church (Do NOT go to SHDHS). 

Pick up at the same location.

Bring your own lunch and water bottle 

Out of Uniform 
Permission forms for retreat must be turned in by October 2 (or before)! See permission form attached here 
---
Grandparent Masses
Please invite grandparents (or grandparent figures) to the annual grandparent Mass(es)!   Each grade level will celebrate Mass in the auditorium. Grandparents will be seated at 9:45 am, and Mass starts at 10 am, followed by a light refreshment/reception. For questions, please email Annie Poat (Campus Minister) at [email protected].
Senior - Tuesday, March 7
Junior - Thursday, March 21
Sophomore - Thursday, April 11
Freshman - Tuesday, April 23
Counselors Corner
Governor's Scholars Program (GSP) Updates
The Counseling Department has already scheduled two meetings with interested juniors about the Governor's Scholars Program. The first two meetings took place on Fri. Sept. 15 and Fri. Sept. 22.
Juniors must notify Billy Sarge in the Counseling Department by Wed. Sept. 27 if they wish to go through the GSP Application Process. If any students or parents have questions, they are asked to contact Billy Sarge [email protected] or 859.525.0255 
---
Universities Visiting SHDHS
The Counseling Department has received several requests from universities asking to meet with SHDHS juniors and seniors! Students are asked to sign up through their SCOIR accounts to meet with the universities during Flex Time.  Also, they must visit their SOS Flex Time account for attendance purposes.
Here are a list of universities visiting the next two weeks:
Fri. Sept. 22: University of Dayton
Mon. Sept. 25: Gateway Community & Technical College (all seniors only)
Tues. Sept. 26: University of Louisville
Mon. Oct. 2: Morehead State University
Tues. Oct. 3: Transylvania University
---
Virtual Meetings with Selective Universities

Harvard, Princeton, the University of Virginia, Wellesley, and Yale are offering virtual programs for students and parents. Don't miss your opportunity to to hear admissions officers from all five universities discuss the various aspects of the college admissions and financial aid process. For more information and/or to register for the program: hpuwy.com
Classroom Showcase/Club News
Chemistry Honors Class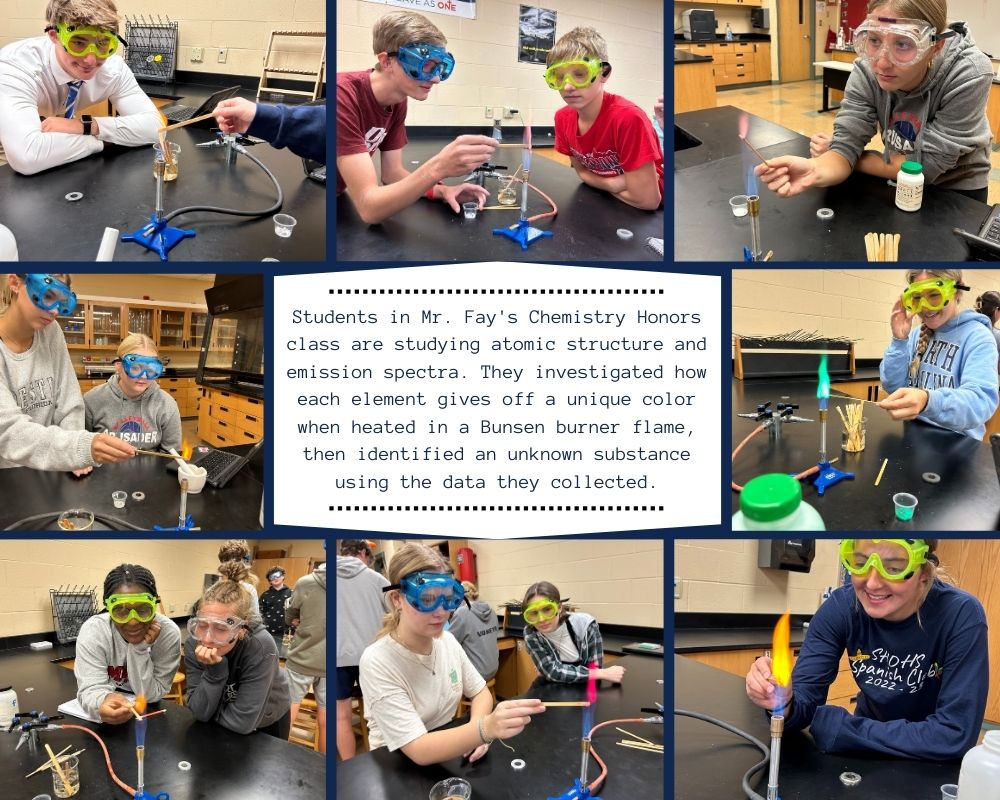 ---
Prayer of the Rosary in Spanish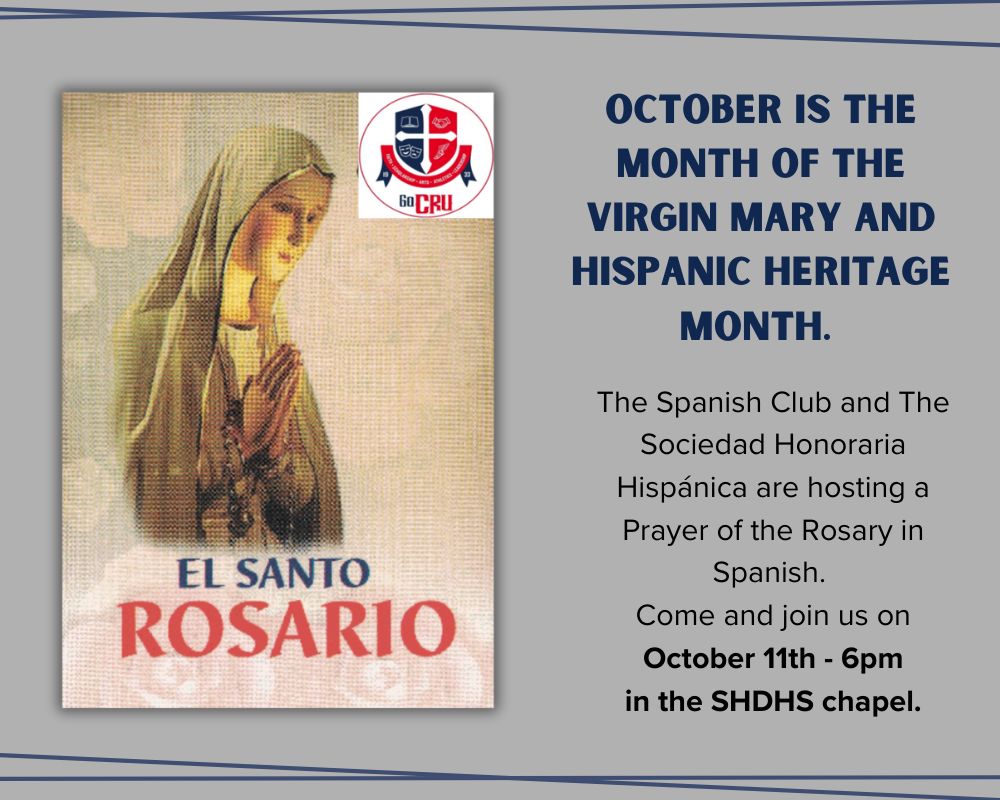 CRU-Botics

Brian Smith : [email protected]
Mark VonBokern : [email protected]
---
CALLING ALL SHDHS ALUMNI ARTISTS!!
St. Henry District High School is honored to invite all alumni to participate in our 3rd annual Alumni Art show. Last year's show had a wide range of classes represented including the classes of 1943 and 1964! Let's have YOU be the artist representing your class this year! Artists may submit up to 3 pieces of ANY media, including 3D and digital. All 2D pieces must be framed OR matted for hanging. Size restrictions are 32x40 or smaller. You may submit artwork at the SHDHS school office between the hours of 8am and 3pm before October 25th.
The show will run November 3rd and 4th from 5-7pm with our Fall Play "The Legend of Sleepy Hollow" performing directly after, so please join us for that event as well!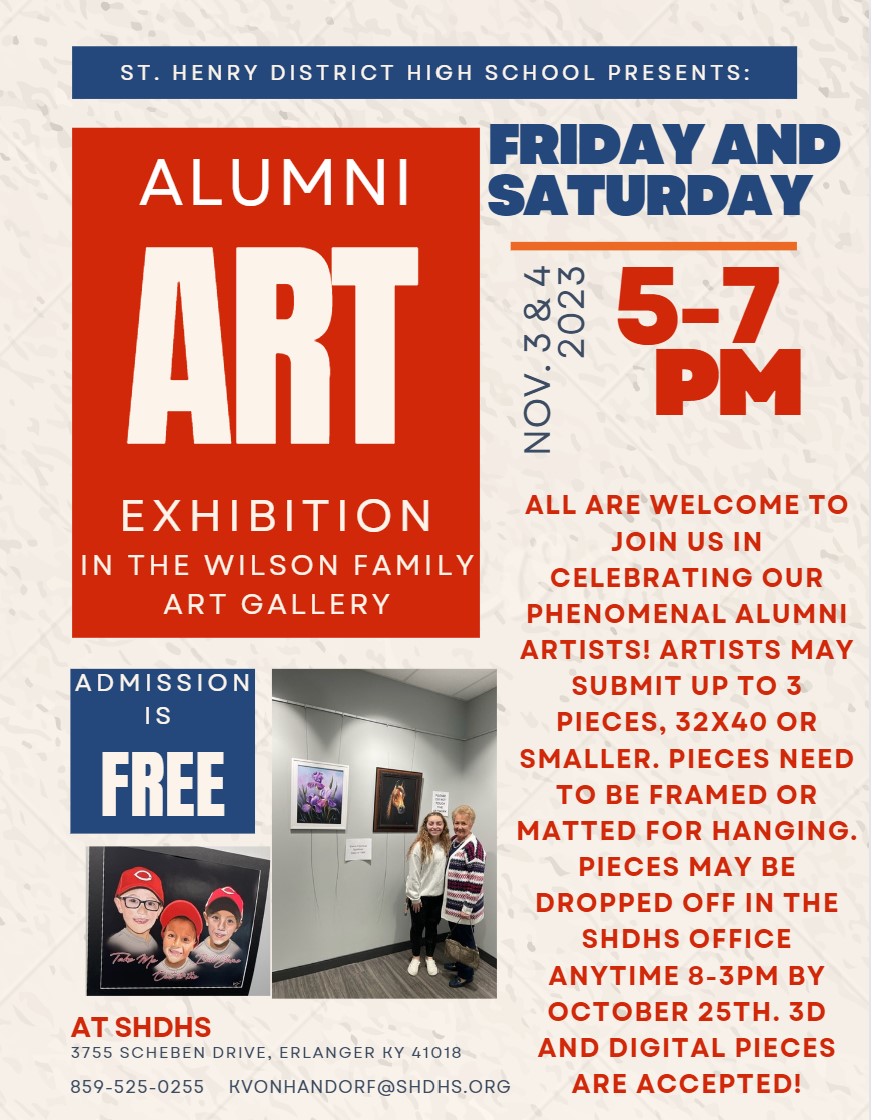 ---
LITTLE FREE LIBRARY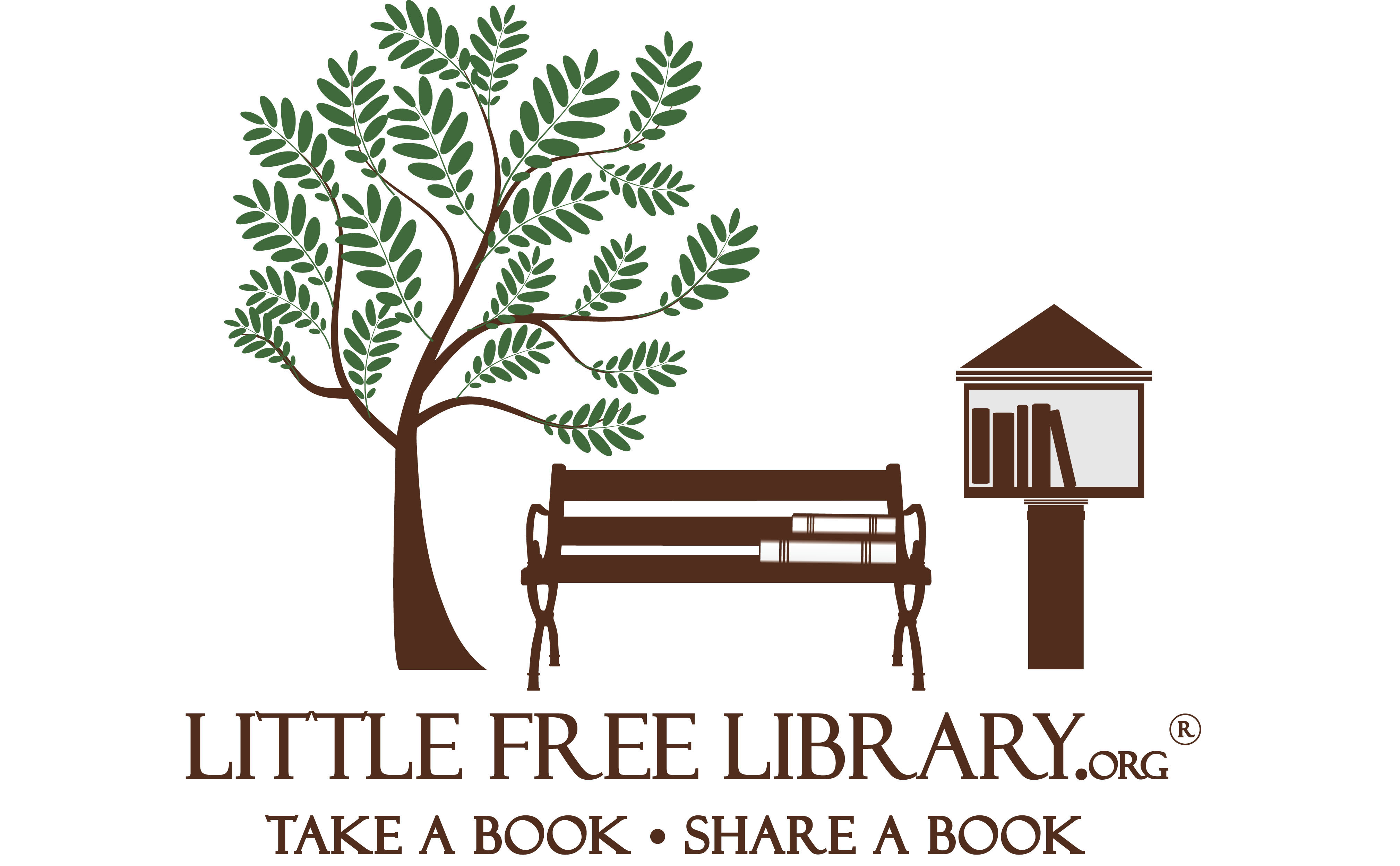 SHDHS is receiving a Little Free Library with a grant but we need your help! If you have any appropriate books to donate to add to our selection, we would appreciate it!
School Play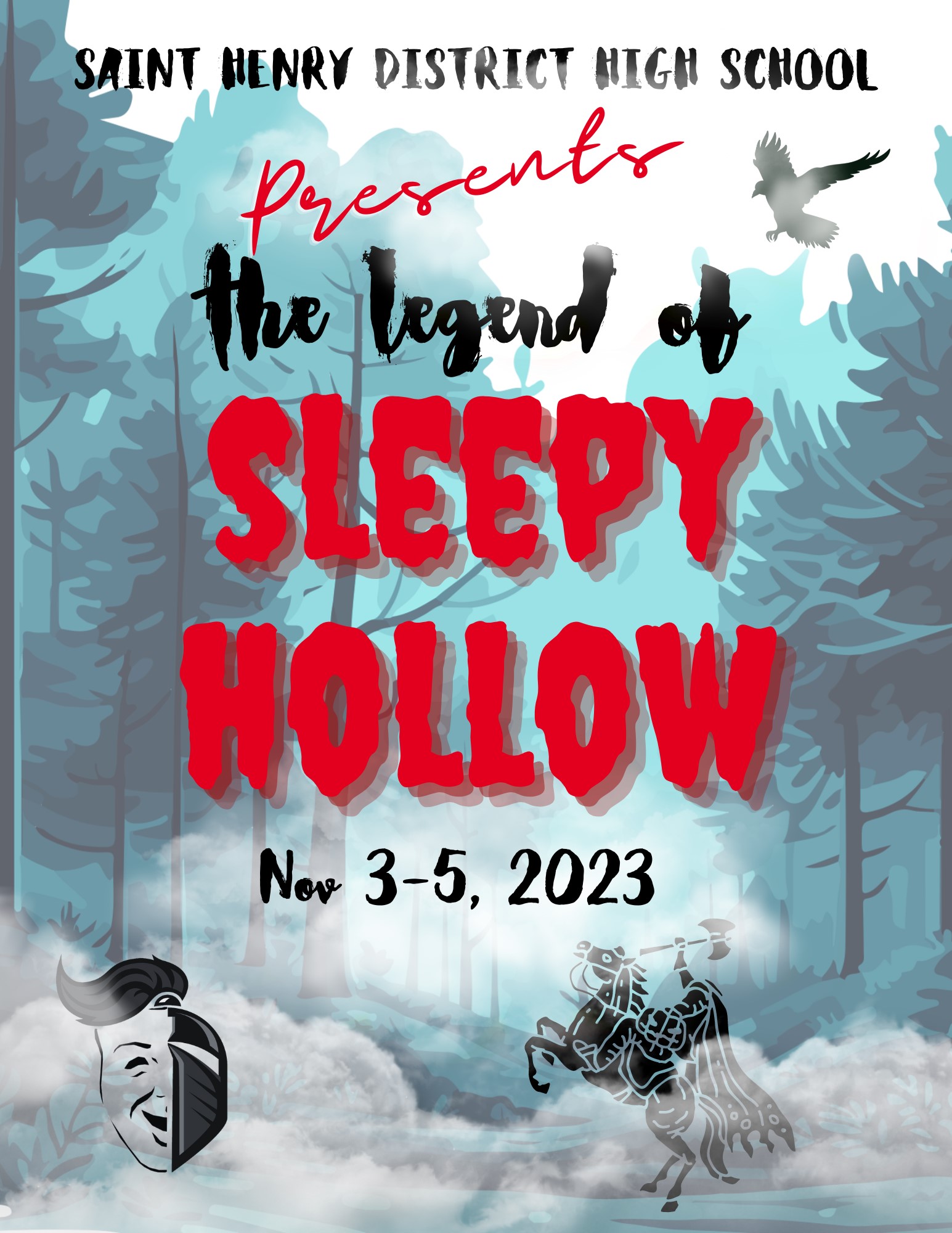 It Was a Dark and Spooky Night…
SHDHS Theater proudly announces the fall production: The Legend of Sleepy Hollow. Hurry to Drees Homes Auditorium to experience the fearful tale of schoolmaster Ichabod Crane and his encounter with the Headless Horseman. One thing is for sure: it will be a ride to remember! Save the Date: November 3-5, 2023. 
Additional Resources
Quick Links
Cafeteria Information and Lunch Menu
Calendar of events
SHDHS Enrollment Portal
TylerSIS Student Information
Schoology
Crusader Check & Connect
Follow your Crusaders on
We want to thank all of our Platinum Sponsors.